Onley Arms, Stisted
The Black Lion was demolished in the late 19th century and the Onley Arms erected on the site
The Onley Arms was built by Onley Saville Onley and leased to T. D. Ridley & Sons Ltd.
The first landlord was an employee of Onley Saville Onley, Albert Earle (a travelling blacksmith from Diss, Norfolk), who married Ella Pepper (a laundry maid in the employ of Onley Saville Onley at Stisted Hall).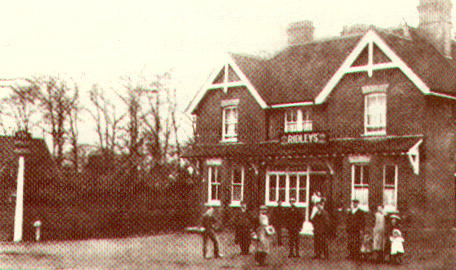 Opening Day, supplied by Nina L. Olney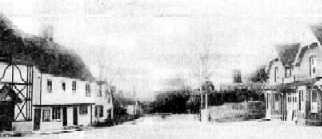 Late 1930's (The Onley Arms is on the right)
From Braintree Then & Now, published by Braintree and Witham Times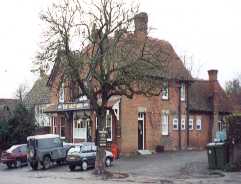 November 1999
Taken by John Macey, supplied by Nina L. Olney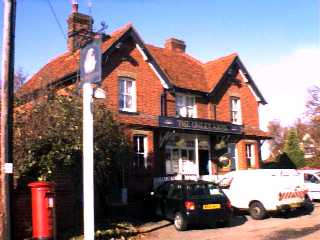 6th November 1999
The following entries are in this format:
Year/Publican or other Resident/Relationship to Head and or Occupation/Age/Where Born/Source.
1839/Charles Stebbing/../../../Pigot's

1840/Charles Stebbing/../../../Pigot's*

1845/Charles Stebbing/Blacksmith/../../Post Office

1848/Charles Stebbing/Victualler/../../White's

1851/Charles Stebbing/Blacksmith/../../Post Office

1851/Charles Stebbing/victualler/52/Bocking, Essex/Census **
1851/Rachel Stebbing/wife/52/Essex/Census
1851/Mahala Stebbing/daughter/20/Stisted, Essex/Census

1852/C. Stebbing/../../../Kelly's*

1855/J. Ely/../../../Kelly's*

1862/Jamson Ely/Blacksmith/../../Kelly's

1867/Mrs. Mary Ann Ely/Blacksmith/../../Post Office

1870/Mrs. Mary Ann Ely/Blacksmith/../../Kelly's

1871/Mrs. Mary Ann Ely/Blacksmith/../../Post Office

1874/Mrs. Mary Ann Ely/Blacksmith/../../Kelly's

1878/Mrs. Mary Ann Ely/Blacksmith/../../Kelly's

1881/Mary A. Ely/Innkeeper & Blacksmith/72/Copford, Essex/Census
1881/Mary A. Ely/Daughter, Servant/38/Pattiswick, Essex/Census
1881/Ellen Ely/Daughter, Servant/36/Pattiswick, Essex/Census
1881/Emily Ely/Daughter, Teacher/27/Pattiswick, Essex/Census
1881/Henry Ely/Grandson/1/Pattiswick, Essex/Census

1882/Mrs. Mary Ann Ely/Blacksmith/../../Kelly's

1886/Mrs. Mary Ann Ely/Blacksmith/../../Kelly's

1890/Henry Goldsmith/Blacksmith/../../Kelly's

1894/Albert Earle/Blacksmith/../../Kelly's

1895/Albert Earle/Blacksmith/../../Kelly's

1898/Albert Earle/Blacksmith/../../Kelly's

1899/Albert Earle/Blacksmith/../../Kelly's

1902/Albert Earle/Blacksmith/../../Kelly's

1906/Albert Earle/../../../Kelly's

1908/Albert Earle/../../../Kelly's

1910/Albert Earle/../../../Kelly's

1912/Albert Earle/../../../Kelly's

1914/Albert Earle/../../../Kelly's

1917/Albert Earle/../../../Kelly's

1922/Albert Earle/../../../Kelly's

1925/Albert Earle/Blacksmith/../../Kelly's

1929/William Ward Upchurch/../../../Kelly's

1933/Joseph Paul Newell/../../../Kelly's

1937/William Ward Upchurch/../../../Kelly's

* Provided by the Pubs, Inns and Taverns Index for England, 1801-1900

** Provided by John Mead