Coach & Horses, 63 St. James Street, Walthamstow E17
Walthamstow pub history index
A listing of historical public houses, Taverns, Inns, Beer Houses and Hotels in Essex. The Essex listing uses information from census, Trade Directories and History to add licensees, bar staff, Lodgers and Visitors.
This pub closed in 2007 *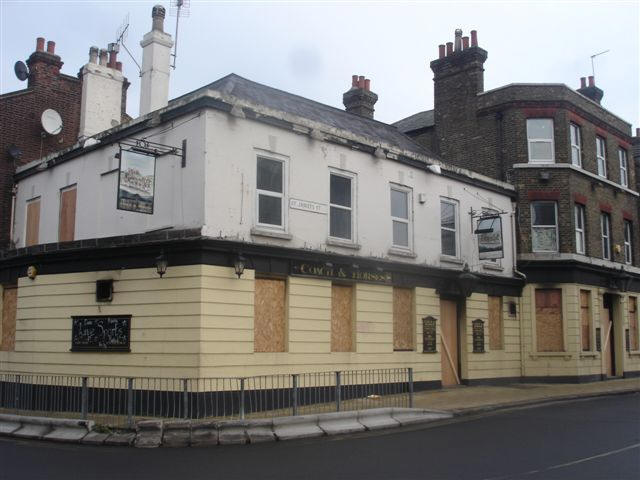 Coach & Horses, 63 St James Street, Walthamstow, E17 - in December 2007
Kindly provided by Stephen Harris
Residents at this address.
1826/William Wiltshire/../../../Pigot's

1832-3/William Wiltshire/../../../Pigot's

1839/William Wiltshire/../../../Pigot's

1848/Francis Ormiston/../../../White's

1851/Francis Ormiston/../../../Post Office

1851/Francis Ormiston/licensed victualler (widower)/40/Scotland/Census **
1851/David Ormiston/father, assistant/66/Scotland/Census **
1851/James Ormiston/brother, assistant/28/Scotland/Census **
1851/Margaret Sheridan/assistant/22/Ireland/Census **
1851/Andrew Bunker/potman/25/Westbury, Wiltshire/Census **

1855/F Ormiston/../../../Post Office

1861/Chas R Huntley/Licensed Victualler/../../History of Walthamstow 1861

1862/Charles Richard Huntley/../../../Kelly's

1870/Charles Richard Huntley/../../../Kelly's

1874/Charles Richard Huntley/../../../Kelly's

1878/Charles Richard Huntley/../../../Kelly's

1881/Charles R. Huntley/Licensed Victualler/50/Croydon, Surrey/Census
1881/Sarah A. Huntley/Wife/51/London, Middlesex/Census
1881/Frederick A. Huntley/Son, Architectural Student/22/London, Middlesex/Census
1881/Richard W. Huntley/Son, Assistant/21/Walthamstow, Essex/Census
1881/Sarah Bryant/Barmaid/18/Kennington, Surrey/Census
1881/Mary Monday/General Domestic Servant/24/Stratford, Essex/Census

1882/Charles Richard Huntley/../../../Kelly's

1886/Charles Richard Huntley/../../../Kelly's

Thomas Welham's sister is at the Chester Arms, Albany Street in the 1891 census *

1891/Thomas Welham/Licensed Victualler/28/Marylebone, London/Census *
1891/Alice Welham/Wife, Assistant/23/Walthamstow, Essex/Census
1891/Henry T Welham/Son/2/Paddington, London/Census
1891/Alice M Osborne/Niece/6/West Norwood, Surrey/Census
1891/Eliza Brookes/Domestic Servant/31/Hinton, Northants/Census
1891/Alice Pettet/Domestic Servant/18/Marylebone, London/Census
1891/Percy Terrell/Bar Assistant/22/Southampton, Hants/Census
1891/Henry Jarvis/Bar Assistant/19/Yarmouth, Norfolk/Census
1891/William Brown/Bar Assistant/19/Maida Vale, London/Census

1896/Charles Terry/../../../Petty Sessions

04/6/1898/Henry Arthur Christmas/../../../Petty Sessions

1901/Henry A Christmas/Publican/30/Newington, London/Census
1901/Kate Yall/Housekeeper/41/Paddington, London/Census
1901/Humphrey Pearson/Barman/27/Suffolk/Census
1901/Edwin J Mercer/Barman/23/Camden Town, London/Census
1901/Albert Pridmore/Barman/24/Old Ford, London/Census
1901/Ernest J Sayers/Barman/26/Yarmouth, Norfolk/Census
1901/William W Taylor/Barman/19/Battersea, London/Census
1901/Edward Boundy/Barman/21/Haggerston, London/Census
1901/Edward H Fountain/Barman/20/St Albans, Herts/Census
1901/Thomas H Robertson/Barman/19/Old Ford, London/Census
1901/William R Hale/Barman/23/Shotley, Suffolk/Census

1902/Henry A Christmas/../../../Kelly's

1902/Henry Arthur Christmas/../../../Petty Sessions

14/11/1903/Robin Hubert Whitehead/../../../Petty Sessions

1908/James Batchelor/../../../Kelly's

1912/Robin Hubert Whitehead/../../../Kelly's

1917/Robin Hubert Whitehead/../../../Kelly's

27/4/1918/Robin Hubert Whitehead & Walter Bartrip/../../../Petty Sessions

26/4/1919/Robin Hubert Whitehead & James Cranney/../../../Petty Sessions

06/3/1920/Robin Hubert Whitehead & Walter Chaplin/../../../Petty Sessions

18/12/1920/Robin Hubert Whitehead & Alfred Charles Taylor Crane/../../../Petty Sessions

23/7/1921/Robin Hubert Whitehead & Francis Edgar Johnson/../../../Petty Sessions

29/9/1923/Robin Hubert Whitehead & Robert Enkel James/../../../Petty Sessions

14/6/1924/Robin Hubert Whitehead & Walter Bignell/../../../Petty Sessions

1925/Walter Bignell/../../../Kelly's

D G Whitehead, Director of George Whitehead & Sons Ltd, lessees of the Coach & Horses, died on January 10th, 1950, due to an accident whilst hunting with the Whaddon Chase - Black Eagle Journal



* Provided by Stephen Harris

** Provided by John Mead

*** Provided by Alex Wilkinson



* Provided by Mark Morgan