Search London wiki and Pub wiki history sites
All public house, restaurants, bars etc closed for the forseeable future from 20th March 2020, but this is a pub history site.
Chester Arms, 83 Albany Street NW1
St Pancras index
The address is 115 Albany Street in 1862 and earlier, prior to renumbering. * Closed circa 2009 and converted to residential use. This pub's address was 87 Albany Street. ***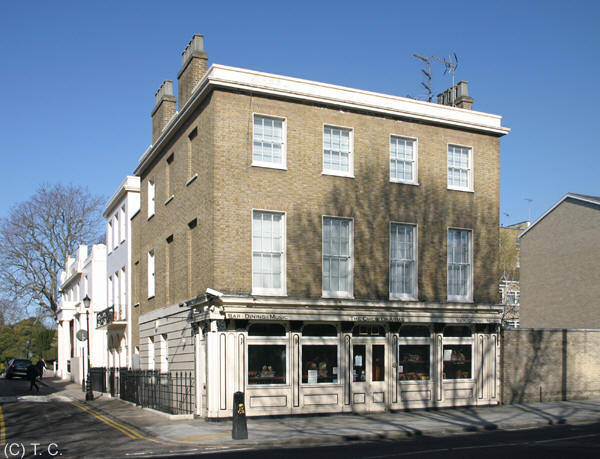 Chester Arms, 83 Albany Street, NW1. - April 2010
Kindly provided by Tris
Historical London public houses, Taverns, Inns, Beer Houses and Hotels.
Residents at this address.
1832/James Larkin/../../../Robsons Directory

1833-34/Jno Adams, Chester Arms, 115 Albany Street, Regents park/../../Pigots Directory

1836/James Francis/../../../Pigot's Directory *

1839/Joseph France/../../../Pigot's Directory *

1841/James France/../../../Post Office Directory *

1842/James France/../../../Robson's Directory *

1843/James France/../../../Post Office Directory *

1846/Charles Clarke/../../../Post Office Directory *

1848/Charles Clarke/../../../Post Office Directory *

1851/Charles Clarke/../../../Kellys Directory

September 1856/Charles Clarke/Outgoing Licensee/../../London Daily News

September 1856/Charles Renwick/Incoming Licensee/../../London Daily News

1861/Christopher Vaughton/Licensed Victualler/58/Southrop, Northamptonshire/Census *
1861/Jane Vaughton/Wife/57/Patterne, Wiltshire/Census
1861/Eliza Cordry/Barmaid/43/Bromley, Kent/Census
1861/Alice Francis/Visitor/24/Middlesex/Census
1861/Edward Godfrey/Potman/24/Middlesex/Census
1861/Henry Hayde/Waiter/18/Sutton Verey, Wiltshire/Census

1862/Christopher Vaughton/../../../Post Office Directory *

1869/Christopher Vaughton/../../../Post Office Directory

1881/Hiram Henton/Licensed Victualler/34/Northampton/Census
1881/Fanny Henton/Wife/33/Leicester/Census
1881/Kate D Clifford/Barmaid/21/Edwardstone, Suffolk/Census
1881/Catherine Lynch/General Servant/19/London, Middlesex/Census

1882/Hiram Heaton/../../../Post Office Directory

1884/Hiram Heaton/../../../Post Office Directory

Ellen Clarissa Norman's late husband was Robert G Norman, on the 1881 census he's noted as a licensed victualler, at 1 Shouldham Street, Marylebone - which is the Laurie Arms. In 1891, her brother, Thomas Welham is the licensed victualler at the Coach & Horses, Walthamstow **

Clarissa Welham (nee Small), the mother of Clarissa E Norman, was previously the licensee of the Woodman Tavern, Brook Green road, Hammersmith in 1871; and prior to this she was a barmaid at 74 Bridport Place, Shoreditch in 1851 ** The 1871 census describes The Woodman Tavern, as not licensed yet. Recently built. Brook Green road.

1891/Mrs Clarissa Norman/../../../Post Office Directory

1891/Clarissa E Norman/Licensed Victualler, Widow/34/Marylebone, London/Census **
1891/John G Norman/Son, Upholsterer/15/Marylebone, London/Census
1891/Charles G Norman/Son/14/Marylebone, London/Census
1891/Robert G Norman/Son/13/Marylebone, London/Census
1891/Clarissa E Welham/Mother, Widow/54/Salisbury, Hants/Census
1891/Ellen Reeves/Niece, Barmaid/18/Marylebone, London/Census
1891/Jane Everitt/Domestic Servant, Widow/27/Marylebone, London/Census

1895/James Charles Plater/../../../Post Office Directory *

1899/Thomas Robert Brown/../../../Post Office Directory

1906/Thomas Robert Brown/../../../Post Office Directory *

1910/Burnell James Greenwood/../../../Post Office Directory

1915/Alfred Bennell Greenwood/../../../Post Office Directory

1921/Albert Henry Nie/../../../Hughes Directory

1927/Albert Henry Nie/../../../Post Office Directory *

1934/Albert Henry Nie/../../../Post Office Directory *

1938/Albert Henry Nie/../../../Post Office Directory

1940/Arthur William Gill/../../../Post Office Directory *

1942/Mrs Susan Porter/../../../Post Office Directory *

1944/Ushers Wiltshire Brewery Ltd/../../../Post Office Directory *

1966/Leslie H Gibbens, Chester Arms, 83 Albany street NW1/../../Licensed Victuallers Association



* Provided By Ewan

** Provided by Mark Morgan

*** Provided by Tris