Tetbury Brewery, Hampton Street, Tetbury, Gloucestershire
Tetbury pub index
All information on the Tetbury brewery supplied by Paul Best. The Cook family can be traced by a separate page of detail on the family around the UK.
Directory of Pubs in the UK, historical public houses, Taverns, Inns, Beer Houses and Hotels in Gloucestershire. The Gloucestershire listing uses information from census, Trade Directories and History to add licensees, bar staff, Lodgers and Visitors.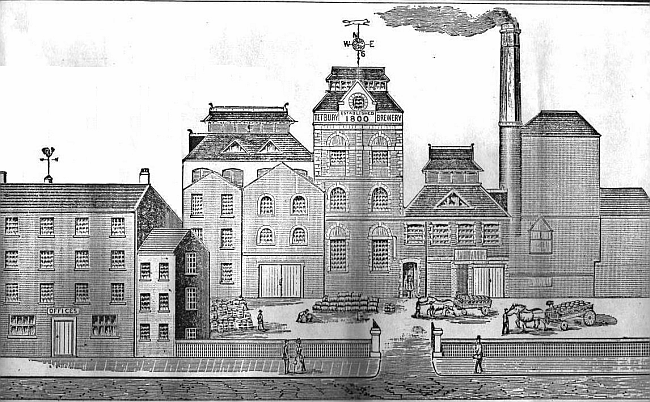 Tetbury Brewery Advertisement - in Tetbury Advertiser 1901
Kindly provided by Paul Best
The following entries are in this format:
Year/Publican or other Resident/Relationship to Head and or Occupation/Age/Where Born/Source.
Tetbury Brewery, Hampton Street.

The Brewery was founded in 1800 by John Cook in a former woollen warehouse, over the next 113 years it remained in the hands of members of the family who formed various co partnerships. This family also had associations with a number of other Breweries in the UK, the most notable of which being Cook's Brewery, Tetbury Street, Birkenhead. Census returns have revealed that members of the Cook family had a tendency to relocate to the North West. Returning to the Gloucestershire concern, the Greyhound Inn, Hampton Street, located literally the other side of the street served as Tetbury Brewery's tap house. Sadly in 1913 Nathaniel and Walter Cook, who were both in their 60's not married, placed the Brewery along with it's entire stock of tied houses on the market. As of September 1st 1913 Tetbury Brewery and it's pubs became the property of Stroud Brewery Company Limited of Stroud Gloucestershire brewing at Tetbury Brewery ceased. The building remained intact until the engine house and chimney were deemed unsafe and subsequently demolished during the early 1980's. The extensive buildings that remain are listed, with it's interior turned into luxury apartments.


John Cook senior, John Cook jnr and Edwin Cook.

Notice is hereby given, that the Partnership lately subsisting between us the undersigned John Cook, John Cook the younger, and Edwin Cook, Brewers, Maltsters, and Spirit Merchants carried on at Tetbury, in the county of Gloucester, under the firm John Cook and Sons, was, on the 6th day of January (1843) last past, dissolved by mutual consent ; and that in future the business will be carried on at Tetbury aforesaid, by us the undersigned John Cook the younger and Edwin Cook, under the firm John and Edwin Cook, by whom all debts due and owing from the late concern will be received and paid.

Witness our hands this 21st day of August 1843
Jno Cook.
John Cook, junr.
Edwin Cook.

Date: 25 August 1843 Issue number: 20255 Page number: 2848 - Source London Gazette.

====

John and Edwin Cook.

Notice is hereby given, that the Partnership lately subsisting between us, under the firm John and Edwin Cook, at Tetbury, in the county of Gloucester, in the trade or business of Common Brewers, Maltsters, and Spirit Merchants, has been dissolved by mutual consent.

As witness our hands the 12th day of July 1867.

John Cook.
Edwin Cook.

Source London Gazette.

====

John Cook senior Will 1870.

This is the last Will and Testament of me John Cook of Tetbury in the County of Gloucestershire Esquire I appoint my sons John Cook of Birkenhead Esquire Edwin Cook of Tetbury aforesaid Brewer and William Hatt Cook of Birkenhead aforesaid Esquire Trustees of this my Will Whereas I have in my lifetime given to all my children at different times or otherwise settled for their benefit various sums of money and it is my wish that all my children shall participate equally in my property. Now for the purpose of making such equal distribution I hereby give and bequeath to my son John the sum of two hundred and seventy five pounds and to my son Edwin the sum of one thousand six hundred and seventy five pounds. And to my son Charles Five hundred shares now standing in my name in the Birkenhead Amalgamated Brewery Company ltd and also the sum of Four hundred and Forty Five pounds. And to my son Nathaniel Five hundred shares also standing in my name in the said Birkenhead Amalgamated Brewery Company And also the sum of Five hundred and one pounds and ten shillings And to my son George the sum of one thousand two hundred pounds And to my son William Hatt Cook the sum of six thousand three hundred and fifty pounds and to my daughter Isabella Jose the sum of one thousand and fifty pounds And as to all the rest and residue of my estate and effects both real and personal I give devise and bequeath the same unto my said sons John Cook Edwin Cook and William Hatt Cook upon trust to sell and convert the same into money and divide the same equally between all my children And I declare that all moneys payable to my daughters Isabella Jose and Harriet Miller respectively under this my will shall be held by my said Trustees upon trust to invest the same respectively upon Government or real securities and to pay the Income thereof to such daughter during her life for her sole and separate use exclusively of her husband and his debts control or engagements And her receipt alone shall be a discharge for the same and she shall not have power to deprive herself thereof by anticipation And after her death upon trust for all her children or any her (sic) child who being a son or sons shall live to attain the age of twenty one years or being a daughter or daughters shall attain that age or marry if more than one in equal shares And in default of such issue then upon trust for such person or persons and for such purposes as such daughter shall by Will or codicil appoint And in default of such appointment upon trust for her executors administrators or assigns as her personal estate And I give and devise all estates vested in me as Trustee or Mortgagee unto my said Trustees John Cook Edwin Cook and William Hatt Cook To be held by them according to the respective natures or qualities thereof and subject to the equities affecting the same And I hereby appoint my said sons John Cook Edwin Cook and William Hatt cook Executors of this my will. In Witness whereof I have set my hand this thirteenth day of May One Thousand eight hundred and seventy.

====
March 1881 Partnership between E.M. Tayler, J.O. Tayler, Chas Cook and Reginald Heber Cook dissolved.

Notice is hereby given that the Copartnership heretofore subsisting between the executors of John Walker Tayler, late of Northleach, in the county of Gloucester, and Northleach, in the same county Wine and Spirit Merchant and Common Brewer, deceased and Reginald Heber Cook of Northleach aforesaid, Common Brewer, carrying on the businesses of Common Brewers and Wine and Spirit Merchants under the style of Tayler and Cook, is dissolved as from this day.

Dated 25th March 1881.

E.M. Tayler.
J. O. Tayler.
Chas. Cook.
R. H. Cook.

Source London Gazette.

Gazette Issue 24959 published on the 5th April 1881.

====
Deed of Partnership between Messrs J & R.H. Cook

Dated 6th July 1881.

This indenture made the sixth day of July one thousand eight hundred and eighty one. Between John Cook of Tetbury in the County of Gloucester of the one part and Reginald Heber Cook late of Northleach in the same County but now of Tetbury aforesaid of the other part. Whereas the said John Cook hath for some time past carried on the trade or business of a Common Brewer Maltster and Spirit Merchant at Tetbury aforesaid and the said John Cook hath agreed to admit the said Reginald Heber into partnership with him in the trade or business aforesaid for the term and under the stipulations hereinafter expressed Now this Indenture witnesseth that the said John Cook and Reginald Heber Cook do hereby mutually covenant and agree to become and be partners in the trade or business of Common Brewers Maltsters and Spirit Merchants upon and subject to the terms conditions and stipulations expressed in the following articles (that is to say)

1. The said partnership shall continue for the term of twenty one years from the date of these presents Provided always that if either of the said partners shall desire to determine the said partnership at the end of seven or fourteen years compiled from the date of these presents and of such his desire shall give six calendar months previous notice in writing to the other of them or shall leave such notice at the place where the said business shall for the time being be carried on then and in such cases immediately upon the expiration of the said seven or fourteen years (as the case may be) shall cease and determine.

2. The firm and style of the said partnership shall be "J & R.H. Cook".

3. The partnership business shall be carried on at or upon the brewery and premises at Tetbury aforesaid wherein the said John Cook hath lately carried on the said trade or business or at such other place shall from time to time be agreed on by the said partners.

4. The said Brewery and premises and all messuages lands and hereditaments belonging to the said John Cook and specified in his stock book and which for convenience of references but not so as to abridge the effect of the foregoing words are specified in the schedule hearunder written and all messuages lands and hereditments hereafter to be purchased or otherwise acquired by the said partners for the purpose of the said trade or business shall become the property of the partnership and be deemed and considered as part of the Capital Stock of the partners and (or whatever nature the same may be) shall be held and enjoyed as in the nature of personal estate the said John Cook shall henceforth stand possessed of the hereditaments and premises now belonging to him in trust for the firm and shall if ******** required by the said Reginald Heber Cook and at his expense convey or otherwise satisfactorily assure the same so that the same may be legally vested in the said John Cook and Reginald Heber Cook as partners. The stock in trade plant and effects belonging to the said John Cook and used in connection with the said trade or business and specified in the said stock book shall also become the property of the partnership and be deemed and considered part of the Capital Stock of the partners.

5. The capitol of the said partnership shall consist of the sum of money which in the stock book belongs to the said John Cook appears to be the total amount or value of the capitol stock of the said John Cook according to the valuation or stock taking made on the day of the date of these presents and of the sum of Ten Thousand Pounds as for the goodwill of the said trade or business and such Capital shall belong to the said partners in the following shares namely two third parts thereof shall belong to the said John Cook and the remaining one third part thereof shall belong to the said Reginald Heber Cook.

6. The said Reginald Heber Cook shall immediately after the execution of these presents pay the said John Cook one third of the sum of money representing the Capital of the said partnership as defined in article 5.

7. If either of the said partners shall at any time hereafter with the consent of the other partner advance any money to the said partnership the same will be a debt to him from the said partnership payable on demand and shall bear interest after the rate of five pounds per centum per annum from the time of such advance.

8. The rent of any premises occupied by the said partners or their undertenants in connection with the said trade or business and the cost of all repairs and alterations to the said Brewery and premises and to the messuages and Inns Public houses and hereditaments belonging to the said partnership and all rates tax payments for insurances and other outgoings whatsoever in respect of the same and the wages and salaries of all persons employed in the said trade or business and all other monies to become payable upon account of the said trade or business shall be paid and comes out of the gross profits of the said partnership trade or business or if the same shall be deficient shall be paid and borne by the said partners in the share in which they shall be entitled to the net profit of the said trade or business.

9. The said partners shall be entitled to the profits of the said trade or business in the proportions following namely the said John Cook to two third parts thereof and the said Reginald Heber Cook to the remaining one third part thereof and all losses happening in the course of the said trade shall be borne by them respectively in the like proportions (unless the same shall be occasioned by the wilful neglect or default of either of the said partners in which case the same shall be made good by the partner through whose neglect the same shall arise)

10. Proper books of accounts shall be kept by the said partners and entries made therein of all such matters transactions and things as are usually written and entered in books of account kept by persons engaged in concerns of a similar nature and such books together will all securities letters and other things belonging to or concerning said partnership shall be kept at the office where the partnership trade or business shall for the time being be carried on and each of the said partners shall have free access to inspect examine and copy the same whenever he shall think fit.

11.On the six day of July in every year during the continuance of the said partnership a general account and valuation shall be taken and made up to the same sixth day of July of the stock in trade credits property and effects debts and liabilities of the said partnership including the sum of Ten Thousand Pounds as and for the goodwill of the said or business and every such annual account and valuation shall be entered in a book which shall be the stock book of the said John and Reginald Heber Cook and co signed by each of the said partners and after such signatures each of them shall be bound by said account except that if any manifest error or found therein by either of the said partners and be signified to the other of them within three calendar months after the same shall have been so signed by both of them such error shall be rectified.

12. Immediately after the signing of such account the net profits of the said business for the then preceding year shall be divided between the said partners in the shares in which they shall be respectfully entitled to the same.

13. The said John Cook shall be at liberty to draw out of the cash of the said partnership the sum of one hundred pounds and the said Reginald Heber Cook the sum of fifty pounds on the first day of every month for their personal expenses the sums so drawn out to be accounted for by the said partners respectively on the taking of the annual accounts hereinbefore directed and if the sums so drawn out by either partner in any one year shall exceed the amount of his share in the net profits of the said trade or business for that year he shall forthwith repay the excess to the said partnership concerned.

14. Before any sums shall be paid to either of the said partners in respect of the profits of the said trade or business as provided by article 12 interest shall be calculated annually at the rate of Five Pounds per centum per annum on the amount of the capital appearing to the credit of each partner respectively and the interest so calculated shall be carried to the separate account of each partner respectively with the said partnership.

15. A cash account shall be kept with the Bankers of the said partnership in the name of the firm and all sums received on account of the same shall be immediately paid to such account. Each of the said partners shall be at liberty to draw cheques in the name of the firm.

16. Neither of the said partners shall directly or indirectly carry on business as a Common Brewer Maltster and Spirit Merchant at any other place other than at Tetbury aforesaid or any other trade or business either by himself or in partnership with any other person or persons or be in any other manor interested therein without the consent in writing of the other of them nor shall either of the said partners become bound bail or surety for any persons whomsoever or give credit to any person whom the other of the said partners has warned him by notice of writing not to trust.

17. If the said partnership shall determine by effusion of time or by notice pursuant to article 1 and no arrangement shall be made for a further partnership between the said partners or for disposing of the said trade or business and the property and effects belonging to the said partnership then a general account shall be taken of all the stock in trade credits property and effects debts and liabilities of the said partnership and as soon as can be conveniently can be after such account shall have been taken the outstanding debts owing to the said partnership shall be collected and got in and the plant stock and trade property and other effects of the said partnership of sale shall be sold either by public auction or private contact with liberty for either partner to bid for and purchase the same and any part thereof and the monies which shall arise by the means aforesaid and all other moneys of the said partnership shall be applied in the manor following (that is to say) First in payment of the costs and expenses attending the winding up of the said partnership estate under this article. Secondly in payment and discharge of the debts and liabilities of the paid partnership. Thirdly In payment to each of the said partners of the amount of his capital in the said partnership concern with such interest so may be due thereon, And lastly the surplus of the said moneys shall be divided between the said partners in shares in which they shall be entitled to the net profits of the said trade or business.

18.In the case of the death of either of the said partners during the continuance of the said partnership the survivor of them shall be at liberty to take the share of the one so dying in the partnership property capital good will stock and effects of all kinds upon giving to the executors or administrators of the deceased partner notice in writing of his intention in that behalf at any time within one calendar month from the decease of such partner and shall pay unto the executors or administrators of the partner so dying such sum of money as shall appear to have been the amount of his shares in the capital and good will of the said partnership at the last valuation or stock taking after allowing for such additions or deductions as may have been made thereto or taken therefrom since that period together with interest thereon at the rate of Five Pound per centum per annum up to the day of such decease and the sum which shall become payable under this article shall be paid by annual instalments of not less the One Thousand Pounds and shall bear interest at the rate of Five Pounds per centum per annum from the day of such decease and be secured at the expense of the surviving partner by such a sufficient and proper mortgage of the property belonging to the partnership at the time of such decease as the executors or administrators of the partner so dying shall require or in case the partner surviving shall be so minded he shall be at liberty to pay the whole amount at once or by such earlier or larger instalments as he may think proper. If the survivor shall not take the share of the deceased partner under this article the like account sale and division shall be taken and made between the surviving partner and the executors or administrators of the deceased partner as are hereinbefore directed to be taken and made between the partners in case the said partnership shall determine by effusion of time or by notice pursuant to article 1.

19. In the case the share of either of the paid partners of and in the paid partnership property capital good will stock and effects shall be taken by the survivor of them under article 18 then the legal real and personal representatives of the deceased partner shall at the expense of the surviving partner grant convey release and assign unto him his heirs executors administrators and signs all the share and interest of such legal real personal representatives in the said partnership property capital good will stock and effects subject to such mortgage as is mentioned in article 18 if previously made thereto.

20. In case the share of the said John Cook or and in the partnership property capital good will stock and effects shall be taken by the said Reginald Heber Cook under article 18 the said Reginald Heber Cook shall pay unto the executors or administrators of the said John Cook in addition to the sum of money which they will be entitled to receive under article 18 the sum of One Thousand Pounds for every month and so in proportion for any less period than a month which shall have elapsed between the sixth day of July immediately preceding the decease of the said John Cook and the day of his decease in lieu and full satisfaction of his share in the profits of the said trade and business for that period and the same shall be added to and be payable and secured in the same manner and with the same rate of interest as the sum of money payable under article 18.

21. In case the share of the said Reginald Heber Cook of and in the partnership property capital good will stock and effects shall be taken by the said John Cook under article 18 the said John Cook shall pay to the executors or administrators of the said Reginald Heber Cook in addition to the some of money which they will be entitled to receive under article 18 the sum of Fifty Pounds for every month and so in proportion for any less period than a month which shall have elapsed between the six day of July immediately preceding the decease of the said Reginald Heber Cook and the day of his decease in lieu and full satisfaction of his share in the profits of the said trade or business for that period and the same shall be added to and be payable and secured in the same manner and with the same rate of interest as the sum of money payable under article 18.

22. If during the continuance of the said partnership or any time afterwards any difference shall arise between the said partners or between one of them and the executors or administrators of the others or them or between their respective executors or administrators of the others of them or between their representative executors or administrators in regard to the construction of any of the articles here in contained or to any division act or things to be made or done in presence here of or thing relating to the said partnership or the affairs thereof such differences shall be forthwith referred to arbitrators one to be appointed by each party in difference or to an empire to be chosen by the arbitrators before entering on the deemed an arbitration within the common law procedure act 1854 and be subject to the provisions as to arbitration contained in the said act.

Brewery and Public Houses.

Tetbury. Dwelling house Brewery Cellars Stables Tank Tower Malthouse Stables yards gardens and buildings. Tenure Freehold.
Tetbury. The Greyhound Inn with yards stabling and garden. Tenure Freehold.
Tetbury. The Plough Inn with yard and stable. Tenure Freehold.
Tetbury. The Crown Inn with warehouse stables cottage and yard. Tenure Freehold.
Tetbury. The Eight Bells Inn with stables and yard. Tenure Freehold.
Tetbury. The Compasses Inn with stables and yard. Tenure Freehold.
Tetbury. The Fox Inn with coach house stables garden yard and cottage. Tenure Freehold.
Charlton Near Tetbury. The Three Cox Inn with yard stables and garden. Tenure Freehold.
Wotton Under Edge. The Glaziers Arms Inn and premises. Tenure Freehold.
Didmarton. The Kings Arms Inn with stables coach house yard and garden. Tenure Leasehold.
Malmesbury. The White Lion Inn with coach house stables and premises. Tenure Freehold.
Eastington. The Kings Head Inn with land stables and premises. Tenure Freehold.
Eastington. The Red Lion Inn with land stables and premises. Tenure Freehold.
Forest Green, Horsley. The Upper Star Inn land cottages stables and sheds. Tenure Freehold.
Burnt Ash, Minchinhampton. The Ragged Cot Inn land stables and premises. Tenure Freehold.
Chalford. The Bell Inn stables and premises. Tenure Freehold.
Avening. The Sawyers Arms Inn stables and premises. Tenure Freehold.
Horsley. The Boot Inn stables and premises. Tenure Freehold and Leasehold.
Westport St Mary Malmesbury. The Suffolk Arms land stables and premises. Tenure Leasehold.
Wotton Under Edge. The Pack Horse Inn stables and premises.
Cottages & C.
All Freehold located in Tetbury.

Chavenage Lane. Cottage and garden in the occupation of Jonathan Creed.
Hampton Street. Cottage and garden (late Toll House) in the occupation of William Newcombe.
New Church Street. Messuage and garden in the occupation of Richard Hoare.
Hampton Street. Messuage and garden in the occupation of Francis Broome.
Hampton Street. Messuage and garden late in the occupation of James Mann but now of John Newcombe.
Chavenage Lane. Cottage and garden in the occupation of William Parker.
Chavenage Lane. Cottage and garden in the occupation of James Horton.
Chavenage Lane. Cottage and garden in the occupation of James Sessions.
Chavenage Lane. Cottage and garden in the occupation of ....... Roseblade.

Source Original document owned by Paul Best.

====

John Cook and R.H. Cook.

Notice is hereby given, that the Partnership which has for some time past been carried on by John Cook and Reginald Heber Cook, under the firm J. and R.H. Cook, at Tetbury, in the county of Gloucester, in the trade or business of Common Brewers, Maltsters, and Spirit Merchants, was dissolved, on the 6th day of July 1883, by mutual consent.

Dated this 11th day of July 1883.

John Cook.
R.H. Cook.

Gazette Issue 25251 published on the 17 July 1883. Page 23 of 52

Source London Gazette.

1891/R H Cook/Brewer/42/Tetbury, Gloucestershire/Census ****
1891/C E Cook/Wife/43/Cheltenham, Gloucestershire/Census
1891/E F Cook/Daughter/9/Tetbury, Gloucestershire/Census
1891/L P Priest/Governess/18/Addlestone, Surrey/Census
1891/M Harriss/Housemaid/19/Sherstone, Wiltshire/Census
1891/E White/Cook/18/Tetbury, Gloucestershire/Census
====
September 1897 Partnership between Reginald Heber Cook, Nathaniel Cook and Walter dissolved.

Notice is hereby given that the Partnership heretofore subsisting between us the undersigned Reginald Heber Cook Nathaniel Cook and Walter Cook carrying on business as Common Brewers Maltsters and Wine and Spirit Merchants at Tetbury in the county of Gloucester under the style or firm of R. H., N., and W. Cook has been dissolved by mutual consent so far as regards the said Reginald Heber Cook as from the sixth day of July 1897. All debts due to and owing by the said late firm will be received and paid by the said Nathaniel Cook and Walter Cook. Dated this twenty-ninth day of September 1897.

Reginald Heber Cook.
Nathaniel Cook.
Walter Cook.

Source London Gazette.

Gazette Issue 26905 published on the 29th October 1897.

====

August 1913.

Cook's Tetbury Brewery.

Secretary's particulars of what actually purchased.

Cooks Tetbury Brewery & Houses.

Price to be paid £36.000 to include

The New Brewery Premises & Cellars (building only) with the offices & yards attached

The Range of Stabling, Trap Shed & small yard next to the Brewery (a garden retained by Messrs Cook coming between)

24 Freehold Fully Licensed Houses
6 Freehold Beerhouses
1 Freehold Off Beer Houses
1 Leasehold about 11 yrs unexpired
1 Lifehold Inn insured for £300
1 Beerhouse Secured by Mortgage of £246
1 Beerhouse tied by Loan of £100

All land held and let therewith (excluding a piece at Mangotsfield)

All cottages let with, near to or adjoining or which should in the opinion of the Co's Secretary go with the Licensed Houses

The Boilers Engines Water pump & Tanks & all plant appertaining to the Water supply.

If Co. successful in selling the Water to the town Messr. Cook to be paid one moiety of the sum received. If let to the Town then half the rent.

(All the fixed & loose plant to remain the property of Messr. Cook to be removed by them within 12 months from the completion of the purchase) Brewing operations by the Company.

All Casks, Jars Bottles Cases & loose articles in stores

All Furniture and Office Effects (with the exception of the large safe in the public office Bookcase Kneehole Desk & Oak Chair in the private office).

The Company to have the option of taking to the whole or such portions of the Stock in Trade Horses Carts Drays & Harness as they may desire at a price to be agreed upon or failing that by Valuation in the usual way

The Company to take Book Debts as may be mutually agreed upon.

The Company to have the right to continue Brewing operations at the Brewery for a period of 6 12 months from the date of the completion of the purchase with full & free use of all necessary premises and plant (fixed & loose) also of hiring the whole or part of the horses, carts & harness for the same period at a fair and reasonable price to be agreed upon

The purchase to be completed on the 30th September 1913.


A deposit of 10% to be paid in signing contract} £3600

On Mortgage for 10 years @ 4 % p. a. £ 20,000

Balance of £12400

£36000

Plus stock Books [ ] can be paid half in six months rest in 12 months at 4 % interest p. a.


The Deeds of 4 - 5 houses viz

16. Salutation Mangotsfield
20 New Inn & Land Southwick
27 Coopers Arms & Orchard Batheaston &
29 New Inn Keynsham
11 Rose Crown Cottage Keevil
} & all Land & premises attached thereto or let therewith

To be kept out of the Mortgage & deposits with Messr Cook as Security
The Coy. to have the right to sell these and two thirds of the proceeds to go in reduction of the Mortgage of £20.000
The Short Leasehold the Lifehold property and the two properties secured by Mortgage & Loan to be also kept out of the Mortgage.

List of their (Cook's) Tenancy agreements sent to Stroud Brewery Co August 28th 1913.

The Lamb Inn, Leonard Stanley. Mrs M.R. Allder.
The New Inn, Keynsham. Frederick Oram.
The Nags Head, Avening. A Boulton.
The White Hart, Ashton Keynes. W. West.
The Salutation, Mangotsfield. H. King.
The Red Lion, Eastington. J. Wilkins.
The Star Inn, Wotton under Edge. F. Ford.
The Rose & Crown, Keevil. W. Salter.
The Boot Inn, Horsley, F. Halliday.
The Cross Keys, Bradenstoke, S. Hardiman.
The Foresters Arms, Sherston, M. Powell.
The Bell Inn, Chalford, G. Brown.
The Suffolk Arms, Malmesbury, S. Bowrman.
The White Lion, Malmesbury, H.W. Abboth.
The Rose & Crown, Brokenborough, A. Liddiard.
The Kings Head, Eastington, Mrs Howell.
The Upper Star, Forest Green, J. Ruck.
The Ragged Cot, Hyde, Mrs Hiron.
The Red Lion, Stockinbridge, A.E. Buckingham.
The Fox Inn, Hawkesbury, S. Richings.
The Coppers Arms, Batheaston, A. Blakermore.
The Bell Inn, Yatton Kenell, C. Dolman.
The Kings Arms, Didmarton, W. Summers.
The Beerhouse, Somerford Keynes, R. Bowley.
The Eight Bells Inn, Tetbury, R. Palmer.
The Prince of Wales, Tetbury, J. Oates.
The Fox Inn, Tetbury, J. Ashelford.
The Greyhound Inn, Tetbury, E. Boulton.
The Crown Inn, Tetbury, E. Mann.
The Bell Inn, Tetbury, G. Beal.
The Three Cocks, Tetbury, H. J. Allies.
The Plough Inn, Tetbury, J. Purnell.

Also of September 30th 1913 the entire wine and spirit stock owned by Messrs N & W. Cook transferred to the Stroud Brewery Company Limited.

Source Gloucester R.O Doc Number
D2308/5/2

====

The Stroud Brewery Company Ltd.

Extract from the Minutes of a Directors Meeting held at the Offices of the Company on Monday the 25th day of August 1913.

Resolved.That the purchase of Messrs N &W. Cooks Freehold Brewery, Freehold Licensed Houses, Land, Cottages, a Leasehold Licensed House, a Lifehold Licensed House, a Mortgage of £246 on land, a debt of about £90, due by Mrs Jefferies of Shipton Moyne, the Plant appertaining to the Water supply in the said Brewery as agreed, the Furniture and Effects in Houses and Brewery as agreed, and the Casks, Cases, Jars, Bottles used in connection with the said Brewery for the sum of £36,000 ---- be confirmed and that the seal of the Company be and is hereby affixed to a form of contract with Messrs Cook, for such purchase as settled by the Company's Solicitors and that a cheque for £7,200 ---- being 20% of the said purchase money of £36,000 --- be signed and paid to Messrs Cook at the same time.

Truly extracted,

(signed) William G. Downing.

Sec.

Source Gloucester R.O Doc Number
D2308/5/2



* Provided By Paul Best

**** Provided By Kevan