Search London wiki and Pub wiki history sites
All public house, restaurants, bars etc closed for the forseeable future from 20th March 2020, but this is a history site.
White Hart, 199 Bishopsgate Street, Aldgate EC2
Aldgate pub history index
The history of this pub may go back as far as 1246 - it was certainly present, and called the White Hart, by 1377. It was rebuilt in 1480 and again in 1829; it remains open today. The pub is actually next door but one to St Botolphs, Bishopsgate; Listed at Liverpool Street, Bishopsgate Street in 1839; At '199 Bishopsgate Street without' in 1856 and up to 1915 ** This pub's address is now 119-121 Bishopsgate. A date on the parapet displays the year of 1240. This pub closed in 2014, supposedly to be demolished and replaced by a Crossrail station. *
When the gateway was replaced in the reign of Richard II the date 1480' was first shown on the face of the building.
The old house rebuilt in 1829 to replace its 16th century predecessor, still showed the date of its original erection in 1480. At that time it was found that the structure was being built on the original cellars constructed by the Romans.
In 1899 the name White Hart was quite ignored by the present proprietor, (George Whitehead??) and the figures 199 were put in all the large windows. It was a public house with no seats for customers, so they had to drink up quick and order again or go out and make room for others. Although customers were allowed to smoke on the premises, the proprietor did not sell tobacco or cigars, which was very unusual at that time. *+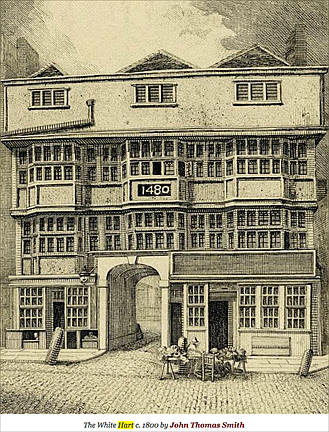 White Hart, Bishopsgate Street circa 1800 - by John Thomas smith
Kindly provided by John Carnaby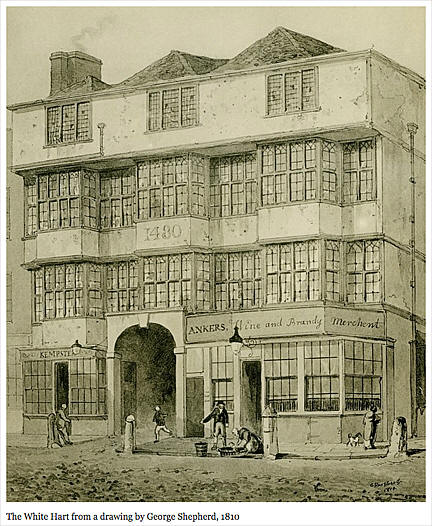 White Hart, Bishopsgate Street from a drawing by George Shepherd in 1810 - proprietor William Ankers
Kindly provided by John Carnaby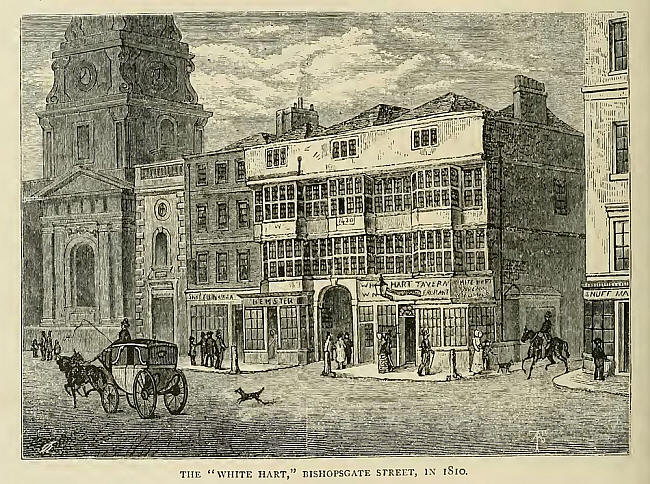 White Hart, Bishopsgate Street in 1810
Kindly provided by John Carnaby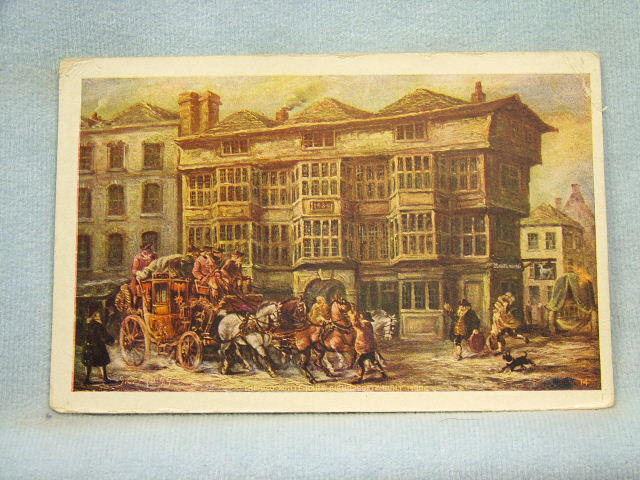 White Hart, Bishopsgate - pre 1829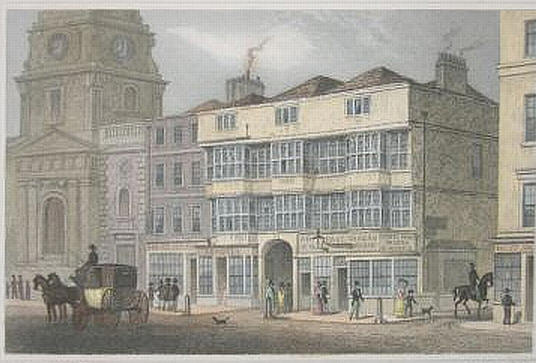 White Hart, Bishopsgate - circa 1835
Both kindly provided by Colleen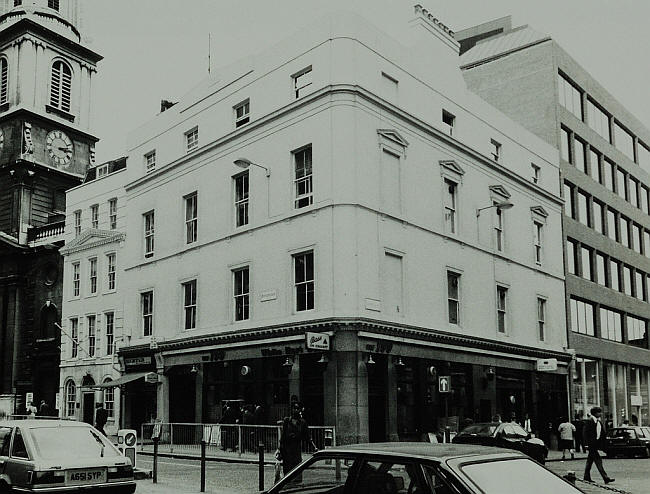 White Hart, Liverpool street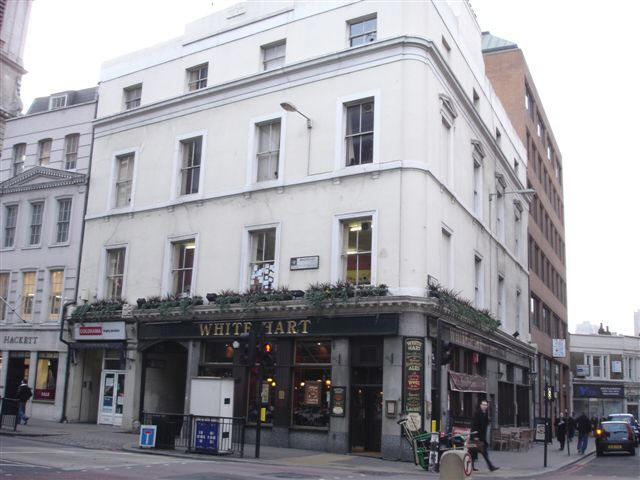 White Hart, 121 Bishopsgate Street - in December 2006
Kindly provided by Stephen Harris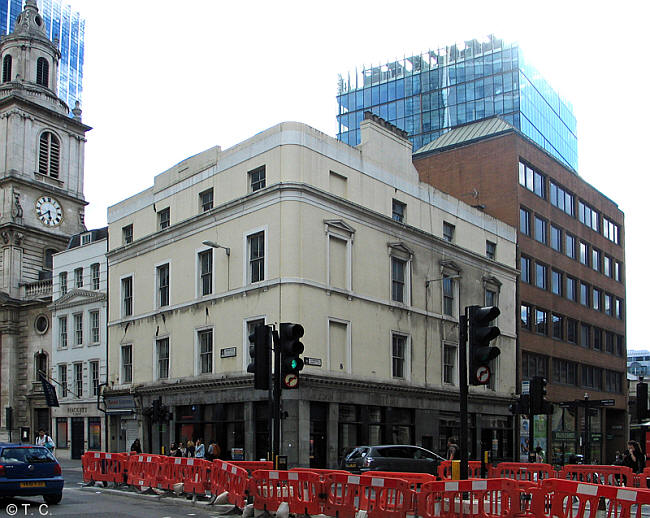 White Hart, 119-121 Bishopsgate EC2 - in July 2014
Kindly provided by Tris
Residents at this address.
1545/Left by Richard Harriyounge to Samuel Marrowe/../../../Will of Richard Harriyounge, held at Hackney Archives Department **

1805/William Ankers, White Hart tavern, Bishopsgate without/../../Holdens Directory

29th October 1806/WILLIAM ANKERS/sworn . I keep the White Hart, Bishopsgate-street/../../Old Bailey *+

1822/William Melton/../../../Pigots Directory **

1825/William Melton/../../../Pigots Directory **

1829/William Morris / Victualler /../../../Sun Fire Office records held at Guildhall Library **

1830/William Morris / Tavern Keeper /../../../Sun Fire Office records held at Guildhall Library **

1832/William Morris/../../../Robsons Directory

1833/William Morris / Tavern Keeper /../../../Sun Fire Office records held at Guildhall Library **

1835/William Morris/../../../Robsons Directory **

1836/William Morris / Tavern Keeper /../../../Sun Fire Office records held at Guildhall Library **

1839/William Morris/../../../Pigots Directory

1841/William Morris/../../../P.O. Directory **

1842/W Morris/../../../Robsons Directory **

1843/Mrs Grace Morris/../../../Kellys Directory **

1848/Mrs Grace Morris/../../../P.O. Directory **

1851/Mrs Grace Morris/../../../Kellys Directory **

White Hart Tap :
1851/John E Clayson/Publicans Servant/43/Deal, Kent/Census ***
1851/John Kerman/Lodger, Vintners Labourer/24/Liverpool, Lancashire/Census

White Hart Tavern :
1851/Grace Morris/Hotel Keeper, Widow/59/Kevagessey, Cornwall/Census ***
1851/M W Morris/Son, Hotel Keeper/29/../Census
1851/Helen Morris/Daughter, Hotel Keeper/26/London, Middlesex/Census
1851/J W Hatch/Lodger, Merchant/26/London, Middlesex/Census
1851/William Evans/Waiter/42/Aldgate, Middlesex/Census
1851/Thomas Footman/Porter/24/Stepney, Middlesex/Census
1851/E Bastrain/Cook, Widow/49/Hilston, Cornwall/Census
1851/C Cummins/Chambermaid/31/Manchester, Lancashire/Census
1851/A M Kirby/Housemaid/25/Ireland/Census

1855/Grace Morris & Son/../../../P.O. Directory **

1856/Grace Morris & Son/../../../Post Office Directory

1860/Morris & Son/../../../The Draper & Clothier, Travellers Hand-Book **

1861/Grace Morris/Hotel Keeper/69/Nevagissey, Cornwall/Census
1861/Marcus W/Son, Hotel Keeper/38/Nevagissey, Cornwall/Census
1861/Helen/Daughter, Hotel Keeper/35/London, Middlesex/Census
1861/Mary Ladinger/Niece, Assistant/25/Greenwich, Kent/Census
1861/John Saunders/Waiter/39/Amersham, Buckinghamshire/Census
1861/Elizabeth Morgan/Cook/39/South Mimms, Hertfordshire/Census
1861/Elizabeth Birmingham/Chambermaid/31/London, Middlesex/Census
1861/Francis Lambert/Hotel Porter/23/Hackney, Middlesex/Census
1861/Thomas Fuller/Hotel Barman/49/Witham, Essex/Census
1861/David Meredith/Hotel Barman/23/South Wales/Census
1861/Gertrude Boss/Housemaid/29/Amsterdam, Holland/Census
1861/Henry Sackett/Lodger, Farmer/58/Orsett, Essex/Census
1861/Peter Floyd/Lodger, Metal Miner/58/St Agnes, Cornwall/Census
1861/Hugh G Dawson/Lodger, General Commission Agent, Widow/39/Scotland/Census

July 1863/Grace Morris/Outgoing Licensee/../../Era

July 1863/Henry Clifford Green/Incoming Licensee/../../Era

1869/Henry Clifford Green/../../../Post Office Directory

1871/Thomas Poters/Licensed Victualler/32/Marylebone, Middlesex/Census
1871/George Pultand/Barman/32/Willingdon, Sussex/Census
1871/Henry Eade/Barman/25/Bethnal Green, Middlesex/Census
1871/Henry Emm/Barman/20/Salisbury, Wilts/Census
1871/Henry Charman/Barman/20/Battersea, Surrey/Census
1871/George Tate/Barman/19/Steeple, Essex/Census
1871/Eliza Toynbee/House Keeper/47/Strand, Middlesex/Census

1874/J Startin/../../../H.D. Miles London & Suburban Licensed Victuallers' Directory **

1881/Sarah Hooper/Housekeeper Publican, Widow/56/Preckenham, Suffolk/Census
1881/Katherine Kerin/Servant General/40/Kerry, Ireland/Census
1881/William Harris/Manager (Public)/24/Canewdon, Essex/Census
1881/Henry Salmon/Barman/33/Bishops Storford, Hertford/Census
1881/Henry A Moseley/Barman/25/Stoke Newington, Middlesex/Census
1881/Frank Andrews/Barman/17/Hammersmith, Middlesex/Census
1881/Morton Leigh/Barman/19/London Wall, Middlesex/Census
1881/John Tillman/Barman/20/Hammersmith, Middlesex/Census
1881/Abraham Ainsworth/Barman/19/Round Acton, Shropshire/Census
1881/William Potter/Barman/14/Canewdon, Essex/Census

1884/John Startin/../../../Post Office Directory

1886/Septimus Gillatt/../../../Business Directory of London **

1899/George Whitehead/../../../Post Office Directory

1902/George Whitehead/../../../Post Office Directory **

1917/George Whitehead/../../../Post Office Directory **

1921/George Whitehead & Sons London Ltd/Wine & Spirit Dealers/../../Post Office Directory **



* Provided By Tris

*+ Provided By John Carnaby

** Provided By Stephen Harris

*** Provided By Ken Ripper