Search London wiki and Pub wiki history sites
Welsh Harp, 60 New road, Battersea SW8
Battersea East pub history index
at 60 Thessaly Road, Battersea Park Road by 1938
A listing of historical London public houses, Taverns, Inns, Beer Houses and Hotels in the Battersea parish, London SW.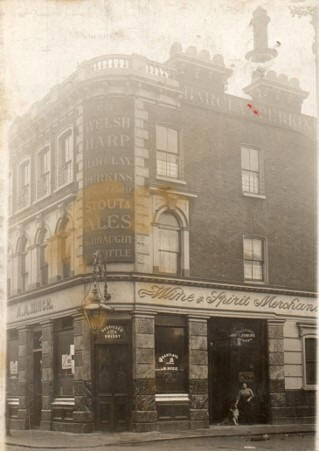 Welsh Harp, 60 New Road, Battersea East - circa 1915, licensee Arnold Arthur Minch
The postcard shows when the Welsh Harp was occupied by my great grandfather Arnold Arthur Minch in 1915. His name is on the left side of the pub over the door. In the doorway is Ellen Minch
Kindly provided by Michael Scott

Residents at this address.
1871/Ralph Green/Licensed Victualler/42/N Lawton, Devon/Census
1871/Mary J Green/Wife/43/Exmouth, Devon/Census
1871/William T Green/Son, Assistant Barman/19/Exmouth, Devon/Census
1871/Frank Green/Son/11/Borough, Surrey/Census
1871/Frederick Green/Son/7/Lambeth, Surrey/Census
1871/Ada M Green/Daughter/1/Bermondsey, Surrey/Census
1871/Lucy Bates/Sister in Law/24/Exmouth, Devon/Census
1871/Warrick Bates/Son/2/Lambeth, Surrey/Census
1871/Philip Cookey/Potman/19/Clapham, Surrey/Census
1871/Maria Coombes/Servant/15/Bristol/Census

March 1872/Ralph Green/Outgoing Licensee/../../Era

March 1872/Mary Ann Eleanor Johnson/Incoming Licensee/../../Era

1878/Alfred Smith, Welsh Harp, 60 New road/../../../Surrey Directory

1881/Alfred Smith/Licensed Victualler/38/Bermondsey, Surrey/Census
1881/Annie Smith/Wife/36/Bethnal Green/Census
1881/Annie Smith/Daughter/12/Deptford, Kent/Census
1881/Annie Weston/Barmaid/16/St Georges in East, Middlesex/Census
1881/Mary Ann Kelly/Barmaid/30/../Census

1896/J F Taylor/../../../../Post Office Directory

1901/William Oram/Licensed Victualler/48/Wiltshire/Census
1901/Edith Oram/Wife/24/Willesden, Middlesex/Census
1901/Arthur Grimstead/Barman/27/Batley, Yorkshire/Census
1901/Emma Dennington/Domestic Servant/21/Chelsea, London/Census

1901/William Frank Oram/../../../../Post Office Directory

1904/George Sneezum Acock/../../../../Post Office Directory

1906/George Sneezum Acock/../../../../Post Office Directory

1911/John Shields/../../../../Post Office Directory

1911/John Shields/Licensed Victualler/35/Edgware, Middlesex/Census
1911/Georgina Shields/Wife/32/Woodford, Essex/Census
1911/Elsie Gena Shields/Daughter/8/Plumstead, Kent/Census
1911/Constance Elizabeth Shields/Daughter/7/Plumstead, Kent/Census
1911/Violet Ethel Shields/Daughter/6/Plumstead, Kent/Census
1911/William John Arnell/Head Barman/28/Woodford, Essex/Census
1911/Alfred Henry James Parker/Barman/36/Borough/Census
1911/Albert Edward Godden/Barman/23/East Greenwich, Kent/Census
1911/Alice Eleanor Fairey/General Servant/32/Brixton, Surrey/Census

Arnold Arthur Minch is previously at the Marquis of Wellesley, 60 Cromer street, St Pancras until at least 1912

1915/Arnold Arthur Minch/../../../../Electoral Register

1919/Arnold Arthur Minch/../../../../Post Office Directory

1920/Arnold Arthur Minch/../../../../Post Office Directory

1921/Arnold Arthur Minch/../../../../Electoral Register
1921/Arthur Edward Crisp/../../../../Electoral Register
1921/Milly Crisp/../../../../Electoral Register

1934/Horace Edwin Chadwick/../../../../Post Office Directory

1938/Horace Edwin Chadwick/Welsh Harp, 60 Thessaly Road/../../../Post Office Directory