Marquis of Wellesley, 60 Cromer Street, Grays Inn Road WC1
St Pancras index
The address is at 60 Cromer street from 1869, prior to this it is at 89 Cromer street. There is another beer house at 60 Cromer street before this renumbering. At the junction with Loxham street in 1936 but no mentions in the 1942 street directory.
Historical London public houses, Taverns, Inns, Beer Houses and Hotels.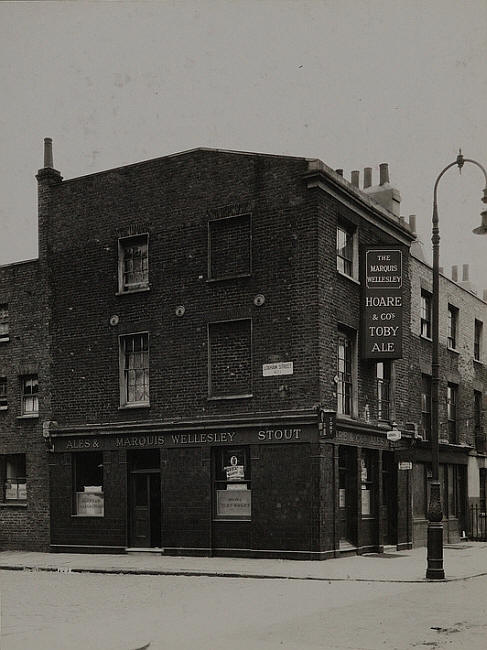 Marquis of Wellesley, 60 Cromer Street, Grays Inn Road WC1
Residents at this address.
April 1827/Thomas Richardson/../../../Licensed Victuallers Association

1839/Thomas Delahay/../../../Pigots Directory

1842/Philip Wildee/../../../Robsons Directory

1848/Philip Wildee/../../../Post Office Directory

1851/Philip Wildee/../../../Post Office Directory

1856/Vacant/../../../Post Office Directory

1861/John Hewer/Publican/22/Bristol/Census
1861/Mary Hewer/Wife/23/Pakenham, Suffolk/Census
1861/Emma Potter/Sister/28/Pakenham, Suffolk/Census
1861/Margaret Murphy/House Servant/37/Cork, Ireland/Census
1861/Arthur Bloore/Potman/27/St Andrews Holborn, Middlesex/Census

November 1862/Benjamin Stedman/Outgoing Licensee/../../Era

November 1862/John Dove Grove/Incoming Licensee/../../Era

December 1862/John Fitzroy Grove, son and executor of John Dove Grove, late occupier/Incoming Licensee/../../Era

1869/George Smith/../../../Post Office Directory

1871/George Smith/Licensed Victualler/36/Suffolk/Census
1871/Eliza Smith/Wife/36/Tonbridge, Kent/Census
1871/Louisa Smith/Daughter/13/Chatham, Kent/Census
1871/Marion M Smith/Daughter/4/Chatham, Kent/Census
1871/George Chapman/Cousin, Waiter (Hotel)/27/Maidstone, Kent/Census
1871/Isabella Chapman/Cousin/25/Newcastle on Tyne/Census
1871/Frederick Chapman/../7 months/St Pancras, Middlesex/Census

1881/George Smith/Licensed Victualler/48/Aldbury, Norfolk/Census
1881/Eliza Smith/Wife/48/Tonbridge, Kent/Census
1881/Marion Moore Smith/Daughter/14/Chatham, Kent/Census

1882/George Smith/../../../Post Office Directory

1884/G Smith/../../../Post Office Directory

1891/Mrs Eliza Bray/../../../Post Office Directory

1895/Walter Henry Crisp/../../../Post Office Directory

[In August 1887, Arnold Arthur Minch, aged 22, marries Ellen Eugene Crisp, aged 24, in the parish of Fulham.] He is a public house manager in the 1891 census living at Calvert road, Greenwich with his wife Ellen and three young children, born in Stockwell or Greenwich.

1898/Arnold Arthur Minch/../../../Electoral Register

1899/Arnold Arthur Minch/../../../Post Office Directory

1901/Arnold Minch/Licensed Victualler/36/St Pancras, London/Census
1901/Ellen Minch/Wife/36/Wandsworth, London/Census
1901/Louisa Minch/Daughter/13/Stockwell, London/Census
1901/Dorothy Minch/Daughter/11/Stockwell, London/Census
1901/Agnes Minch/Daughter/9/Greenwich, London/Census
1901/Arnold Minch/Son/8/Kensington, London/Census
1901/Harriett Kracht/Domestic Servant/24/Peckham, London/Census

1905/Arnold Arthur Minch/../../../Post Office Directory

1910/Arnold Arthur Minch/../../../Post Office Directory

1911/Arnold A Minch/Licensed Victualler/45/Kentish Town/Census
1911/Ellen Minch/Mother (Wife)/47/South Lambeth/Census
1911/Dorothy Minch/Daughter, Housework/21/Stockwell/Census
1911/Agnes Minch/Daughter, Dressmaker/20/Greenwich/Census
1911/Arnold Minch/Son, Licensed Trade/19/North Kensington/Census

1912/Arnold Arthur Minch/../../../Electoral Register

Arnold Arthur Minch is at the Welsh Harp, 60 New road, Battersea by 1915, probably earlier

1915/Joseph Edward Glover/../../../Post Office Directory

1927/Mrs Hilda Ruth Boardman/../../../Post Office Directory

1936/Godfrey Samuel/../../../Post Office Directory

1938/Godfrey Samuel/../../../Post Office Directory

1940/Sidney H Harris/../../../Post Office Directory