Search London and Pub history
Black Swan, 54 Bermondsey street, Bermondsey SE1
Bermondsey pub history index
Bermondsey Street gets renumbered quite a few times. The address is at 71 Bermondsey Street until about 1851, then 54 Bermondsey Street from about 1856.
Historical London public houses, Taverns, Inns, Beer Houses and Hotels.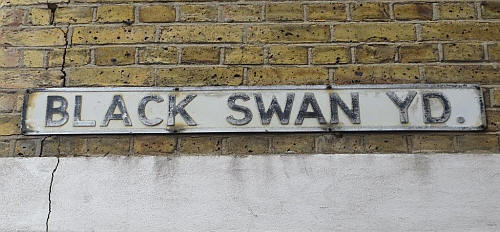 The Black Swan is now demolished, but is remembered in a street name - in September 2016
Kindly provided by Stephen Harris
Residents at this address.
1791/Charles Stewart/victualler/../../Sun Fire Office records held at the London Metropolitan Archives *

1800/Thomas Baskerville/victualler/../../Sun Fire Office records held at the London Metropolitan Archives *

1801/John Hayes/victualler/../../Sun Fire Office records held at the London Metropolitan Archives *

1811/Joseph Wheeler, Black Swan, Bermondsey street, Southwark/../../Holdens Directory

1822/John Hollingsworth/Black Swan, Bermondsey street/../../Licensed Victualler Recognizances

1825/Mr Hollingsworth, Black Swan, Bermondsey street/../../Licensed Victuallers Association

1825/John Hollingsworth/Black Swan, Bermondsey street/../../Licensed Victualler Recognizances

1826/John Hollingsworth/Black Swan, Bermondsey street/../../Licensed Victualler Recognizances

1833-34/John Hollingsworth/../../../Pigots Directory

1839/James Taylor/../../../Pigots Directory

1841/James Taylor/../../../Post Office Directory

1848/William Millis/../../../Post Office Directory

1842/Thomas Harper/../../../Robsons Directory

1851/William Millis/../../../Kellys Directory

1851/William Millis/Victualler/57/Godalming, Surrey/Census
1851/Elizabeth Milis/Sister in Law, Housekeeper, Widow/50/Esher, Surrey/Census
1851/Mary Knight/General Servant/17/Cuckfield, Sussex/Census
1851/William Weller/Waiter/22/Croydon, Surrey/Census

1856/William Millis/../../../Post Office Directory

1861/William Millis/Victualler/67/Godalming, Surrey/Census
1861/Ann Millis/Wife/72/Godalming, Surrey/Census
1861/Sarah e Herrott/Niece/37/Chobham, Surrey/Census
1861/Mary A Collins/House Servant/43/Shoreditch, Middlesex/Census
1861/Edwin Jenkins/Potman/26/Bermondsey, Surrey/Census

February 1864/William Millis, deceased/Outgoing Licensee/../../Era

February 1864/to Ann Millis, executrix of Wm Millis, late occupier/Incoming Licensee/../../Era

October 1865/William Laver/Outgoing Licensee/../../Era

October 1865/James Ryan/Incoming Licensee/../../Era

1866/James Ryan/../../../Post Office Directory

1869/Thomas Hastings/../../../Post Office Directory

1874/T Hastings/../../../Licensed Victualler & Hoteliers Directory

1881/John Judge/Licensed Victualler/43/Oxford/Census
1881/Edith Judge/Wife/42/Cambridge/Census
1881/Minnie J Judge/Daughter/16/Lambeth, Surrey/Census
1881/Albert J Judge/Son/8/Southwark, Surrey/Census
1881/Florence E L Judge/Daughter/5/Bermondsey, Surrey/Census
1881/Lilly A Judge/Daughter/3/Bermondsey, Surrey/Census
1881/Eliza Morgan/Servant/16/Bermondsey, Surrey/Census
1881/John Edwards/Servant/23/Wapping, Middlesex/Census
1881/- Campkin/Visitor, Widow/61/Norfolk/Census

1882/John Judge/../../../Post Office Directory

1884/John Judge/../../../Post Office Directory

1891/John Judge/../../../Post Office Directory

1891/John Judge/Licensed Victualler/53/Ardley, Oxon/Census
1891/Edith Judge/Wife, Barmaid/51/Willingham, Cambs/Census
1891/Minnie Judge/Daughter, Barmaid/26/Lambeth, London/Census
1891/A J Judge/Son/18/Newington, London/Census
1891/F E L Judge/Daughter/15/Bermondsey, London/Census
1891/L A Judge/Daughter/12/Bermondsey, London/Census
1891/John Edwards/Potman/37Wapping, London//Census
1891/Elizabeth E Strugnall/Domestic Servant/43/Uxbridge, Middlesex/Census

1895/John Judge/../../../Post Office Directory *

1899/Christian Lauterwasser/../../../Post Office Directory

Christian Lauterwasser is at the Scotch Stores, 35 Whitefriars Street by 1901.

1901/Charles Wood/Licensed Victualler/55/Wandsworth, Surrey/Census
1901/Louisa H Wood/Wife/34/Holborn, London/Census
1901/Charles Wood/Son/12/Greenwich, Kent/Census
1901/William H Wood/Son/11/Greenwich, Kent/Census
1901/Louisa E Wood/Daughter/9/Greenwich, Kent/Census
1901/Ernest Wood/Son/5/Greenwich, Kent/Census
1901/George Wood/Son/2/Carshalton, Surrey/Census



* Provided By Ewan