Green Dragon, 63 Bermondsey street, Bermondsey SE1
Bermondsey pub history index
Existed from at least 1822. The address is 66 Bermondsey Street until about 1851, prior to street renumbering. * Long closed and converted to commercial use. *+
Bermondsey Street gets renumbered quite a few times. The address is at 65 Bermondsey Street until about 1851, then 49 Bermondsey Street from about 1856. The numbering alters again about 1910 to 63 Bermondsey Street. Ex-Wenlock Brewery. Converted to residential use.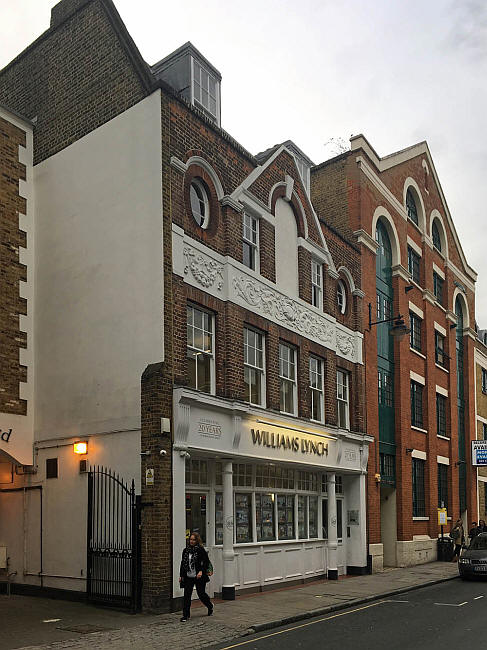 Green Dragon, 63 Bermondsey Street, Bermondsey - in April 2018
Kindly provided by Tris
A listing of historical London public houses, Taverns, Inns, Beer Houses and Hotels in Bermondsey, Surrey, London. The Bermondsey, Surrey , London listing uses information from census, Trade Directories and History to add licensees, bar staff, Lodgers and Visitors.
Residents at this address.
1822/Sarah Wyley/Green Dragon, Bermondsey street/../../Licensed Victualler Recognizances

1825/John Roots/Green Dragon, Bermondsey street/../../Licensed Victualler Recognizances

February 1826/Thomas Watkins/Green Dragon, Bermondsey street/../../Licensed Victualler Recognizances

1829/Robert Eagle/victualler/../../Sun Fire Office records held at the London Metropolitan Archives *

1830/Patrick Welch/victualler/../../Sun Fire Office records held at the London Metropolitan Archives *

1832/Eli Shore/victualler/../../Sun Fire Office records held at the London Metropolitan Archives *

1839/James Byrne/../../../Pigot's Directory *

1841/Henry Pacy/../../../Post Office Directory *

1842/Jno Hogg/../../../Robsons Directory

April 1847/Lawrence Shiverer/Outgoing Licensee/../../Era

April 1847/William James Jennings/Incoming Licensee/../../Era

November 1847/Samuel Spooner/Outgoing Licensee/../../Era Newspaper

November 1847/George Augustus Parr/Incoming Licensee/../../Era Newspaper

January 1848/George Augustus Parr/Outgoing Licensee/../../Era Newspaper

January 1848/John Jenner/Incoming Licensee/../../Era Newspaper

July 1849/William Evans/Outgoing Licensee/../../Era

July 1849/Joseph Lockett/Incoming Licensee/../../Era

1851/Charles Rudd/../../../Kellys Directory

1851/James Havell/Victualler/36/Ipswich, Suffolk/Census
1851/Eleanor A Havell/Wife/31/St George Hanover Square, Middlesex/Census
1851/Eleanor R Havell/Daughter/6/City, London/Census
1851/John N Havell/Son/8/City, London/Census
1851/George H Havell/Son/6/City, London/Census
1851/Cleland Havell/Son/5/City, London/Census
1851/Ann Conway/General Servant/19/Ireland/Census

1856/Frederick Bentley/../../../Post Office Directory

April 1856/Frederick Bentley/Outgoing Licensee/../../Era

April 1856/John Pollard/Incoming Licensee/../../Era

September 1857/John Pollard/Outgoing Licensee/../../Era

September 1857/Joseph Hudd/Incoming Licensee/../../Era

1861/John Palmer/Victualler/30/Burnham, Buckinghamshire/Census
1861/Mary Palmer/Wife/28/Chelsea, Middlesex/Census
1861/Henry Palmer/Son/5/Chelsea, Middlesex/Census
1861/John Palmer/Son/4/Chelsea, Middlesex/Census
1861/James Chandler/Potman/28/Chichester, Sussex/Census
1861/Edgar Woodward/House Servant/40/St Lukes, Middlesex/Census
1861/Jane Myers/Barmaid/42/Exeter, Devon/Census

September 1861/John Palmer/Outgoing Licensee/../../Era

September 1861/James Nash/Incoming Licensee/../../Era

1866/Job Dolling/../../../Post Office Directory

December 1866/Job Dolling/Outgoing Licensee/../../Morning Advertiser

December 1866/Edward Walker/Incoming Licensee/../../Morning Advertiser

July 1867/E Walker/Outgoing Licensee/../../South London Press

July 1867/W Hiscocks/Incoming Licensee/../../South London Press

June 1868/William Hiscock/Outgoing Licensee/../../South London Chronicle

June 1868/Samuel Elston/Incoming Licensee/../../South London Chronicle

1869/Samuel Elston/../../../Post Office Directory

1881/Henry T Brown/Licensed Victualler/36/Mile End, Middlesex/Census
1881/Adeline Brown/Wife/40/Mile End, Middlesex/Census
1881/Mary Summons/Mother, Widow/68/Colchester, Essex/Census
1881/Edmund Fenton/Servant/20/Bermondsey, Surrey/Census

1882/Henry Thos Brown/../../../Post Office Directory

1884/George White/../../../Post Office Directory

1891/William Moore/../../../Post Office Directory

1891/James Terry/Licensed Victualler/50/Birmingham/Census **
1891/Amelia J Terry/Wife, Barmaid/38/Bethnal Green, London/Census
1891/Mary A E Terry/Daughter/10/Bethnal Green, London/Census
1891/Selina B Terry/Daughter/8/Bromley by Bow, London/Census
1891/Millicent Terry/Daughter/6/Stepney, London/Census
1891/Thomas J W Terry/Son/2/Stepney, London/Census

Millicent Terry, aged 6 in 1891 (my Grandmother); was born in the Crown and Dolphin, Stepney. She later had the Parrs Head, Camden town for 47 years with my Grandfather John Carnaby. I was born at the Parrs Head. My Grandfather first owned (1920's) jointly the Carlton Tavern in Carlton Vale, with his brother in law, Tom Terry. **

1895/James King/../../../Post Office Directory

1899/Mrs Mary Dodsworth/../../../Post Office Directory

1901/Joseph Sayers/Publican/25/Bethnal Green/Census
1901/Emily Sayers/Wife/27/Bethnal Green/Census
1901/Emily Sayers/Daughter/9/Bethnal Green/Census
1901/Abigail Sayers/Daughter/7/Bethnal Green/Census
1901/Rose Fenn/Sister in Law, Barmaid/21/Bethnal Green/Census
1901/Arthur Fenn/Brother in Law, Barman/19/Bethnal Green/Census
1901/Eliza Kennedy/Visitor, Machinist/18/Bermondsey, London/Census

1910/Charles Palmer/../../../Post Office Directory

1911/Louis Woolf/Publican/36/London, Middlesex/Census
1911/Elsie Woolf/Wife, Assistant/33/London, Surrey/Census
1911/Sadie Woolf/Daughter/8/London, Middlesex/Census
1911/Frances Woolf/Daughter/6/Swindon, Wiltshire/Census
1911/Rebecca Woolf/Daughter/3/Swindon, Wiltshire/Census

1915/Mrs Elsie Woolf/../../../Post Office Directory

1921/Wesley Arthur Hodge/../../../Post Office Directory

1923/Alfred George Jewell/Green Dragon/../../Electoral Register
1923/Eliza Jewell/../../../Electoral Register



* Provided By Ewan

*+ Provided By Tris

** Provided By John Carnaby

*** Provided By Bev Howlett