Samsons Castle, 210 Grange Road, Bermondsey SE1
Bermondsey pub history index
Existed from at least 1789. At 8 Samsons Place in 1851 and earlier; This pub was re-built in 1898, is now closed and the premises empty (2007).
Historical London public houses, Taverns, Inns, Beer Houses and Hotels.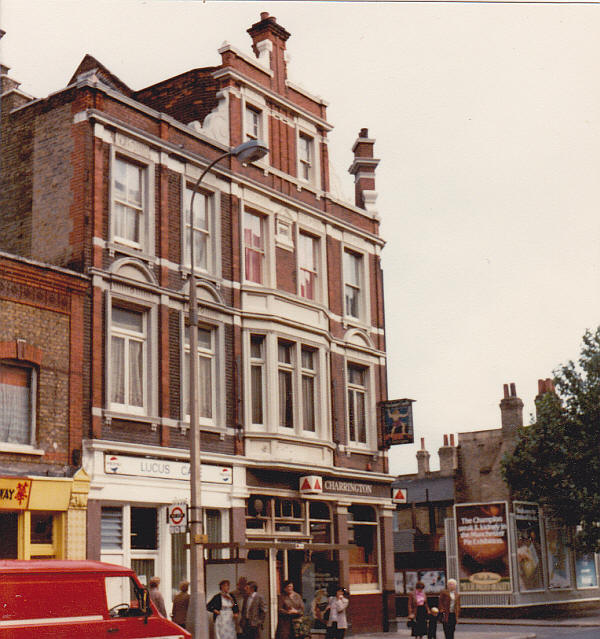 Samsons Castle, 210 Grange Road, Bermondsey - circa 1970s
Kindly provided by David Greenhalgh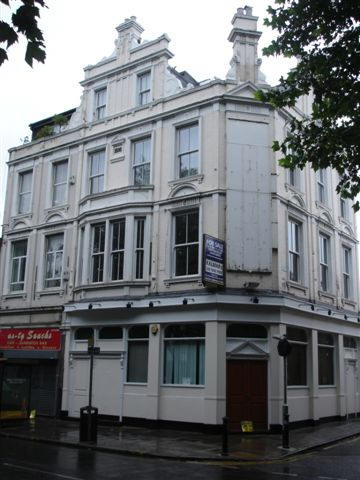 Samson's Castle, 210 Grange Road, SE1 - in June 2007
Kindly provided by Stephen Harris
Residents at this address.
1789/John Strange/victualler, Sampsons Castle/../../Sun Fire Office records held at the London Metropolitan Archives *

1791/George Duke/victualler, Sampsons Castle/../../Sun Fire Office records held at the London Metropolitan Archives *

1803/Timothy Turner/victualler, Sampson Castle/../../Sun Fire Office records held at the London Metropolitan Archives *

1825/Nathan Vezey/Sampsons Castle, Grange road/../../Licensed Victualler Recognizances

1826/Nathan Vezey/Sampsons Castle, Grange road/../../Licensed Victualler Recognizances

1839/William Soulby/[Sampson's Castle]/../../Pigot's Directory *

1848/John W Cathie/../../../Post Office Directory

1851/John W Cathie/../../../Kellys Directory

1851/John Warne Cathie/Licensed Victualler/31/St George Martyr, Surrey/Census
1851/Marguretta Cathie/Wife/30/Bishopsgate, Middlesex/Census
1851/Margaret Spooner/Visitor/18/Balmer, Essex/Census
1851/George Sheward/Servant/25/Surrey/Census
1851/James Pottinger/Servant/19/Paddington, Middlesex/Census
1851/Mary Turner/Servant/21/Rochester, Kent/Census

1856/Edmund W Cathie/../../../Post Office Directory

December 1856/Edward William Cathie/Outgoing Licensee/../../Era

December 1856/John Augustus Frederick Spooner/Incoming Licensee/../../Era

1861/John A F Spooner/Licensed Victualler/32/Sudbury, Suffolk/Census
1861/Adelaide S E Spooner/Wife/30/KIngsland, Middlesex/Census
1861/Walter John Spooner/Son/10 months/Bermondsey, Surrey/Census
1861/Mawson Atkinson/Carman/25/Wetherby, Yorkshire/Census
1861/Charles Gillingham/Under Barmaid/18/Shepherds Bush, Middlesex/Census
1861/Katherine Oloughlin/House Servant/27/Ireland/Census
1861/Elizabeth Jones/Nurse/20/Horselydown, Surrey/Census

1869/J E Turner/../../../Post Office Directory

February 1870/John Ellis Turner/Outgoing Licensee/../../Era

February 1870/William Sage/Incoming Licensee/../../Era

March 1870/William Sage/Outgoing Licensee/../../Era

March 1870/Thomas Alexander Tucker/Incoming Licensee/../../Era

1871/Thomas A Tucker/Victualler/40/Woolwich Kent/Census ***
1871/Mary A Tucker/Wife/40/Woolwich Kent/Census
1871/John W Tucker/Son Copper smith/14/Woolwich Kent/Census
1871/Arthur S Tucker/Son Scholar/12/Woolwich Kent/Census
1871/Charles Tucker/son Scholar/6/Woolwich Kent/Census
1871/Fanny Tucker/Dau Scholar/5/Woolwich Kent/Census
1871/William Tucker/Son/3/Woolwich Kent/Census
1871/Mary A Tucker/Dau/1/Woolwich Kent/Census
1871/William Abbott/servant Waiter/17/Bermondsey Surrey/Census
1871/Emma Williams/General servant/19/Camberwell Surrey/Census

April 1872/James Whiffin/Outgoing Licensee/../../Era Newspaper

April 1872/James Grubb/Incoming Licensee/../../Era Newspaper

1881/Arthur Thos Matson/Licensed Victualler/34/Deptford/Census
1881/Charlotte Matson/Wife/34/Gilbert S Oxford St/Census
1881/Alfred John Matson/Son/7/Greenwich Rd, Kent/Census
1881/Minnie Charlotte Matson/Daughter/5/Greenwich Rd, Kent/Census
1881/Thos Wm Matson/Son/3/Greenwich Rd, Kent/Census
1881/Arthur Edward Matson/Son/7 months/Grange Rd Bermondsey/Census
1881/Thos Fulker Matson/Domestic Servant/22/Fulham/Census
1881/Annie Watkins/Servant/16/Rotherhithe/Census

1882/A T Matson/../../../Post Office Directory

1884/Arthur T Matson/../../../Post Office Directory

1891/Chas Manzi/../../../Post Office Directory

1891/Charles Manzi/Licensed Victualler/49/St George London/Census
1891/Susan E Manzi/Wife/40/Blackwall London/Census
1891/Ann R Dixson/Mother Wid/71/Commercial Dock London/Census
1891/Jane E Searle/Barmaid/19/Camberwell London/Census
1891/Hannah E Nickall/Barmaid/18/Bethnal Green London/Census

1895/Charles Manzi/../../../Post Office Directory *

1899/John Martin Jones/../../../Post Office Directory

1910/William Charles Stevens/../../../Post Office Directory

1911/Simon Leven/Licensed Victualler/39/Russia/Census
1911/Annie Leven/Wife/40/Whitechapel, London/Census
1911/Jack Leven/Son, Clerk/17/Whitechapel, London/Census
1911/Lily Leven/Daughter/15/City, London/Census
1911/Ben Leven/Son/13/Whitechapel, London/Census
1911/Hettie Leven/Daughter/11/Whitechapel, London/Census
1911/Bertha Leven/Daughter/7/Whitechapel, London/Census
1911/Alice Thompson/Barmaid/30/Stepney, London/Census
1911/Elizabeth Pann/Wifes Mother/84/Amterdam, Holland/Census

1915/Simon Leven/../../../Post Office Directory

1921/Simon Leven/../../../Hughes Directory

My grandparents, James Henry & Amelia Nellie Graves were the Landlord & landlady of the Forest Hill Hotel from 1937 - 1955. They were also the landlord & landlady of The Rising Sun, Bromley in 1922, but I'm still trying to narrow down the dates. I believe there is also a connection to The Two Trees in Hertford. By 1929 according to the BT Phone directory, they are at the Samsons Castle in Bermondsey. *+

1929/J H Graves/../../../BT Telephone Directory [BERmndsy 1283]

1930/J H Graves/../../../BT Telephone Directory [BERmndsy 1283]

1934/Jas Hy Graves/../../../Kellys Directory

1935/J H Graves/../../../BT Telephone Directory [BERmndsy 1283]

1938/Alfred C Blakeney/../../../Post Office Directory

1944/Mrs S Tuffin & J A Bristow/../../../Post Office Directory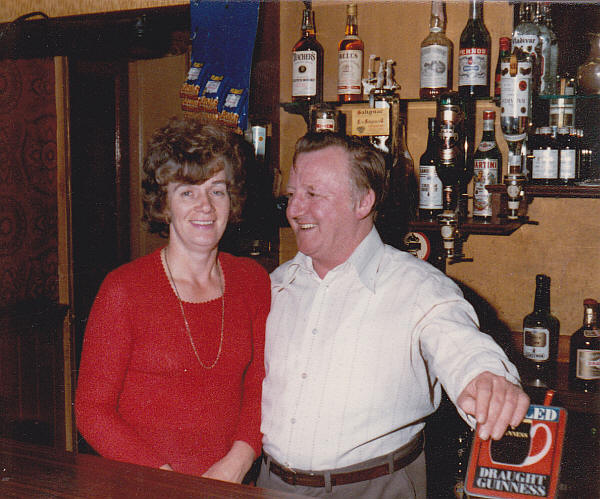 George & Grace Greenhalgh at the Samsons Castle
My parents George & Grace Greenhalgh ran the pub from 1972 - 1980. Their boss was Michael Phelan. ****



* Provided By Ewan

*+ Provided By Peter Beal

** Provided By Stephen Harris

*** Provided By Bev Howlett

**** Provided By David Greenhalgh