Camden Head, 456 Bethnal Green Road, Bethnal Green E2
Bethnal Green pub history index
Historical London public houses, Taverns, Inns, Beer Houses and Hotels.
Existed from at least 1805. The Camden Head, Camden street in 1866 license transfer. Prior to 1870 the address was given as 241 Bethnal Green Road. This pub was established in around 1766 and was rebuilt in its present form in around 1864. Renamed Misty Moon in 2006. ** The name is also commonly given as the Camden's Head (and this is name that appears on the pub building). The address is 11 Camden Row, Bethnal Green Road in 1839, prior to street renumbering. *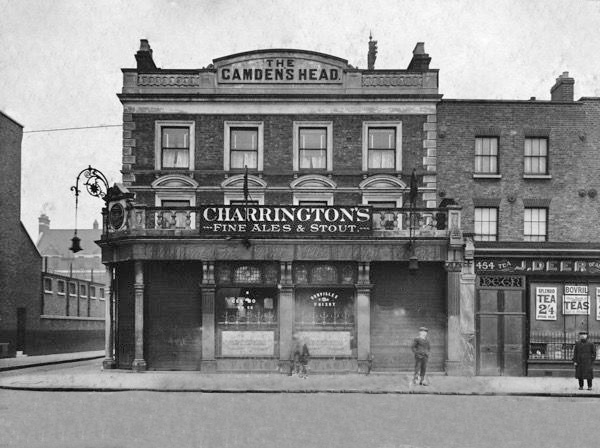 Camden Head, 456 Bethnal Green Road, Bethnal Green - circa 1895
Kindly provided by John Carnaby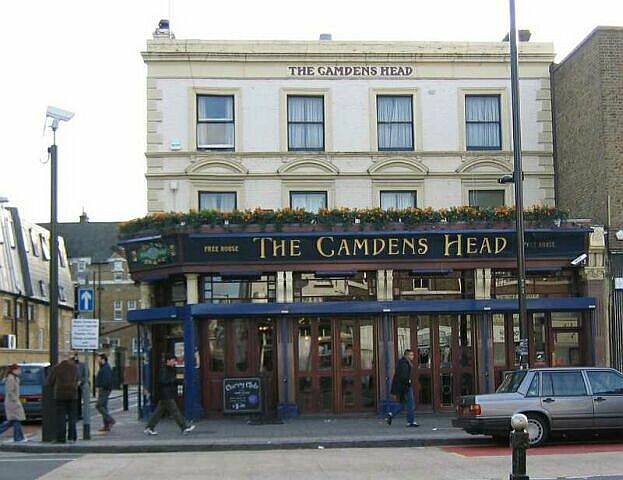 Kindly provided by Ken Finch
(next door to the Police Station)

Camdens Head
16 September 2005. Kevan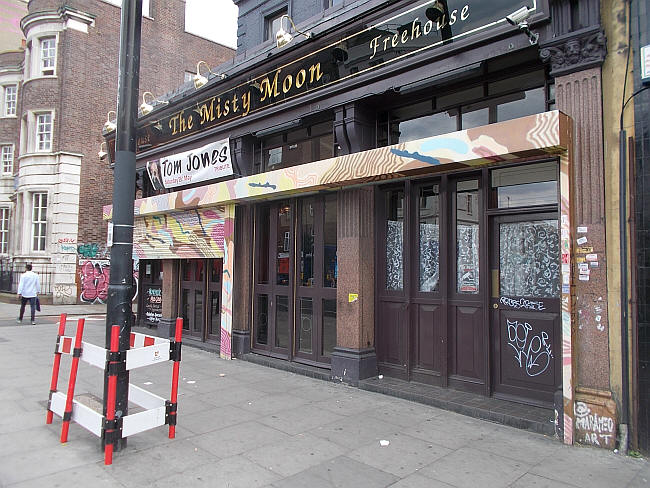 Misty Moon, 456 Bethnal Green Road, Bethnal Green - in June 2018
Residents at this address.
1805/William Smith/../../../Holden's Directory *+

1811/Jane Martin, the Camdens Head, Camden row, Bethnal Green road/../../Holden's Directory

1816/Thomas Hurdman / Publican /../../House of Commons Committee Report/Police of the Metropolis 1817 **

1827/Mrs Filmalter/../../../Licensed Victuallers Association

1828/George Whitehead/Victualler/../../Records of Sun Fire Office, held at Guildhall Library **

1829/Thomas Hurdman/Victualler/../../Records of Sun Fire Office, held at Guildhall Library **

1833/Thomas Hurdman/Victualler/../../Records of Sun Fire Office, held at Guildhall Library **

1833-34/Thomas Hurdman, Camdens Head, 11 Camden row, Bethnal green/../../Pigots Directory

1833/W Hardman/../../../Licensed Victuallers Association

1835/William Hurdman/../../../Robson's Directory **

1839/John Cooper/victualler, Camdens Head/../../Sun Fire Office records held at the London Metropolitan Archives *+

1839/Cooper & Co./../../../Pigot's Directory **

1842/J Cooper & Co./../../../Robson's Directory **

1844/J Cooper & Co./../../../Thompson's Directory **

1850/William Rogers/../../../P.O. Directory **

1851/William Rogers/../../../Kellys Directory

241 Bethnal green Road
1851/Jackson Robinson/Victualler/36/Great Smeaton, Yorkshire/Census
1851/Sarah Robinson/Wife/37/Maidstone, Kent/Census
1851/Henry Purchase/Barman/21/Southwark, Middlesex/Census
1851/Isabella George/House Servant/21/Bedminster, Dorset/Census
1851/William Cooper/Visitor, Widow/55/Worksop, Nottinghamshire/Census

1856/Jackson Robinson/../../../Post Office Directory

January 1864/Richard Turnell/Outgoing Licensee/../../East London Observer +

January 1864/Frederick Allen/Incoming Licensee/../../East London Observer +

1866/Frederick Allen/../../../P.O. Directory **

May 1866/Frederick Allen/Outgoing Licensee/../../Era

May 1866/Charles Webb/Incoming Licensee/../../Era

Morning Advertiser 29 October 1866
Tetleys East India Pale Ale,
The Brewery, Leeds.
The New Seasons Brewings are now being delivered.
Stores.
Liverpool - 62, Duke street
Manchester - Town Hall buildings, King street
Dublin - 62 Middle Abbey street
York - Swinegate
London - 169 Upper Thames street, Agent, George Hall.
These Ales are in every respect of the highest class, and in flavour, Condition, and keeping qualities, are not to be surpassed. They are always on draught at the following, amongst many other of the leading Houses in London :-
Arkell, Goat and Compasses, 8 Upper Fitzroy street, New road
Bond, Rose, Monkwell street EC
Brown, Portman Arms, 34 Great Quebec street, Portman square
Brown, Ticket Porter, Arthur street West, London bridge
Brunt, Cannings Head, Sidney street, Commercial road East
Collins, Giraffe, Newington crescent
Darbyshire, Crown, Pentonville road
Grey, Oxford Stores, 181 Oxford street
Morgan, New York stores, East Smithfield
Oughton, 110 Great College street, Camden Town
Riches, George and Dragon, Buckingham street, New road
Rowcliffe, Pindar of Wakefield, 328 Grays Inn road
Turner, Star, Goldington street, Oakley square
Tweedy, Unicorn, 79 Jermyn street, St James's
Walter, Discussion Hall, Shoe lane
Webb, Camden Head, Bethnal green road
Williams, Artillery lane, Houndsditch.

1869/Charles Webb/../../../Post Office Directory

1870/Charles Webb/../../../P.O. Directory **

1872/G Turner/../../../Brabner's Hackney Directory **

1876/George Turner/../../../P.O. Directory **

1881/George Turner/Licensed Victualler/52/Islington, Middlesex/Census
1881/Rosetta Turner/Wife/48/St Pancras, Middlesex/Census
1881/Frederick Ghent/Managing Barman/32/England/Census
1881/Charles E T Reed/Barman/26/Southampton, Hampshire/Census
1881/Thomas Henry Cooper/Barman & Potman/23/Barnsley, York/Census
1881/Ann E Pilgrim/Servant Domestic/36/Chesteford, Essex/Census

1882/George Turner/../../../Post Office Directory

1884/George Turner/../../../Post Office Directory

1886/George Turner/../../../Business Directory of London **

1888/George Turner/../../../P.O. Directory **

1891/Daniel Shingles/../../../Post Office Directory

1891/Daniel Shingles/Proprietor, Licensed Victualler/35/Lambeth, London/Census
1891/Joseph Laid/Licensed Victualler Manager/34/St Georges, London/Census
1891/Ann Laid/Wife/36/Harewell, Berkshire/Census
1891/Lilian Laid/Daughter/11/Stepney, London/Census
1891/William Laid/Son/8/Stepney, London/Census
1891/Mary Smith/Visitor, Widow/35/Harewell, Berkshire/Census
1891/Ernest Smith/Visitor/26/Harewell, Berkshire/Census
1891/Edmund Biggs/Domestic Servant/20/London/Census
1891/Sidney Mott/Domestic Servant/20/Hatley, Cambs/Census
1891/Alfred Coals/Domestic Servant/23/Bethnal Green, London/Census
1891/Charlotte Commander/Domestic Servant/30/Bethnal Green, London/Census

1895/Daniel Shingles/../../../Post Office Directory

1895/Daniel Shingles/../../../Electoral Register

1899/Edward Henry Elmy/../../../Post Office Directory

1900/Thomas McCarthy/../../../P.O. Directory **

Emma Jane Pidgeon met Thomas Cox when they were both at the Roebuck in Brady Street, Whitechapel in 1881. They had married in 1885 and by 1891 were managing the Cooper's Arms in Cheshire Street, Bethnal Green. Thomas died in 1892, but the widowed Emma carried on there for several years before moving to the Camdens Head. *

1901/Emma J Cox/Licensed Victualler, Widow/38/Ashburton, Devon/Census *
1901/Charlotte Cox/Daughter/13/Bethnal Green, London/Census
1901/Edith E Cox/Daughter/12/Bethnal Green, London/Census
1901/Ethel A Cox/Daughter/10/Bethnal Green, London/Census
1901/Hanry Pidgeon/Brother, Manager/26/Ashburton, Devon/Census
1901/Lucy Pidgeon/Sister, Barmaid/25/Ashburton, Devon/Census
1901/Albert Osborne/Barman/20/Whitechapel, London/Census
1901/Edith Stackhouse/Barmaid/18/Bedfordshire/Census
1901/Maud Bull/Cook/34/Bristol, Gloucester/Census

1910/George Joseph Richardson/../../../Post Office Directory

1911/F W Pickard/Licensed Victualler/44/Old Kent Road/Census
1911/L Pickard/Wife, Assistant/32/../Census
1911/G Pickard/Daughter/9/../Census
1911/L Martin/Servant/23/Somers Town/Census
1911/Frederick Game/Barman/20/Bow/Census
1911/A Dolan/Barman/27/Ireland/Census

1915/Herbert Tankard/../../../Post Office Directory

1917/George Henry Dawson/../../../P.O. Directory **

1921/George Henry Dawson/../../../Post Office Directory

1921/John J Dover/../../../Hughes Directory

1934/James Frost/../../../Kelly's

1938/Albert Harry Fiber/../../../Post Office Directory

1944/Cope's Taverns Ltd/../../../Post Office Directory *+



+ Provided by Friends of Tower Hamlets Cemetery Park

* Provided By Ian Pidgeon

*+ Provided By Ewan

** Provided By Stephen Harris