Search London wiki and Pub wiki history sites
All public house, restaurants, bars etc closed for the forseeable future from 20th March 2020, but this is a history site.
Roebuck, 27 Brady street, Whitechapel E1
The pub closed and was demolished in August 1995. **
Whitechapel pub history index
Historical London public houses, Taverns, Inns, Beer Houses and Hotels.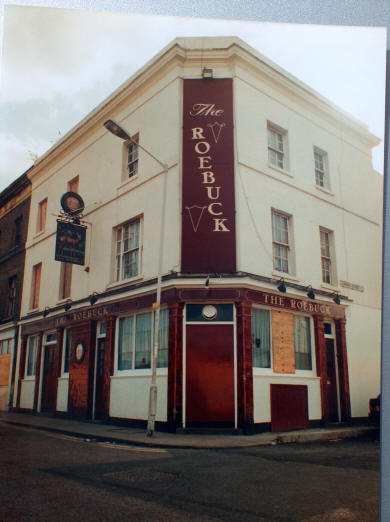 Roebuck, 27 Brady Street, E1 - in 1993
Kindly provided by Terry Gander
Residents at this address.
1872/R Blackburn/Beer Retailer/../../Brabner's Hackney Directory **

1877/William Bennett/Beer Retailer/../../P.O. Directory **

The Pidgeon Family : Charlotte Pidgeon, married William Bennett at Marylebone in 1861; they were previously at the Prince of Wales, 1 Finsbury Market in the 1871 census. *

Emma Jane Pidgeon was the daughter of Charlotte's brother Charles. She met Thomas Harvey Cox when they were both at the Roebuck in Brady Street, Whitechapel in 1881, and married in 1885. William and Charlotte Bennett are Emma's uncle and aunt. By 1891 they were managing the Cooper's Arms in Cheshire Street, Bethnal Green. Thomas died in 1892, but the widowed Emma carried on there for several years before moving to the Camdens Head, in Bethnal Green Road. *

1881/William Bennett/Beer Retailer/50/Oxford/Census
1881/Charlotte Bennett/Wife/50/Devon/Census
1881/William Bennett/Son/11/Shoreditch, Middlesex/Census
1881/Louisa Bennett/Daughter/17/London City, Middlesex/Census
1881/Emma Pidgeon/Niece/18/Devon/Census
1881/Thomas Cox/Barman/20/St George E, Middlesex/Census

1882/Wm Bennett/Beer Retailer/../../Post Office Directory

1885/William Bennett/Beer Retailer/../../P. O. Directory **

1891/John Hope Turner sen/Beer Retailer/../../Post Office Directory

William Wotton Pidgeon was born in 1865 at Ashburton, Devon, the son of Charles Pidgeon a farm labourer. William left Devon in the 1880s, and in 1891 was the Potman at the Roebuck, where his aunt Charlotte Bennett was the beer retailer. He married Nellie Jane Thompson in 1893. In 1901 he was in charge of the Twyford Arms, Islington. *

William Bennett must have died; as Charlotte Bennett married John Hope Turner senior at Croydon in 1887. He must also have died before April 1891. Charlotte's daughter, Louisa, married his son John Hope Turner junior in 1884, and in 1891 they were running the Queen's Head at 154 Whitechapel Road (on the corner of Brady Street). *

1891/Charlotte Turner/Beer Retailer, Widow/60/Derbyshire/Census
1891/William Bennett/Son, Wheelwright/21/Finsbury, London/Census
1891/William Pidgeon/Potman/24/Devon/Census
1891/Alice Moore/General Servant/19/Whitechapel, London/Census
+ Lodgers

1900/Theo. A Redstall/Beer Retailer/../../P.O. Directory **

1901/Henry Albers/Barman/31/St Georges East, London/Census *
1901/Louisa Albers/Wife, Barmaid/29/St Georges East, London/Census
1901/Annie C Albers/Daughter/9/Paddington, London/Census
1901/Louisa A Albers/Daughter/7/St Georges East, London/Census
1901/Ethel E Albers/Daughter/4/Whitechapel, London/Census

Emma Redstall was the younger sister of Charlotte Turner (formerly Bennett, née Pidgeon). Emma's second husband was Henry Payne, with whom she had been in charge of the Rising Sun, Fulham for many years. After Henry died in 1891 she married Theophilus Augustus Redstall, a civil servant born about 1835. After her sister Charlotte died in 1894, and with Theo retired from the Civil Service, they took over the Roebuck until Theo died in 1906. *

At 29:
1901/Theophous Redstall/Civil Service Pensioner/65/Whitchurch Hampshire/Census *
1901/Emm Redstall/Wife of Publican/60/Henton, Devon/Census
1901/Ada Bennet/Barmaid/23/Bromley by Bow, London/Census
1901/Florence Palmer/Barmaid/26/Margate, Kent/Census

1910/Francis Wm Harding/Beer Retailer/../../Post Office Directory

1912/Edwin J T Vidler/Beer Retailer/../../P.O. Directory **

1934/William J Albert/Beer Retailer/../../Kellys Directory

1988/Mr B Martin, Roebuck, 27 & 29 Brady Street, Bethnal Green E1 : Watney Truman/../../../Pub Directory

1990/Mr B Martin, Roebuck, 27 & 29 Brady Street, Bethnal Green E1 : Watney Truman/../../../Pub Directory



* Provided By Ian Pidgeon

** Provided By Stephen Harris