Search London wiki and Pub wiki history sites
All public house, restaurants, bars etc closed for the forseeable future from 20th March 2020, but this is a history site.
Carpenters Arms, 73 Cheshire Street, Bethnal Green E2
Bethnal Green pub history index
Existed from at least 1852. This Carpenters Arms appears under its old-style address, 73 Hare Street. The pub closed in 2006 and is currently empty; This pub was incidentally, also owned in the 1960s by the Kray Twins, By 2009, this pub has reopened. ** The address is 73 Hare Street in 1938 and earlier, prior to street renaming, and at 42 Hare Street in 1869 and earlier prior to street renumbering. *
Historical London public houses, Taverns, Inns, Beer Houses and Hotels.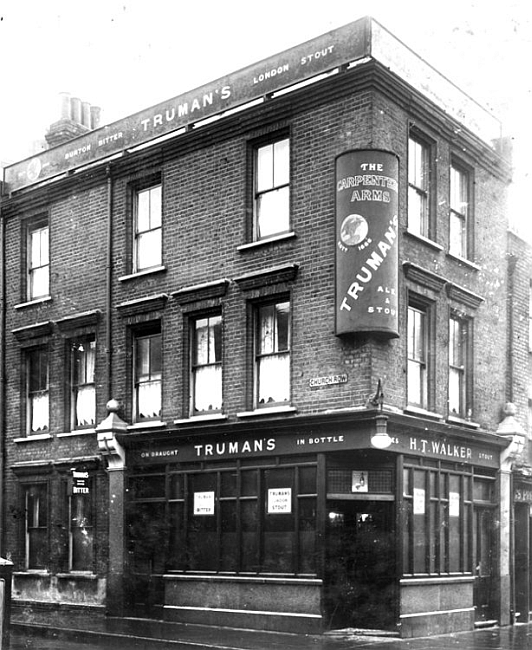 Carpenters Arms, Hare Street - circa 1930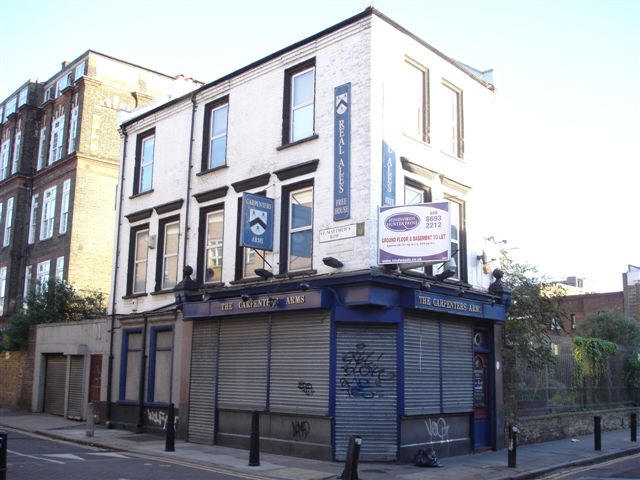 Carpenters Arms, 73 Cheshire Street - in December 2006
Kindly provided by Stephen Harris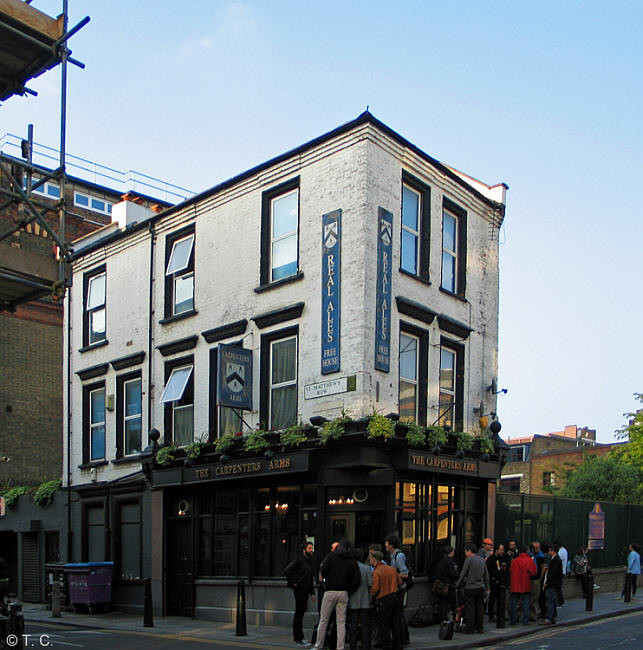 Carpenters Arms, 73 Cheshire Street, E2 - in May 2013
Kindly provided by Tris
Residents at this address.
1852/Francis Rowe/../../../Watkins Directory **

1856/Samuel Maskell/Beer Retailer/../../Post Office Directory

1861/William Hill/Licensed victualler/32/Spitalfields, Middlesex/Census
1861/Amelia Hill/Wife/32/Bethnal Green, Middlesex/Census

1869/Edward Phillips/Beer Retailer/../../Post Office Directory

One of my ancestors had the pub in 1871 their names were Henry Mullenger Walker and his wife Jerusha (nee Nichols). Jerusha is a widow at the Catherine Wheel, Southwark by the 1881 census. *+

1871/Henry M Walker/Beer & Wine Retailer/25/Felixstowe, Suffolk/Census *+
1871/Jerusha Walker/Wife/24/Sutton, Suffolk/Census
1871/Rhoda Walker/Daughter/2/Melton, Suffolk/Census
1871/John Walker/Son/11 months/Ratcliff, Middlesex/Census
1871/Peter M Harris/Potman/22/Wapping, Middlesex/Census

1872/R Hopson/../../../Brabner�s Hackney Directory **

1873/Thomas Lane / Beer Retailer /../../Post Office Directory **

1881/Walter F Goodson/Beer Retailer/40/Kentish Town, Middlesex/Census
1881/Emily A Goodson/Wife/28/Camden Town, Middlesex/Census
1881/Emily H Goodson/Daughter/3/Bethnal Green, Middlesex/Census
1881/Walter G Goodson/Son/11 months/Bethnal Green, Middlesex/Census
1881/Mary E Few//Domestic Servant/Cottenham, Cambridge/Census

1882/Walter Frederick Goodson/beer retailer/../../Post Office Directory *

1895/John Kelsey / Beer Retailer /../../Post Office Directory **

1899/John Kelsey/beer retailer/../../Post Office Directory *

1902/John Kelsey/../../../P.O. Directory **

1910/Frederick Wright/beer retailer/../../Post Office Directory *

1911/Frederick Wright/Beer House Keeper/51/Tilbury, Essex/Census
1911/Alice Wright/Wife, Assistant/58/Trowbridge, Wiltshire/Census
1911/Kate Wright/Daughter, Assistant/17/Whitechapel, London/Census

1914/Frederick Wright/beer retailer/../../Post Office Directory *

1915/Frederick Wright/Beer Retailer/../../Post Office Directory **

1921/Edward Cook/Beer Retailer/../../Post Office Directory **

1934/Henry Thomas Walker/Beer Retailer/../../Post Office Directory **

1938/Mrs Cecilia Rose Walker/beer retailer/../../Post Office Directory *

1939/Mrs Cecilia Rose Walker/../../../Post Office Directory **

1942/Mrs Cecilia Rose Walker/beer retailer/../../Post Office Directory *

1944/Mrs Cecilia Rose Walker/beer retailer/../../Post Office Directory *

1971/J. L. Coleman/../../../BT Telephone Directory *



* Provided By Ewan

*+ Provided By Cheri Greenlaw

** Provided By Stephen Harris