Search London wiki and Pub wiki history sites
All public house, restaurants, bars etc closed for the forseeable future from 20th March 2020, but this is a history site.
Turks Head, 308 Brick Lane, Bethnal Green E2
Bethnal Green pub history index
Existed from at least 1790. At 1 Turk Street before 1891 due to extension of Brick Lane. This pub was present by 1750 and survived until at least 1962 Ė it is now demolished. ** Not to be confused with the Alma listed as 1 Turk Street in 1856 and 1869 (but later at 211 Brick Lane), which was on the other side of the street (numbered separately in these years). *
Historical London public houses, Taverns, Inns, Beer Houses and Hotels.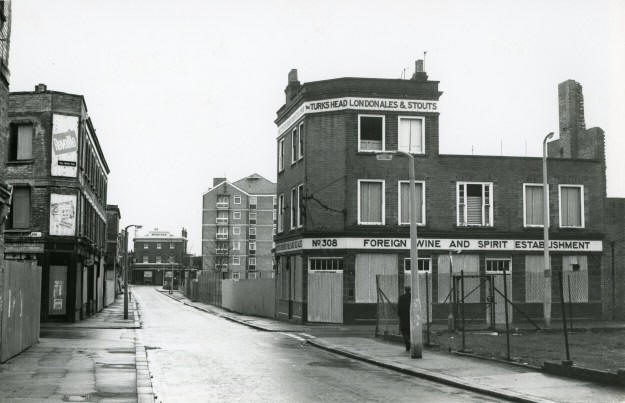 Turks Head, 308 Brick lane, Bethnal Green
Kindly provided by Pat Nightingale
Residents at this address.
1790/Mr Phillips/victualler/../../Sun Fire Office records held at the London Metropolitan Archives **+

1805/Edward Blain/../../../Holden's Directory **+

1821/William Golding / Victualler Turks Head, Virginia row, Bethnal Green/../../Sun Fire Office records held at Guildhall Library **

1822/William Dean / Victualler , Turks Head, Turk street, Bethnal Green/../../Sun Fire Office records held at Guildhall Library **

1823/William Dean / Public House Keeper /../../Proceedings of the Old Bailey **

1827/James Punt/../../../Licensed Victuallers Association

1827/James Punt, Turks Head, Virginia row, Shoreditch/../../Pigots Directory

1828-29/James Punt, Turks Head, Virginia row, Shoreditch/../../Pigots Directory

George Brown is born about 1792.

1829/George Brown/../../../Robsonís Directory

1831/Mr James Punt , Turks Head, Turk street, Bethnal Green/../../Licensed Victuallers Association

1834/Mr James Punt , Turks Head, Turk street, Bethnal Green/../../Licensed Victuallers Association

On 27th April 1834, Alfred Punt is baptised at St Matthew, Bethnal Green to James & Hannah Punt, a victualler in Turk street

1834/James Punt , Turks Head, Turk street, Bethnal Green/../../Robsonís Directory

At the Turks Head, Bethnal Green between 1831 and 1834. In 1836, James Punt is at the Dunstans Arms, East road, City road; By 1837, James Punt appears to be at the Coach & Horses, 120 St John street road for a couple of years, and then followed by the George the Fourth, Copenhagen street again briefly. In 1843, James Punt senior, is at the Prince of Wales, 22 East Road, City Road. In 1848, he is the incoming licensee for the Holywell, at 165 Shoreditch High street;
In the 1843 directory, James Punt junior is at the Falcon, Bethnal Green, see the Old Blind Beggar for more detail! In 1843, a James Punt applies for a license for a house in east Smithfield opposite to St Katherines Docks, the Dock Tavern (he is mentioned as James Punt junior), and he is here for about eight years, and then the Gentleman & Porter, 48 Kingsland Road, Shoreditch in about 1855 where he morts, and leaves the pub to his wife Marianne Punt.

1836/John Dort, Turks Head, Turk street, Bethnal Green/../../Pigot's Directory

1839/George Brown/../../../Pigot's Directory **+

1841/George Brown/Publican/50/Middlesex/Census *+
1841/William Brown/../15/Middlesex/Census
1841/Ann Brown/../13/Middlesex/Census
1841/Jane Vange/Female Servant/15/Middlesex/Census

1842/George Brown/../../../Robsonís Directory **

William Brown is the son of George Brown (George was born about 1792).

1851/William Brown/../../../Post Office Directory

Turks Head, 1 Virginia Row :
1851/William Brown/Licensed Victualler/27/Bethnal Green/Census
1851/Elizabeth Brown/Wife/30/Spitalfields/Census
1851/William Brown/Son/6/Bethnal Green/Census
1851/Richard Brown/Son/1/Bethnal Green/Census
1851/Louisa Brown/Sister/18/Bethnal Green/Census
1851/Sarah Ball/Servant/16/Bethnal Green/Census
1851/John Chown/Servant/19/Hackney Road/Census

1856/William Brown/Turks Head, 1 Turk Street/../../Post Office Directory

Turks Head, 6 Virginia Row :
1861/Edward Cartwright/Victualler/22/Wales/Census
1861/Esther Cartwright/Wife/24/Clifton, Somerset/Census
1861/Marth Davis/Visitor/22/Clifton, Somerset/Census
1861/Edward Bareston/Visitor, Victualler/31/Clifton, Somerset/Census
1861/Charlotte Rogers/Domestic Servant/20/Shoreditch, Middlesex/Census

October 1861/Edward Cartwright/Outgoing Licensee/../../East London Observer +

October 1861/Thomas North/Incoming Licensee/../../East London Observer +

1869/Thomas North/Turks Head, 1 Turk Street/../../Post Office Directory

1872/T North/../../../Brabnerís Hackney Directory **

1874/T North/../../../H D Miles London & Suburban Licensed Victuallers Directory **

30th September 1876/Joseph John Galloway Gill/Outgoing Licensee/../../East London Observer +

30th September 1876/Robert Burrows/Incoming Licensee/../../East London Observer +

1881/Robert Burrows/Licenced Victualler/50/Bruisyard, Suffolk/Census
1881/Emma Burrows/Wife/49/Leckhampstead, Buckingham/Census
1881/Louise Burrows/Daughter/25/Buckingham, Buckingham/Census
1881/Minnie Burrows/Daughter/20/Buckingham, Buckingham/Census
1881/Oliver Burrows/Son/15/Buckingham, Buckingham/Census
1881/Sarah Harrison/Domestic Servant/21/Bicester, Oxford/Census

1882/Robert Burrows/../../../Post Office Directory

1884/Francis W Hoskins/../../../Post Office Directory

1891/Mrs Alice Hoskins/../../../Post Office Directory

1895/James Mark Hall/../../../Post Office Directory

1899/Jno Ebenezer Hills/../../../Post Office Directory

1901/John Hills/Spirit Retailer, Widow/57/Bethnal Green, London/Census
1901/Ethel Hills/Daughter, Housekeeper/23/Bethnal Green, London/Census
1901/Irina Hills/Daughter, Barmaid/18/Bethnal Green, London/Census
1901/Ambrose Hills/Son, Barman/17/Bethnal Green, London/Census
1901/Henry Hills/Son/14/Bethnal Green, London/Census

1910/John Ebenezer Hills/../../../Post Office Directory

1911/John Ebenezer Hills/Publican/67/Bethnal Green, London/Census
1911/Matilda Hills/Wife/57/Bethnal Green, London/Census
1911/Ambrose Hills/Son, Assistant/27/Bethnal Green, London/Census

1915/Jno Ebenezer Hills/../../../Post Office Directory

1921/Ambrose Hills/../../../Post Office Directory

1932/Ambrose Hills/../../../P.O. Directory **

1938/Ambrose Hills/../../../Post Office Directory

1944/Catherine Flain/../../../Post Office Directory

The Turks Head at 308 Brick Lane was my parents pub. My father, Thomas Arthur Crow was the licensee, I don't have exact dates but do have one of their original wedding invitations of April 1945 with this address on. This address is also on a birth certificate in June 1946, and I think they left in 1951/2. Before this my father had the licence for The Gunn in Spitafields, my uncle Alfred Crow was the licensee of The Northampton Arms in Headlam Street Bethnal Green, this is also on the wedding invitation as it was a double wedding. *

Other family pubs are The White Hart in Commercial Street; The Green Man at 276 Old Kent Road; and The Railway Bell at Tooting *

1944/T A Crow/../../../BT Telephone Directories [BIShpsgt 7304] ***

1945/T A Crow/../../../BT Telephone Directories [BIShpsgt 7304] ***

1947/T A Crow/../../../BT Telephone Directories [BIShpsgt 7304] ***

1949/T A Crow/../../../BT Telephone Directories [BIShpsgt 7304] ***

1951/T A Crow/../../../BT Telephone Directories [BIShpsgt 7304] ***

1952/Mr & Mrs P J Davies/../../../Black Eagle Journal ***



+ Provided by Friends of Tower Hamlets Cemetery Park

* Provided By Pat Laurie

*+ Provided By Ian Brown

** Provided By Stephen Harris

**+ Provided by Ewan

*** Provided By Alex Wilkinson