White Horse, 236 Cambridge Heath road, Bethnal Green E2
Bethnal Green pub history index
Existed from at least 1848. The address is at 236 Cambridge Heath Road by 1942, following street renaming. * The pub closed in around 2005. **
Historical London public houses, Taverns, Inns, Beer Houses and Hotels.

White Horse (1888) thumbnail
16 September 2005. Kevan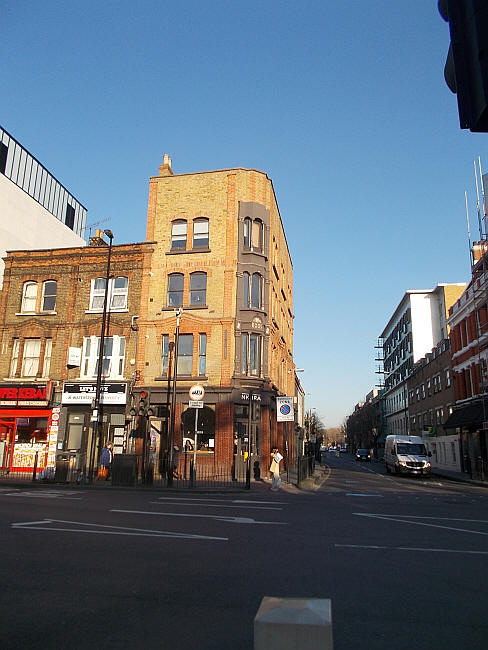 The EX - White Horse, 236 Cambridge Heath road, Bethnal Green - in February 2019
Cleverly there is an additional floor on this building, now. It is difficult to spot the joins!
Residents at this address.
1848/John Harrower/beer retailer/../../Post Office Directory *

1851/John Harrower/Carpenter/74/Scotland/Census *
1851/Christian Harrower/Wife/40/Scotland/Census
1851/Edward Ingham/Visitor, Tailor/21/Bethnal Green, Middlesex/Census

1856/Mrs Alice Harrower/beer retailer/../../Post Office Directory *

1861/Elizabeth Jones/Beer Retailer (Widow)/40/Montgomeryshire/Census *
1861/Caroline Greenfield/Domestic Servant/18/Mitcham, Surrey/Census
1861/William Coulson/Lodger, Tailor/29/Oundle, Northamptonshire/Census

1869/Charles Davenport/Beer Retailer/../../Post Office Directory

1871/William Smith/Beer & Wine Retailer/47/London/Census
1871/Annie Smith/Wife/30/London/Census
1871/William Smith/Son/10/London/Census
1871/Arthur Smith/Son/3/London/Census
1871/Edward Jones/Waiter/18/London/Census
1871/Alice Connell/Niece/13/Australia, British/Census
1871/Charles Smith/Son, Visitor/25/London/Census

1872/W Smith/../../../Brabner�s Hackney Directory **

1876/George Rider/../../../P.O. Directory **

1881/James Thompson/Beer Retailer/48/Shoreditch, Middlesex/Census
1881/Hannah Thompson/Wife/49/Tedworth, Hampshire/Census

1882/James Thompson/Beer Retailer/../../P.O. Directory **

1885/James Thompson/../../../P.O. Directory **

1891/John Goward/Beer Retailer/../../Post Office Directory

1895/John Goward/Beer Retailer/../../Post Office Directory

1899/George Armitage/beer retailer/../../Post Office Directory *

Jack Pass, also known as Edward John Pass had a number of pubs during his lifetime, these include the Freemasons Arms 76 Watergate Street, Deptford (1891); Admiral Napier, 94 Carburton Street, Bethnal Green (1895); the Waterloo Tavern 64 Samuel Street, Stepney (1899-1901 ); the White Horse 236 Cambridge Road, Bethnal Green (1902-1909); the Hope (Woodman), 89 Holly Street, Hackney (1910-1915); and at the Boundary House 1 High Street, Ponders End, where he died (1915-1940). *

1901/John Pass/Publican/42/Bethnal Green, London/Census
1901/Margaret Pass/Wife/45/Bethnal Green, London/Census
1901/John Evans/Nephew/15/Bethnal Green, London/Census

1902/Edward John Pass/../../../P.O. Directory **

1903/Edward John Pass / Beer Retailer/../../P.O. Directory **

1910/Joseph Benstead/Beer Retailer/../../Post Office Directory

1911/Joseph Benstead/Publican/48/Bethnal Green, London/Census
1911/Elizabeth Benstead/Wife/49/Bethnal Green, London/Census
1911/Jack cawthorne/Barman/24/Bethnal Green, London/Census

1914/Joseph Benstead/Beer Retailer/../../Post Office Directory

1915/Joseph Benstead/beer retailer/../../Post Office Directory *

1921/Joseph Benstead/../../../P.O. Directory **

1920/John Frank Pass/../../../Electoral Register *+

By 1925, John Frank Pass is at the Ship 22 Saville Street, Marylebone. *+

1934/Samuel Bark/Beer Retailer/../../Kellys Directory

1938/Samuel Bark/Beer Retailer/../../Post Office Directory

1942/George L. Green/beer retailer/../../Post Office Directory *

1944/George L. Green/beer retailer/../../Post Office Directory *

1983/../White Horse, 236 Cambridge Heath road E2 : Whitbreads/../../Pub Directory



* Provided By Ewan

*+ Provided By John Carnaby

** Provided By Stephen Harris