Search London wiki and Pub wiki history sites
All public house, restaurants, bars etc closed for the forseeable future from 20th March 2020, but this is a history site.
Lord Nelson, 114 Bishopsgate Street, Bishopsgate EC2
Bishopsgate index
Existed from at least 1839. At 114 Bishopsgate Street without in 1856 and up to 1915
Historical London public houses, Taverns, Inns, Beer Houses and Hotels.
Residents at this address.
1839/William Henry Alderman/../../../Pigots Directory

1841/William Henry Alderman/../../../P.O. Directory **

1842/William Henry Alderman/../../../P.O. Directory **

1843/William Henry Alderman/Lord Nelson P.H. 114 Bishopsgate without & George & Dragon P.H. 1 Stepney Rents, Hackney road/../../Post Office Directory

1851/John Skidmore/../../../Kellys Directory

1853/J Skidmore/../../../P.O. Directory

My grandfather, Edward Kempton was granted a license for the Lord Nelson, Bishopsgate in March 1853 until about 1855. He was previously at the Old Commodore (aka Red Lion), High street, Poplar between 1850 and 1852, and later at the Ship, Shoreditch High street between 1859 and 1862, and lastly at the Kings Arms, Brook street, Ratcliff, apparently for two periods in the 1860's before his death in 1866. *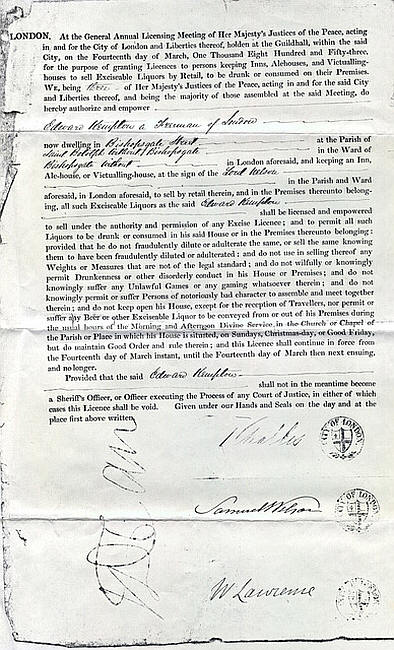 Edward Kempton Victuallers License for the Lord Nelson, Bishopsgate - March 1853
Kindly provided by Rick Todd

1854/E Kempton/../../../P.O. Directory

1855/Edward Kempton/../../../P.O. Directory **

1856/Samuel Lee/../../../Post Office Directory

1861/Samuel Lee/Licensed Victualler/55/Hackney, Middlesex/Census
1861/Jane Ann Lee/Wife, Assistant/60/Hackney, Middlesex/Census
1861/Robert W Lee/Son, Assistant/25/Shoreditch, Middlesex/Census
1861/Sarah Ann Lee/Daughter, Assistant/32/Hackney, Middlesex/Census
1861/George J Lee/Son, Wood carver/20/Hackney, Middlesex/Census

1869/John Bowen/../../../Post Office Directory

1871/John Bowen/Licensed Victualler/25//Census
1871/Sarah Bowen/Wife/22//Census
1871/Herbert Bowen/Son/5 months//Census
1871/Walter Martin/Potman/19//Census
1871/Sophia Tucker/Barmaid///Census
1871/Mary Collins/Domestic Servant/32//Census
1871/Elizabeth Hearn/Domestic Servant/14/Tottenham/Census

[Prior to this Charles Bansback is at the Princess Alice, Romford Road, Stratford] ***

1874 - 76/David Charles Bansback senior/../../../Trade Directory ***

1881/Edward J Bradley/Licensed Victualler/24/London, Middlesex/Census
1881/Eleanor R Bradley/Wife/20/London, Middlesex/Census
1881/Edward G C Bradley/Son/4 months/City, Middlesex/Census
1881/Salley Fletcher/Domestic Servant/17/Poplar, Middlesex/Census

1882/Hy Christian Carter/../../../Post Office Directory

1884/Augustus Siert/../../../Post Office Directory

1891/Jas Davies/../../../Post Office Directory

1893/John Davies/../../../P.O. Directory **

1895/Matthew David Davison/../../../Post Office Directory

1899/Henry James Wybrow/../../../Post Office Directory

1901/Edward Beaumont/Public House Manager/36/Maidstone, Kent/Census
1901/Elizabeth Beaumont/Wife/46/Fulham, Middlesex/Census
1901/Edith E Beaumont/Daughter/6/Bethnal Green/Census
1901/George Eady/Barman/16/Whitechapel/Census
1901/Mary Ellia/General Servant/16/Homerton, Middlesex/Census

1902/Thomas William Lewis Ellis/../../../P.O. Directory **

1908/Edwd. Beaumont/../../../P.O. Directory **



* Provided By Rick Todd

** Provided by Stephen Harris

*** Provided by Mike Bansback