Search London wiki and Pub wiki history sites
Kings Arms, 83 Brook Street, Ratcliffe
In 1856 at 39 Brook Street at the intersection with Stepney Causeway. In the 1891 census, the Kings Arms is listed as 83 Stepney Causeway, as Brook Street is at the corner of Stepney Causeway. By 1940, the road names are changed, and this is now 513 Cable street
Sadly this unpretentious and hence handsome building is being demolished. As I biked past this afternoon a demolition crew were stripping off the roof beams [July 2010]. It will probably turn into yet another residential development aimed at City/Canary Wharf employees. ***
Converted to residential use behind a retained façade with additional floors (2014). *+
Ratcliffe pub history index
A listing of historical public houses, Taverns, Inns, Beer Houses and Hotels in Ratcliffe, London - in East London. The Ratcliffe, East London listing uses information from census, Trade Directories and History to add licensees, bar staff, Lodgers and Visitors.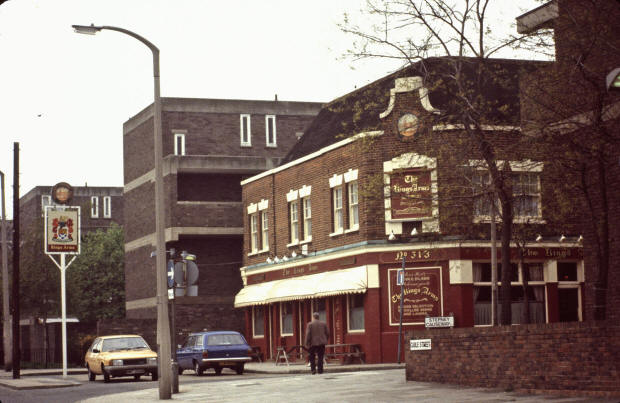 Kings Arms, 513 Cable Street, St George in East E1 - in 1985
Kindly provided by Dudley Diaper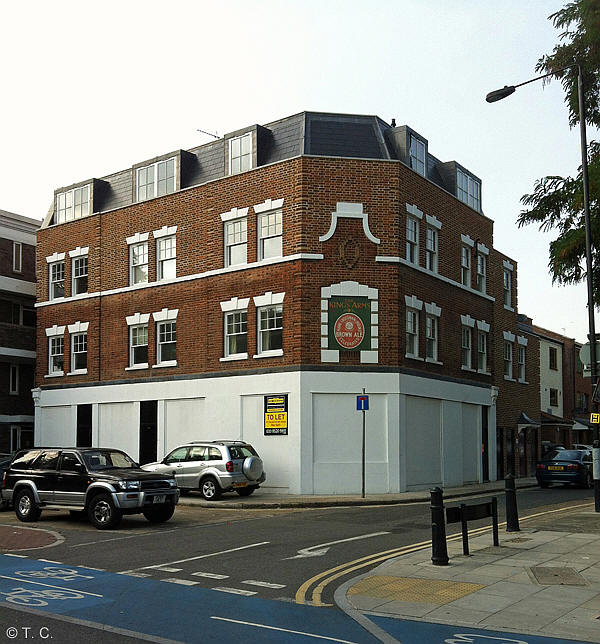 Kings Arms, 83 Brook Street, E1 - in March 2014
Kindly provided by Tris
The following entries are in this format:
Year/Publican or other Resident/Relationship to Head and or Occupation/Age/Where Born/Source.
1839/Stephen Brown/../../../Pigot's Directory *

1841/Stephen Brown/../../../Post Office Directory

1842/Steph. Brown/../../../Robson's Directory *

January 1849/Robert Webster/Outgoing Licensee/../../Era Newspaper

January 1849/William Stiles/Incoming Licensee/../../Era Newspaper

1851/William Stiles/../../../Kellys Directory

January 1854/William Stiles/Outgoing Licensee/../../Era

January 1854/Stephen Brown/Incoming Licensee/../../Era

1856/Stephen Brown/../../../Post Office Directory

January 1858/Stephen Brown/Outgoing Licensee/../../East London Observer

January 1858/Joseph Cole?/Incoming Licensee/../../East London Observer

1861/Joseph Allen/Manager Licensed Victualler/24/Ratcliff, Middlesex/Census
1861/Joseph Vanverdsturem/Barman/18/Bethnal Green, Middlesex/Census
1861/Henry galvin/Pot Boy/13/Shadwell, Middlesex/Census
1861/Ann McHood/Housekeeper, Widow/55/Newmarket, Cambridgeshire/Census

Joseph Vandersteen married Ure Jane Brigden, (nee Tuthill). He was Jane Bigmore Frary/Westall nee Brigden's stepfather. He married in 1862 - occupation waiter, but after that he became a fish merchant.

July 1861/Joseph Cole/Outgoing Licensee/../../Era

July 1861/John Beauchamp/Incoming Licensee/../../Era

1862/H Beauchamp/../../../Post Office Directory

March 1862/John Beauchamp/Outgoing Licensee/../../Era

My grandfather, Edward Kempton was granted a license for the Lord Nelson, Bishopsgate in March 1853 until about 1855. He was previously at the Old Commodore (aka Red Lion), High street, Poplar between 1850 and 1852, and later at the Ship, Shoreditch High street between 1859 and 1862, and lastly at the Kings Arms, Brook street, Ratcliff, apparently for two periods in the 1860's before his death in 1866. +*

March 1862/Edward Kempton/Incoming Licensee/../../Era

1863/Edward Kempton/Kings Arms, Brook street/../../Electoral Register

March 1864/Jeremiah Donovan/Outgoing Licensee/../../Era Newspaper

March 1864/William Wild/Incoming Licensee/../../Era Newspaper

September 1864/William John Allen/Outgoing Licensee/../../Era

September 1864/James Giles/Incoming Licensee/../../Era

1865/E Kempton/../../../Post Office Directory

7th July 1866/Edward Kempton/Outgoing Licensee/../../East London Observer +

7th July 1866/William Milton/Incoming Licensee/../../East London Observer +

4th July 1868/William Milton/Outgoing Licensee/../../East London Observer +

4th July 1868/James Tanner/Incoming Licensee/../../East London Observer +

1869/James Tanner/../../../Post Office Directory

January 1871/Mary Ann Edgeley/Outgoing Licensee/../../Era

January 1871/Cornelius Charles Palmer/Incoming Licensee/../../Era

1871/Isaac Tanner/Licensed Victualler/38/Bethnal Green, Middlesex/Census
1871/Mary A Tanner/Wife/38/Bethnal Green, Middlesex/Census
1871/James G Tanner/Son/15/Bethnal Green, Middlesex/Census
1871/William Tanner/Son/13/Bethnal Green, Middlesex/Census
1871/George H Tanner/Son/9/Clerkenwell, Middlesex/Census
1871/Emma Tanner/Daughter/5/St Lukes, Middlesex/Census
1871/Edwad A Tanner/Son/1/Ratcliff, Middlesex/Census
1871/Elizabeth Anderson/Domestic Servant/17/Chelsea, Middlesex/Census

January 1873/James TannerOutgoing Licensee/../../East London Observer

January 1873/Thomas Jones Edwards/Incoming Licensee/../../East London Observer

January 1874/Thomas James Edwards/Outgoing Licensee/../../East London Observer

January 1874/Joseph Bowker/Incoming Licensee/../../East London Observer

22nd January 1876/John Nixon/Outgoing Licensee/../../East London Observer +

22nd January 1876/Charles Krumm/Incoming Licensee/../../East London Observer +

20th May 1876/Chas Krumm/Outgoing Licensee/../../East London Observer +

20th May 1876/Sarah Etheridge/Incoming Licensee/../../East London Observer +

July 1879/Sarah Etheridge/Outgoing Licensee/../../East London Observer

July 1879/James Longhurst/Incoming Licensee/../../East London Observer

1881/Samuel Digby/Licensed Victualler/38/Essex/Census
1881/Ann Digby/Wife/30/Shropshire/Census
1881/John Smith/Barman/33/Berkshire/Census
1881/Maria Smith/Wife/24/London/Census
1881/Lucy Digby/Daughter/8/Monmouth/Census

1882/Samuel Digby/../../../Post Office Directory

1884/Samuel Digby/../../../Post Office Directory

1891/Thomas Walham Heal/Licensed Victualler/38/Buxton Street, Mile End/Census **
1891/Harriet Sophia Heal/Wife/35/Bethnal Green/Census
1891/Jane H Heal/Daughter, Barmaid/15/Bethnal Green/Census
1891/George W Heal/Son/10/Buxton Street, Mile End/Census
1891/Thomas W Heal/Son/9/Buxton Street, Mile End/Census
1891/Harriet S Lewis/Visitor, Widow/70/Bethnal Green/Census
1891/James J Lewis/Visitor, carman/45/Bethnal Green/Census
1891/Jane Lewis/Serbant/24/Bethnal Green/Census
1891/Albert Ranger/Potman/17/Commercial Road/Census
1891/Emma Mee/Barmaid/17/Old Ford/Census

1895/Ernest George Chapman/../../../Post Office Directory

1899/Henry Draper/../../../Post Office Directory

1910/Philip Caspall/../../../Post Office Directory

1911/Philip Marbrook Caspall/Licensed Victualler/43/Ramsgate/Census
1911/Elizabeth Caspall/Wife/45/Ware, Hertfordshire/Census
1911/Philip Caspall/Son/8/Shadwell/Census
1911/Louisa Ifold/Servant/29/Hollow, London/Census
1911/William Swain/Barman/31/Bow/Census
1911/William Moor/Visitor/12/Ratcliff/Census

1915/Mrs Elizabeth Caspall/../../../Post Office Directory

1921/James Jolly/../../../Post Office Directory

1938/Charles Henry Preed/../../../Post Office Directory

1939/Charles Henry Peed/../../../P.O. Directory *

1940/Charles Henry Peed/../../../P.O. Directory

1942/Edward Smith/../../../Post Office Directory

1944/Edward Smith/../../../Post Office Directory

1983/../Kings Arms, 513 Cable street E1 : Watney Coombe/../../Pub Directory

1991/../Kings Arms, 513 Cable street E1 : Grand Met Watneys/../../Pub Directory



+ Provided by Friends of Tower Hamlets Cemetery Park

+* Provided By Rick Todd

* Provided By Stephen Harris

*+ Provided By Tris

** Provided By Dudley Diaper

*** Provided By Gerry