Search London wiki and Pub wiki history sites
Coborn Arms, 8 Coborn Road, Bow E3
Bow pubs history index
Existed from at least 1833. At 4 Coburn Road in 1871 census and earlier
Historical London public houses, Taverns, Inns, Beer Houses and Hotels.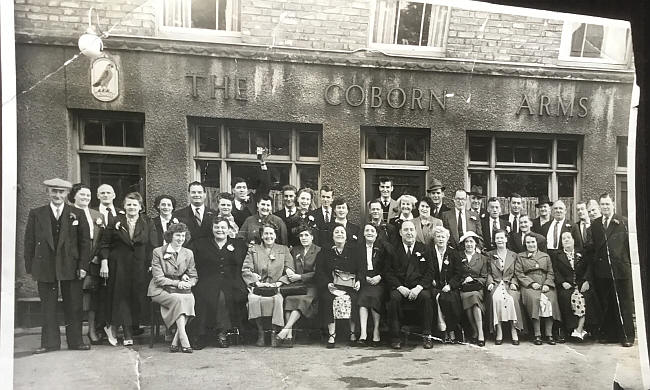 Coborn Arms, 8 Coborn Road - in circa 1956
This photo of the Coborn Arms was taken after Tommy Cole gave up the Brunswick Arms, probably around 1956 . My father wearing a trilby hat and standing at the side of the doorway to the pub has Alice Cole, and her daughter Brenda standing just in front of him. This was where they did their drinking after closing the Brunswick Arms.
Kindly provided by Jean Ellis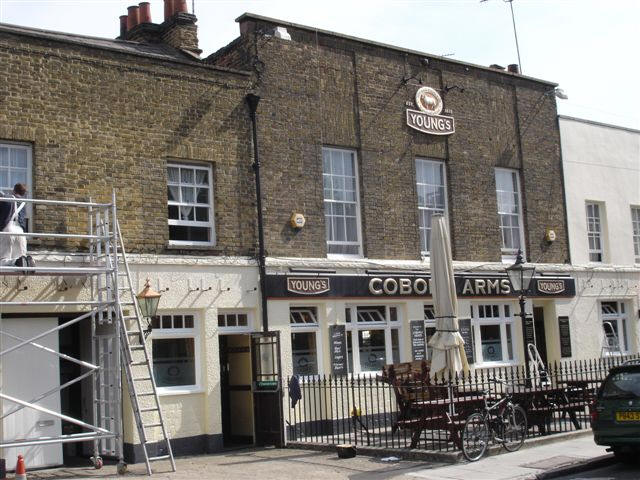 Coborn Arms, 8 Coborn Road - in September 2006
Kindly provided by Stephen Harris
Residents at this address.
[Listed as the Osborn Arms, 3 Coburn Road in the 1839 Pigots]

1833-34/Henry Meech,Coborn Arms, Coborn road, Mile end road/../../Pigots Directory

1839/Charles Jones/../../../Pigots Directory **

1839/Charles Jones/../../../Robinsons Directory **

1842/Charles Jones/../../../Robson's Directory *

1846/T. Preston/../../../Post Office Directory *

1848/Thomas Preston/../../../Post Office Directory *

1851/Thomas Preston/../../../Kellys Directory

1851/Thomas Preston/Licensed Victualler/59/Northamptonshire/Census
1851/Elizabeth Preston/Wife/50/Weekey, Northamptonshire/Census
1851/John Herbert/Potman/25/Bow, Middlesex/Census
1851/Rebecca Cobb/General Servant/24/St Marin in the Fields, Middlesex/Census

May 1852/Robert Andrews/ Outgoing Licensee /../../The Era

May 1852/Samuel George Rich/ Incoming Licensee /../../The Era

January 1855/Thomas Rounce/ Outgoing Licensee /../../The Era

January 1855/Herbert Golding/ Incoming Licensee /../../The Era

September 1855/Robert Burchett deceased/Outgoing Licensee/../../Era

September 1855/Mary Burchett, widow/Incoming Licensee/../../Era

1856/Thomas Rounce/../../../Post Office Directory

October 1856/Harriett Scott/ Outgoing Licensee /../../The Era

October 1856/Joseph Cobbett Scott/ Incoming Licensee /../../The Era

September 1857/Joseph C Scott/Outgoing Licensee/../../Era

September 1857/William Faulkner/Incoming Licensee/../../Era

1861/William Faulkner/Licensed Victualler/44/Ilford, Essex/Census
1861/Margaret Faulkner/Wife/40/London/Census
1861/Sarah Thompson/General Servant/20/Hackney, Middlesex/Census
1861/William Butteris/Potman/19/Cambridge Heath/Census

May 1862/William Falkner/Outgoing Licensee/../../East London Observer +

May 1862/Margaret Falkner/Incoming Licensee/../../East London Observer +

1869/Charles J Williams/../../../Post Office Directory

1871/Charles James Williams/Licensed Victualler/53/Marylebone, Middlesex/Census
1871/Ann Williams/Wife/57/Wymondam, Norfolk/Census
1871/Eliza Ann Williams/Daughter, Assistant/28/St Georges East, Middlesex/Census
1871/Mary Elizth Lloyd/Barmaid/18/Machynlleth, Wales/Census
1871/James Hine/Pot Boy/17/Bridge Street, Oxfordshire/Census
1871/Esther Wolfrone/Domestic Servant/18/Harbury, Oxfordshire/Census

1873/Charles James Williams/../../../P.O. Directory **

26th October 1872/Charles James Williams/Outgoing Licensee/../../East London Observer +

26th October 1872/Mary Ann Anthony/Incoming Licensee/../../East London Observer +

30th September 1876/Mary Ann Anthony/Outgoing Licensee/../../East London Observer +

30th September 1876/William Turner/Incoming Licensee/../../East London Observer +

January 1877/William Turner/Outgoing Licensee/../../East London Observer

January 1877/William Wood/Incoming Licensee/../../East London Observer

1881/James I Curline/Licensed Victualler/28/Southwark, Surrey/Census
1881/Sarah S Curline/Wife/29/Bromley, Middlesex/Census
1881/Elizabeth Dillon/Barmaid/21/Bromley, Middlesex/Census
1881/James Cockburn/Potman/27/Shadwell, Middlesex/Census

1882/James Luke Curline/../../../Post Office Directory *

1884/James I Curline/../../../Post Office Directory

1885/James Luke Curline/../../../P. O. Directory **

1891/William Lovesy/../../../Post Office Directory

1895/Henry Hobbs Roberts/../../../Post Office Directory

1899/Alexander John Stokes/../../../Post Office Directory **

1900/Alex John Stokes/../../../Post Office Directory **

1901/Alexander J Stokes/Inn Keeper/36/Haggerston, London/Census
1901/Emily Stokes/Wife/32/Bermondsey, London/Census
1901/May Stokes/Daughter/2/Bow, London/Census
1901/Alexander Stokes/Father, Dock Labourer, Widow/60/Shoreditch, London/Census
1901/Emily Chamberlain/General Servant, Widow/54/Deptford, London/Census
1901/Florence Tucker/General Servant/17/Mile End, London/Census

1906/Alexander J Stokes/../../../Morris' Business Directory of London **

1910/Alexander John Stokes/../../../Post Office Directory **

1915/Alexander John Stokes/../../../Post Office Directory **

1921/Alexander J Stokes/../../../Hughes Directory

1927/Philip Rosenberg/../../../Post Office Directory *

1934/Ralph G Heasman/../../../Kelly's

1938/Joseph Myson Blackburn/../../../Post Office Directory **

1940/Joseph Mayson Blackburn/../../../Post Office Directory *

1942/George A. Smith & Arthur V. Larkins/../../../Post Office Directory *

1944/George A. Smith & Arthur V. Larkins/../../../Post Office Directory *

2017/../The Coborn, 8 Coborn Road, Bow, London, E3 2DA : Youngs../../../pub directory ***



+ Provided by Friends of Tower Hamlets Cemetery Park

* Provided By Ewan

** Provided By Stephen Harris