Search London wiki and Pub wiki history sites
All public house, restaurants, bars etc closed for the forseeable future from 20th March 2020, but this is a history site.
Hand & Flower, 72 Parnell Road, Bow E3
Bow pubs history index
Existed from at least 1856. At Park Road in the 1862 license transfer and the 1871 census. This is more commonly listed as 72a Parnell Road in directories. *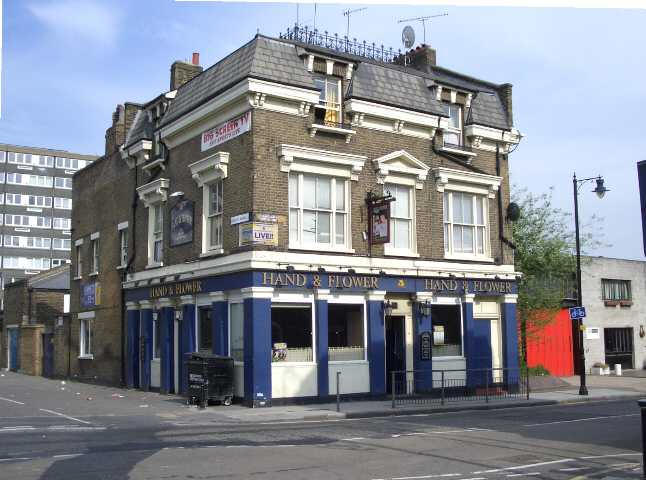 Hand & Flower, in recent years
Kindly provided by Philip Mernick
Historical London public houses, Taverns, Inns, Beer Houses and Hotels.
Residents at this address.
1856/Joseph Gear/beer retailer/../../Post Office Directory *

1862/J. Gear/../../../Post Office Directory *

March 1862/Joseph Gear/Outgoing Licensee/../../East London Observer

March 1862/William Henry Love/Incoming Licensee/../../East London Observer

January 1864/William Henry Love/Outgoing Licensee/../../East London Observer +

January 1864/Henry Meekins/Incoming Licensee/../../East London Observer +

26th January 1867/Henry Meekins/Outgoing Licensee/../../East London Observer +

26th January 1867/William Branthwaite/Incoming Licensee/../../East London Observer +

16th May 1868/William B Brown/Outgoing Licensee/../../East London Observer +

16th May 1868/Eleanor Jefferson/Incoming Licensee/../../East London Observer +

1869/John Brown/../../../Post Office Directory

1871/William Mills/Licensed Victualler/27/Poplar, Middlesex/Census
1871/Sarah Mills/Wife/27/Homerton, Middlesex/Census
1871/Sarah Mills/Daughter/4/Bow, Middlesex/Census
1871/William John Mills/Son/3/Bow, Middlesex/Census
1871/Florence Mills/Daughter/3 months/Bow, Middlesex/Census
1871/Joseph Mills/Brother, Commercial Traveller/23/Poplar, Middlesex/Census
1871/Sophia Mills/Sister in Law/21/Bethnal Green, Middlesex/Census
1871/Jane Mills/Sister/20/Poplar, Middlesex/Census
1871/Elizabeth Hilliard/Nurse Maid/34/Chatham, Kent/Census
1871/Mary Heard/General Servant/25/Shadwell, Middlesex/Census
1871/William Hayman/Pot Cleaner/16/Poplar, Middlesex/Census

1874/William Mills/../../../Licensed Victuallers and Hotel Keepers Directory *

14th July 1874/William Mills/Outgoing Licensee/../../East London Observer +

14th July 1874/John Burgess/Incoming Licensee/../../East London Observer +

1881/John Burgess/Licensed Victualler/46/Calne, Wiltshire/Census
1881/Mary Burgess/Wife/37/Harlston, Norfolk/Census
1881/Fredk Burgess/Son/9/Westminster, Middlesex/Census
1881/Geo Burgess/Son/7/Lambeth, Surrey/Census
1881/Arthur Burgess/Son/5/Bow, Middlesex/Census
1881/Frances M Burgess/Daughter/4/Bow, Middlesex/Census
1881/Edith Burgess/Daughter/3/Bow, Middlesex/Census
1881/Elizabeth Burgess/Niece, Barmaid/19/Calne, Wiltshire/Census
1881/Sarah A Fordner/Domestic Servant/19/Limehouse, Middlesex/Census
1881/Annie S Quert/Nursemaid/14/Bow, Middlesex/Census

1882/John Burgess/../../../Post Office Directory *

1884/John Burgess/../../../Post Office Directory *

1891/Stephen Dabbs/Manager/31/Walthamstow, Essex/Census
1891/Phoebe Dabbs/Wife, Manageress/30/Enfield, London/Census
1891/Ida F B Dabbs/Daughter/11 months/Bow, London/Census
1891/Harriet Morris/General Servant/17/Walthamstow, Essex//Census
1891/Robert Cook/Barman/23/Walworth, London/Census
1891/Thomas DeCourcey/Barman/16/Stepney, London/Census
1891/John Cain/Barman/17/Plaistow, Essex/Census
1891/George Hide/Barman/18/Bow, London/Census

1895/W. Friedlander/../../../Post Office Directory *

1899/Miles Hall/../../../Post Office Directory

1901/Edward Allen/Licensed Victualler/39/Essex/Census
1901/Sarah Allen/Wife/35/../Census
1901/Edwina Allen/Daughter/8/Mile End, London/Census
1901/Horace Allen/Son/7/Mile End, London/Census
1901/Stanley Allen/Son/5/Finsbury, London/Census
1901/Sarah Sharland/Nurse, widow/61/../Census
1901/John Brown/Barman/20/Penge, Surrey/Census
1901/Annie Christmas/Barmaid/22/Essex/Census
1901/Jennie Sherry/Domestic Servant/25/Haggerston, London/Census

1906/Henry Frederick William Seeger/../../../Post Office Directory *

1910/Henry Frederick William Seeger/../../../Post Office Directory *

1915/George Hyams/../../../Post Office Directory

1921/George Hyams/../../../Post Office Directory *

1927/Mrs Eliza M. Evans/../../../Post Office Directory *

1934/Mrs Eliza M Evans/../../../Kelly's

1938/Mrs Eliza M Evanst/../../../Post Office Directory

1940/Mrs Eliza M. Evans/../../../Post Office Directory *

1942/Mrs Eliza M. Evans/../../../Post Office Directory *

1944/Mrs Eliza M Evans/../../../Post Office Directory



+ Provided by Friends of Tower Hamlets Cemetery Park