Three Tuns, 185 Bow Road, Bow E3
Bow pubs history index
Existed from at least 1826. At High Street, Bow in 1870 and earlier; This pub closed in 1999 and is now in residential use.
Historical London public houses, Taverns, Inns, Beer Houses and Hotels.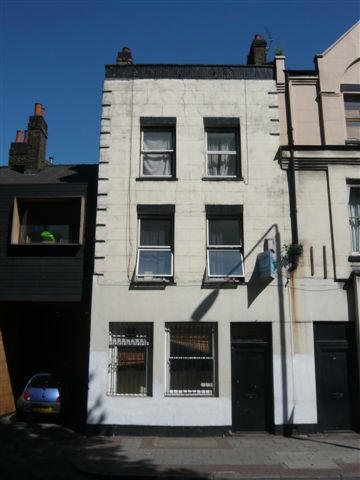 (Ye Old) Three Tuns, 185 Bow Road, E3 - in June 2008
Kindly provided by Stephen Harris
Residents at this address.
1826/Thomas Corrigan/../../../Pigots Directory

1833-34/William Ginger/../../../Pigots Directory

1836/Robert Priest, Three Tuns, High street, Bow/../../Pigots Directory

1843/George Brown/../../../Post Office Directory

1851/George Parsons/../../../Kellys Directory

1856/Thomas Collis/../../../Post Office Directory

1851/Elizabeth Osmond/Licensed Victualler, widow/44/Barking, Essex/Census
1851/Elizabeth Osmond/Daughter/21/City of London/Census
1851/William Osmond/Son, Apprentice/19/Barking, Essex/Census
1851/Edmund Osmond/Son/14/Sidney, New South Wales/Census
1851/Henry Stephen Osmond/Son/6/Homerton, Middlesex/Census
1851/Ann Welch/General Servant/25/Bow, Middlesex/Census

January 1854/James Carman/Outgoing Licensee/../../Era

January 1854/Edward Norton/Incoming Licensee/../../Era

November 1854/Edward Norton/Outgoing Licensee/../../Era Newspaper

November 1854/Thomas Collis/Incoming Licensee/../../Era Newspaper

September 1855/Caroline Collins/Outgoing Licensee/../../Era

September 1855/Thomas Cordell/Incoming Licensee/../../Era

May 1858/Thomas Cordell/Outgoing Licensee/../../East London Observer

May 1858/James Talbot/Incoming Licensee/../../East London Observer

August 1859/George Talbot, administrator of James Talbot/Outgoing Licensee/../../Era Newspaper

August 1859/Benjamin James Carter/Incoming Licensee/../../Era Newspaper

1861/Thomas Bunker/Victualler/26/Shoreditch, Middlesex/Census
1861/Sarah Bunker/Wife/25/Bury, Suffolk/Census
1861/Henry Aker/Servant/13/../Census

1862/Thomas Bunker/../../../Post Office Directory **

May 1865/Joseph Elmore/Outgoing Licensee/../../Era

May 1865/Elizabeth Hunter/Incoming Licensee/../../Era

August 1867/Mary Jayes/Outgoing Licensee/../../Era Newspaper

August 1867/Charles Partridge/Incoming Licensee/../../Era Newspaper

1869/C Partridge/../../../Post Office Directory

January 1870/George Charles Peachey/Outgoing Licensee/../../Era Newspaper

January 1870/James Francis Coleman/Incoming Licensee/../../Era Newspaper

1871/James F Coleman/Licensed Victualler/36/Clerkenwell, Middlesex/Census
1871/Elizabeth Coleman/Wife/36/Bristol, Glouces./Census
1871/James Fck Coleman/Son/12/London, Middlesex/Census
1871/Francis H Coleman/Son/10/Pimlico/Census
1871/George J Coleman/Son/7/Shoreditch, Middlesex/Census
1871/Lizzy S Coleman/Daughter/5/Shoreditch, Middlesex/Census
1871/Ernest W Coleman/Son/3/Battersea, Middlesex/Census
1871/Alfred H Coleman/Son/1/Bow, Middlesex/Census

May 1872/James Francis Coleman/ Outgoing Licensee /../../The Era

May 1872/Benjamin Colley/ Incoming Licensee /../../The Era

1877/Mrs Eliza H Colley/../../../Post Office Directory **

12th May 1877/Eliza Hephzibah Colley/Outgoing Licensee/../../East London Observer +

12th May 1877/Matthew F Houston/Incoming Licensee/../../East London Observer +

March 1879/Matthew Fleming Houston/Outgoing Licensee/../../East London Observer

March 1879/Ann Elizabeth Hunter/Incoming Licensee/../../East London Observer

1882/Joseph Finch/../../../Post Office Directory *

1884/George A. Blanchett/../../../Post Office Directory *

1886/William S Watson/../../../Business Directory of London **

1891/Thomas Dickerson Pantlin/../../../Post Office Directory *

1891/William Hodge/Licensed Victualler/29/London NW/Census
1891/Sarah M Hodge/Wife/28/London City/Census
1891/Ellen Langley/Sister, Machinist/19/London SE/Census
1891/Jack Allmond/Visitor/5/London SE/Census

1892/William Hodge/../../../Post Office Directory **

1895/Charles Cleere/../../../Post Office Directory *

1899/Arthur Chas Carter/../../../Post Office Directory

My Great Uncle, Thomas Harding, was the Publican running the Three Tuns in Bow between at least 1908 to 1915 and that in 1916 his address was 176 Queens road Dalton (on his sons birth certificate) which was the Duke of Richmond. Thomas had brothers who were also licensed victuallers. *+

1908/Thomas Harding/../../../Kellys Directory

1910/Thomas Harding/../../../Kellys Directory **

1911/Thomas Harding/Licensed Victualler/37/Canning Town, London/Census
1911/Elizabeth Harding/Wife, Assistant/39/Notting Hill, London/Census
1911/Elizabeth Harding/Daughter/18 months/Bow, London/Census
1911/Annie Streater/Servant/34/Regents park, London/Census

1915/Thomas Harding/../../../Post Office Directory

1916/Mrs Mary Ann Murray/../../../Post Office Directory

1921/Mrs Mary Ann Murray/../../../Post Office Directory *

1926/Daniel Morris Robertson/../../../Post Office Directory **

1934/John Turrell/../../../Kelly's

1938/John Turrell/../../../Post Office Directory **

1939/D E Leggett/../../../PO Telephone Directory [ADVance 2090]

1940/David Stewart Leggett/../../../Post Office Directory *

1941/D E Leggett/../../../PO Telephone Directory [ADVance 2090]

1941/David Ewart Leggett/../../../Post Office Directory **

1942/D E Leggett/../../../PO Telephone Directory [ADVance 2090]

1943/D E Leggett/../../../PO Telephone Directory [ADVance 2090]

1944/David Leggett/../../../Post Office Directory

1946/D E Leggett/../../../PO Telephone Directory [ADVance 2090]

1949/D E Leggett/../../../PO Telephone Directory [ADVance 2090]



* Provided By Ewan

*+ Provided by Stewart Harding

+ Provided by Friends of Tower Hamlets Cemetery Park

** Provided By Stephen Harris