Search London wiki and Pub wiki history sites
All public house, restaurants, bars etc closed for the forseeable future on 20th March 2020, but this is a history site. But how about the landlords give their tenants a break, no business, then please charge them no rent.
Goat In Boots, 333 Fulham road, Chelsea SW10
Chelsea Pub history index
This pub was called the Goat until 1725 when the name was extended to Goat in Boots. Fulham Road was previously New Brompton Road, e.g. in 1851; and earlier called Little Chelsea. It was rebuilt in its present form in 1887. **
Historical London public houses, Taverns, Inns, Beer Houses and Hotels.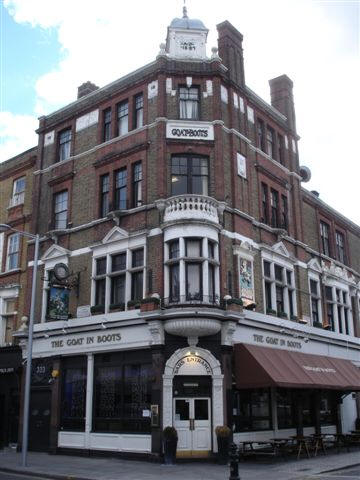 Goat in Boots, 333 Fulham Road, SW3 - in July 2007
Kindly provided by Stephen Harris
Residents at this address.
October 1789/James Naunton, The Goat in Boots, Little Chelsea, Victualler/../../Sun Fire Insurance records at the LMA

October 1791/James Naunton, The Goat in Boots, Little Chelsea, Victualler/../../Sun Fire Insurance records at the LMA

October 1798/Mary Naunton, The Goat in Boots, Little Chelsea, victualler/../../Sun Fire Insurance records at the LMA

1805/Mrs Nanton, Goat in Boots, Little Chelsea/../../Holdens Directory

1826/George Andrews, Goat in Boots, Little Chelsea/../../Pigots Directory

January 1827/Mr Andrews, Goat in Boots, Little Chelsea, Steward/../../Licensed Victuallers Association

1827/George Andrews/../../../Licensed Victuallers Association

1837/George Andrews/../../../Licensed Victuallers Association

1843/John Brown/../../../Post Office Directory

1848/Robert Cribb/../../../Post Office Directory

1851/Robert Cribb/../../../Kellys Directory

1851/Robert Cribb/Licensed Victualler/63/Portsmouth, Hampshire/Census
1851/Ann Cribb/Wife/49/Meckleham, Surrey/Census
1851/Charles F Cribb/Son, Stationer/21/Lambeth, Surrey/Census
1851/Fanny Elizabeth Cribb/Daughter/16/Lambeth, Surrey/Census
1851/Robert Letford Cribb/Son/12/Lambeth, Surrey/Census
1851/George Piper/Potman/26/Fulham, Middlesex/Census
1851/Elizabeth Edney/House Servant/20/Broughton, Hampshire/Census

1856/Robert Cribb/../../../Post Office Directory

1861/Robert Cribb/Publican/64/Portsmouth/Census
1861/Ann Cribb/Wife/60/Surrey/Census
1861/Caroline Blackman/Servant/31/Sussex/Census
1861/Mary A Dunk/Servant/22/Rye, Sussex/Census
1861/Thomas J Goodson/Servant/19/Nottingham/Census

1869/Robert Cribb/../../../Post Office Directory

1871/Ann Cribb/Licensed Victualler, Widow/70/Micklesham, Surrey/Census
1871/Robert L Cribb/Son, Assistant/32/Lambeth, Surrey/Census
1871/Emily Cribb/Daughter in Law/32/Micklesham, Surrey/Census
1871/Rhoda Stevenson/Domestic Servant/22/Didcot, Berkshire/Census
1871/Thomas West/Potman/20/Paddington, Middlesex/Census

1874/Ann Cribb/../../../LV Directory

1879/Robert Letford Cribb/../../../Electoral Register

Ann Cribb, Widow of the Goat in Boot public house, Fulham, Chelsea, Middlesex. Died 10-12-1874.[74] £2000. To Charles James and Robert Letford Cribb, sons/Probate *

1877/Robert Letford Cribb/../../../Post Office Directory **

1881/Joshua Jessop/Licensed Victualer/48/Northolt, Middlesex/Census
1881/Mary Jane Jessop/Wife/45/Stoke St Gregory, Somerset/Census
1881/Mary Jane Jessop/Daughter/21/Poplar, Middlesex/Census
1881/Mildred Jessop/Daughter/15/Poplar, Middlesex/Census
1881/Alice Maud Jessop/Daughter/14/Poplar, Middlesex/Census
1881/William Jessop/Son/13/Poplar, Middlesex/Census
1881/Charles Henry Jessop/Son/5/Limehouse, Middlesex/Census
1881/Rosetta Jessop/Daughter/1/Landport, Hampshire/Census
1881/Annie Ansell/General Servant/18/Limehouse, Middlesex/Census
1881/Henry Giles/Barman/16/Battersea, Middlesex/Census

1882/Walter Sims Harrison/../../../Post Office Directory

1884/Walter S Harrison/../../../Post Office Directory

1891/William Prangnell/../../../Post Office Directory

1895/George Richard Shrimpton/../../../Post Office Directory

1899/Charles Brisley/../../../Post Office Directory

At his marriage in 1901, Arthur Henry Block is a Licensed Victualler aged 24, and lists his address as 25 Bute street; when he marries Annie Elizabeth Bloxham, aged 19, also of 25 Bute street. Both of their parents are also Licensed Victuallers, i.e. George Block, Coopers Arms and James Bloxham, deceased.

1911/Arthur Henry Block/Licensed Victualler/34/New Cross, Kent/Census
1911/Emily Alice Block/Wife, Assistant/30/Manchester/Census
1911/Marjorie Winifred Block/Daughter/4/Richmond, Surrey/Census
1911/Ada Tracey/Servant/26/Westminster, Middlesex/Census
1911/Sidney Leonard Holloway/Servant/24/Hampton, Middlesex/Census
1911/George Richard Wells/Servant/28/Twickenham, Middlesex/Census
1911/Gertrude Seymour/Servant/29/St Martins Lane, LondonCensus

According to the WWI service record of Arthur Henry Block, he was aged 39, in October 1915 he also references the Victoria, 642 Wandsworth road in addition to the address of 333 Fulham road. He appears to be listed at the Victoria in 1921

1921/Mrs F E Morrison/../../../Hughess Directory

1934/Herbert F Miles/../../../Kellys Directory

1938/Desire Chas Anthony Corteel/../../../Post Office Directory

1944/Mrs Anne Corteel/../../../Post Office Directory

Owner from 1982 - 1989: Jean Jaques Fontaine

Owner from 1989 - 1994: Simon Sessler

Always the busiest pub in the area, the loud music that created the atmosphere was its trademark. It was also a well known celebrity haunt, attracting some of the biggest names in entertainment as regulars.

It was used regularly by both film and TV as a location. Most famously in Absolutely Fabulous.

In 1992 a major fire in the top floor apartment resulted in a tragic fatality.

For the 1980s and 90s there was a club on the first floor. Some of these included The Upstairs Club, El Cid and The Lost Weekend



* Provided By John Carnaby

** Provided By Stephen Harris