Search London wiki and Pub wiki history sites
All public house, restaurants, bars etc closed for the forseeable future on 20th March 2020, but this is a history site. But how about the landlords give their tenants a break, no business, then please charge them no rent.
Bell, 274 Wandsworth road, Clapham SW8
Clapham pub history index
The Bell, Britannia place, Wandsworth road in 1861 and in the 1867 and 1871 license transfers. In recent years this pub has been trading as Bar SW8, but it is now closed (2008). *** Closed c. 2006 and is now in use as a hardware shop (2014). *+
Historical London public houses, Taverns, Inns, Beer Houses and Hotels.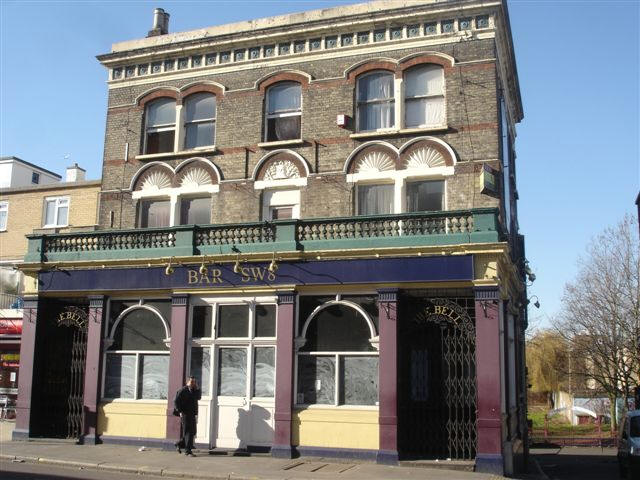 Bell, 274 Wandsworth Road, SW8 - in February 2008
Kindly provided by Stephen Harris
Residents at this address.
1861/Ann Walton/Licensed Victualler/49/Footscray, Kent/Census
1861/William Walton/Son/15/Clapham, Surrey/Census
1861/Mary Ann Wallace/Sister/30/Footscray, Kent/Census
1861/Godwin Lickfold/Potman/50/Sussex/Census

September 1862/Ann Walter/Outgoing Licensee/../../../London Daily News

September 1862/G T Liscoe/Incoming Licensee/../../London Daily News

December 1867 /Thomas Abrahams/Outgoing Licensee/../../Era

December 1867 /Frederick Videon?/Incoming Licensee/../../Era

January 1871/Richard Pooley/Outgoing Licensee/../../Era

January 1871/Daniel Murchin Hunter/Incoming Licensee/../../Era

1871/Daniel Marche Hunter/Licensed Victualler/39/Renfrewshire, Scotland/Census **
1871/Mayan Hunter/Wife/36/Hackney, Middlesex/Census
1871/Ann Elizabeth Hunter/Daughter/14/Poplar, Middlesex/Census
1871/Augusta J Hunter/Daughter/12/Poplar, Middlesex/Census
1871/William M Hunter/Son/10/Bayswater, Middlesex/Census
1871/Sophia J Hunter/Daughter/9/Stepney, Middlesex/Census
1871/Albert O Hunter/Son/2/Stepney, Middlesex/Census
1871/Percival J Hunter/Son/6 months/Stepney, Middlesex/Census
1871/Sarah Barr/Domestic Servant/20/Ratcliff, Middlesex/Census

1874/D M Hunter/../../../Licensed Victualler & Hoteliers Directory

1878/William Betts/../../../Surrey Directory

My relatives (G-G-Aunt & Uncle), Augustus & Sarah Jeffs are the landlords in 1881. They were landlords at various other pubs in London from the 1860s through to 1901; including the Swan, 7 Cosmo Place in 1899 *

1881/Augustus Jeffs/Licensed Victualler/45/Rutland/Census *
1881/Sara Jeffs/Wife/44/Surrey/Census
1881/Eliza Jeffs/Daughter/19/Surrey/Census
1881/Fanny Jeffs/Daughter/17/Surrey/Census
1881/Emma Jeffs/Daughter/15/Surrey/Census
1881/Nelly Jeffs/Daughter/7/Middlesex/Census
1881/Kate Jeffs/Daughter/5/Middlesex/Census
1881/Walter Cleal/Potman/22/Dorset/Census

1896/Edward Clarke/../../../../Post Office Directory

1901/Thomas C Moss/Licensed Victualler/34/London/Census
1901/Arthur Moss/Brother, Licensed Victualler/24/London/Census
1901/Lillie Finlay/Barmaid/19/Landrost, Wales/Census
1901/Catherine Redshaw/Barmaid/19/London/Census
1901/Francis McConville/Barman/21/Ireland/Census
1901/James McConville/Barman/18/Ireland/Census

1901/Thomas Chas Moss/../../../../Post Office Directory

1905/Thomas Charles Moss/../../../../Post Office Directory ***

1911/Thomas Charles Moss/../../../../Post Office Directory

1911/Thomas Charles Moss/Publican/44/London/Census
1911/Elizabeth A Moss/Wife/30/Suffolk/Census
1911/Kenneth Butcher/Nephew/6/London/Census
1911/William Hawkins/Manager/33/Knowle, Somerset/Census
1911/Edward J Banks/Barman/25/Norfolk/Census
1911/Nellie Roberts/Cook, Widow/41/London/Census
1911/Henry Wright/Visitor, Retired Farmer/59/Suffolk/Census
1911/Susan Wright/Visitor/58/Suffolk/Census

1916/William Henry Banfield/../../../../Post Office Directory ***

1919/William Henry Banfield/../../../../Post Office Directory

1921/William Henry Banfield/../../../../Post Office Directory

1934/Aubrey William Webb/../../../../Kellys Directory

1938/Mrs Lilian French/../../../../Post Office Directory

1944/Chas Hy French/../../../../Post Office Directory



* Provided Jon Craig

*+ Provided By Tris

** Provided Ron Ely

*** Provided By Stephen Harris