Search London wiki and Pub wiki history sites
All public house, restaurants, bars etc closed for the forseeable future on 20th March 2020, but this is a history site. But how about the landlords give their tenants a break, no business, then please charge them no rent.
Nags Head, 693 Wandsworth Road, Clapham SW8
Clapham pub history index
The 1861 census lists it as the Nags Head, North street, with Wandsworth road as the next address. Early address is at 645 Wandsworth Road from at least 1871, but at 693 Wandsworth Road by 1911
Historical London public houses, Taverns, Inns, Beer Houses and Hotels.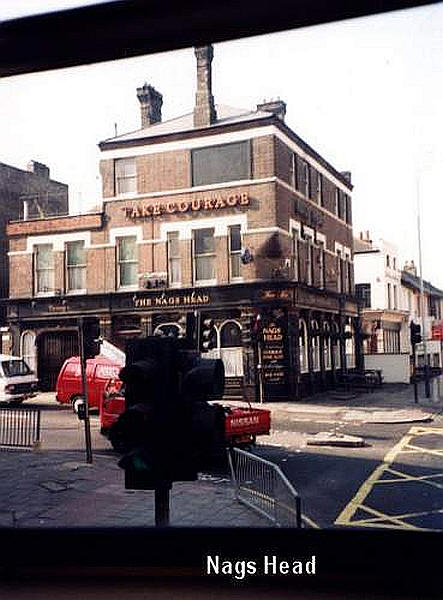 Nags head, 693 Wandsworth Road, Wandsworth
Kindly provided by Don Joseph
Residents at this address.
1805/George Gilbert, Nags Head, Wandsworth road/../../Holdens Directory

1822/Mary Tatchell/Widow, Nags Head, Wandsworth road/../../Petty Sessions

1825/Mary Tatchell/Widow, Nags Head, Wandsworth road/../../Petty Sessions

1825/Mrs Tatchell, Nags Head, Wandsworth road/../../Licensed Victuallers Association

1826/Mary Tatchell/../../../../Post Office Directory

1839/Thomas James, Nags Head, Wandsworth road/../../../Pigots Directory

1843/Thomas James/../../../../Post Office Directory

1848/Thomas James/../../../../Post Office Directory

1851/John Maltby, Nags Head, Wandsworth road/../../Post Office Directory

September 1851/John Maltby/Outgoing Licensee/../../Era Newspaper

September 1851/John Thomas/Incoming Licensee/../../Era Newspaper

April 1853/John Thomas/Outgoing Licensee/../../Era

April 1853/Samuel Richardson/Incoming Licensee/../../Era

July 1853/John Dickie/Outgoing Licensee/../../Era

July 1853/George Harding/Incoming Licensee/../../Era

1856/George Harding/../../../../Post Office Directory

June 1856/George Harding/Outgoing Licensee/../../Era Newspaper

June 1856/Charles Rowcliffe/Incoming Licensee/../../Era Newspaper

1861/William Savage/Licensed Victualler/58/Shipton on Stone, Worcestershire/Census
1861/Ann Savage/Wife/63/Wick, Gloucestershire/Census
1861/Catherine Savage/Daughter/23/London, Middlesex/Census
1861/Emma Russell/Servant/18/Norwood, Surret/Census
1861/William Widdett/Potman/21/Canterbury, Kent/Census
1861/Thomas Whitby/Lodger, Housekeeper/37/Lichfield, Staffordshire/Census

1867/William Savage/../../../Surrey Directory

April 1871/Ann Savage and William Savage/Outgoing Licensee/../../Era Newspaper

April 1871/William Savage/Incoming Licensee/../../Era Newspaper

1871/William Savage/Licensed Victualler/36/Middlesex/Census
1871/Caroline Savage/Wife/33/Norwood, Surrey/Census
1871/Caroline Savage/Mother, Widow/78/Bath, Somerset/Census
1871/Annie Savage/Daughter/10/Middlesex/Census
1871/Kate Savage/Daughter/8/Clapham, Surrey/Census
1871/Thomas Savage/Son/6/Clapham, Surrey/Census
1871/Frederick Savage/Son/3/Clapham, Surrey/Census
1871/William Savage/Son/1/Clapham, Surrey/Census
1871/Ellen Kennedy/Servant/20/Kerry, Ireland/Census
1871/Thomas Matthews/Potman/20/Suffolk/Census

1878/William Savage/../../../Surrey Directory

1881/William Savage/Licensed Victualler/45/Middlesex/Census
1881/Elizabeth Savage/Wife/35/Abingdon, Berkshire/Census
1881/Kate Savage/Daughter/18/Clapham, Surrey/Census
1881/Frederick Savage/Son/13/Clapham, Surrey/Census
1881/William Savage/Son/11/Clapham, Surrey/Census
1881/Frank Savage/Son/2 years 6 months/Clapham, Surrey/Census
1881/Infant Savage/Daughter/6 days/Clapham, Surrey/Census
1881/Ann Savage/Mother, Widow/88/Somerset/Census
1881/Fanny Brown/Barmaid/31/Lincolnshire/Census
1881/Elizabeth Williams/Cook/20/Oxford/Census
1881/Lucy North/Nurse/40/Cheslea, Middlesex/Census

1896/Ernest Hartley/../../../../Post Office Directory

1901/William W Davis/Licensed Victualler/42/Cambridge, Cambs/Census
1901/Alice E Davis/Wife/37/West Howrood, Surrey/Census
1901/William H Davis/Son, Manager/19/West Howrood, Surrey/Census
1901/Walter J Davis/Son/5/Camberwell, London/Census
1901/Alexander F Davis/Son/2/Clapham, London/Census
1901/John C Davis/Son/1/Clapham, London/Census
1901/Louisa R Berryman/Barmaid/32/../Census
1901/Selina Hook/Barmaid/30/Yarmouth, Norfolk/Census
1901/Margaret Woodward/Barmaid/25/Bath, Somerset/Census
1901/Fredewrick C banbery/Visitor, Manager Public House/21/Battersea, London/Census
1901/Mary Shelvey/Cook/29/Sandwich, Kent/Census
1901/Jessie Coffey/Nursemaid/18/Battersea, London/Census

1901/William Wallace Davis/../../../../Post Office Directory

1905/Mrs Alice Elizabeth Davis/../../../../Post Office Directory

1908/George Smith Tucker/../../../../Post Office Directory

1911/George Smith Tucker/../../../../Post Office Directory

1919/Charles Buckle/../../../../Post Office Directory

1921/Charles Buckle/../../../../Post Office Directory

Harry Joseph was previously at the Victory, Albany Street *

1929/Harry Joseph/../../../Personal detail *

Harry Joseph was at the Old Sergeant, Garratt Lane by 1932. *

1934/Henry Charles Chapman/../../../../Kellys Directory

1938/Clarence Stanley Lawrence/../../../../Post Office Directory

1944/Sydney George Woods/../../../../Post Office Directory

1971/R G Underwood/../../../../Pub Directory



* Provided by Don Joseph