Search London wiki and Pub wiki history sites
All public house, restaurants, bars etc closed for the forseeable future from 20th March 2020, but this is a pub history site.
Victory, 152 Albany Street, Regents Park NW1
St Pancras index
at 75 Albany Street in 1851 & 1856; Closed 2016, and demolished January 2018. *** The address is also given as 74 & 75 Albany Street in the 1861 census reutnr, and as 150 Albany Street in most directories from 1891 onwards, though the modern address is 150 & 152 Albany Street. *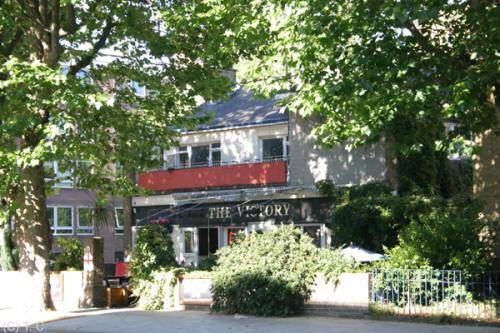 Victory, 152 Albany Street, NW1 - July 2010
Kindly provided by Tris
Historical London public houses, Taverns, Inns, Beer Houses and Hotels.
Residents at this address.
1839/Michael Dexter/../../../Pigot's Directory *

1842/John Walpole/../../../Robsons Directory

1843/John Walpole/../../../Kellys Directory

1848/Arthur Hallam/../../../Post Office Directory

1851/Arthur Hallam/../../../Kellys Directory

1851/Arthur Hallam/Licensed Victualler/49/Dyston, Leicestershire/Census *
1851/Grace Hallam/Wife/48/Bangor, North Wales/Census
1851/Esther Hunt/Niece, Farmers Daughter/19/Birmingham, Lincolnshire/Census
1851/William Chuck/House Servant/22/Knightsbridge, Middlesex/Census

1856/Arthur Hallam/../../../Post Office Directory

February 1859/Victory, Albany street, Regents park, Arthur Hallam to John Poole/../../Morning Advertiser

1861/John Poole/Publican/52/Gloucestershire/Census *
1861/Jane Poole/Wife/41/Norfolk/Census
1861/John Cumber/Visitor, Architect/25/London/Census
1861/Emma Mellett/Barmaid/27/Westminster/Census
1861/James Murphy/Potman/20/London/Census

February 1862/John Poole/Outgoing Licensee/../../Era

February 1862/Benjamin Newson/Incoming Licensee/../../Era

December 1862/Benjamin Newson, deceased/Outgoing Licensee/../../Era

December 1862/Sarah Mary Newson, widow of Benjamin Newson/Incoming Licensee/../../Era

1869/James Few/../../../Post Office Directory

1881/Robert Archer/Licensed Victualler/30/Christow, Devon/Census
1881/Harriet Archer/Wife/50/Devon/Census
1881/Elizabeth Ahannan/Barmaid/23/London, Middlesex/Census
1881/Emma Viles/General Servant/30/Middlesex/Census

1882/Robert Archer/../../../Post Office Directory

1884/Henry Williams & Co/../../../Post Office Directory

1891/James Gray/../../../Post Office Directory *

1895/James Gray/../../../Post Office Directory *

1899/Richard John Elms/../../../Post Office Directory

1906/Carl Bose/../../../Post Office Directory *

1910/Carl Bose/../../../Post Office Directory

1915/Edwin George Bailey/../../../Post Office Directory

1921/George William Plumb/../../../Post Office Directory *

Harry Joseph was previously at the City Arms, Tidal Basin, Canning Town *+

1927/Harry Joseph/../../../Birth detail *+

By 1929, Harry Joseph had moved on to the Nags Head, in Wandsworth Road. *+

1927/Harry Joseph/../../../Birth detail *+

1934/Arthur G. Ludbrook/../../../Post Office Directory *

1938/Mrs M A B Fegan/../../../Post Office Directory

1940/Mrs M. A. B. Fegan/../../../Post Office Directory *

1944/Mrs M. A. B. Fegan/../../../Post Office Directory *

1944/Richard John Elms/../../../Post Office Directory

1966/Westminster Wine Co Ltd & G B Ogie, Victory, 152 Albany street NW1/../../Licensed Victuallers Association



* Provided By Ewan

*+ Provided by Don Joseph

** Provided By Stephen Harris

*** Provided By Tris