Search London wiki and Pub wiki history sites
All public house, restaurants, bars etc closed for the forseeable future from 20th March 2020, but this is a history site.
Essex Head, 40 & 41 Essex Street, Strand, St Clement Danes WC2
St Clement Danes pub history index
It is now called the Edgar Wallace. **
Historical London public houses, Taverns, Inns, Beer Houses and Hotels.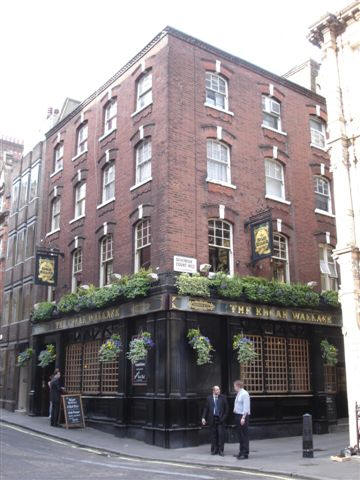 Essex Head, 40 Essex Street, WC2 - in May 2007
Kindly provided by Stephen Harris
Residents at this address.
1829/I games, Essex Head, 40 Essex Street, Strand/../../Robsons Directory

1832/John Snilling, Essex Head, 40 Essex Street, Strand/../../Robsons Directory

1833-34/John Snelling, Essex Head, 40 Essex Street, Strand/../../Pigots Directory

1839/Peter Ing/../../../Pigots Directory

1843/Peter Ing/../../../Kellys Directory

1851/Peter Ing/../../../Kellys Directory

1851/Peter Ing/Publican/61/Aylesbury, Bucks/Census
1851/Lucy Ing/Wife/62/Kings Weston, Gloucester/Census
1851/Mary Ann Gregory/Servant/19/London/Census
1851/Josiah Payne/Pot Boy/19/London/Census
1851/Samuel Twining/Lodger, Solicitor/21/Tewkesbury/Census
1851/Arthur Bowtell/Visitor, Warehouseman/25/Somersetshire/Census
1851/Chas Streek/Visitor, Draper/23/Chatham, Kent/Census
1851/Thos Nixon/Lodger, Street Keeper/64/Melbourne, Leicester/Census
1851/Elizabeth Nixon/Lodger/56/Melbourne, Leicester/Census
1851/Elizabeth Nixon/Lodger/28/Melbourne, Leicester/Census
1851/Hannah Bentley/Lodger/16/../Census
1851/Ruth Tillbrook/Lodger, Laundress/56/Kelvedon, Essex/Census
1851/Eliza Edwards/Lodger, Servant to above/46/Messing, essex/Census
1851/Emily Edwards/Lodger/2/St Clements Danes/Census

April 1853/Peter Ing/Outgoing Licensee/../../Era

April 1853/Jabez Greenfield/Incoming Licensee/../../Era

January 1854/Jabez Greenfield/Outgoing Licensee/../../Era

January 1854/William Frederick Glover/Incoming Licensee/../../Era

1856/John Blake/../../../Post Office Directory

November 1856/John Blake/Outgoing Licensee/../../Era Newspaper

November 1856/William Frederick Beeston/Incoming Licensee/../../Era Newspaper

1861/James A Cunningham/Victualler/44/Manchester, Lancashire/Census
1861/Elizabeth Cunningham/Wife/51/Pimlico, Middlesex/Census
1861/Elizabeth Cunningham/Daughter/14/Stepney, Middlesex/Census
1861/Elizabeth Dodson/Barmaid/23/Bethnal Green, Middlesex/Census
1861/Ellen Preston/House Servant/33/Manchester, Lancashire/Census
1861/Thomas Chesney/House Servant/27/Holborn, Middlesex/Census
1861/George Hunt/House Servant/15/Newington, Surrey/Census

1869/James Andrew Cunningham/../../../Post Office Directory

July 1869/executor of James Andrew Cunningham/Outgoing Licensee/../../Era Newspaper

July 1869/Richard Goodwin/Incoming Licensee/../../Era Newspaper

1871/Richard Goodwin/Licensed Victualler/59/St Albans, Herts/Census
1871/Sarah Goodwin/Wife/59/Chigwell, Essex/Census
1871/Joseph Goodwin/Son/27/Bishopsgate, Middlesex/Census
1871/Jane Goodwin/Daughter/24/Bishopsgate, Middlesex/Census
1871/Cecelia Pond/Niece/12/Hamnpshire/Census
1871/Sophia Tayor/Domestic Servant/32/Farringdon, Middlesex/Census
1871/Kate Harris/Domestic Servant/22/Moorgate, Middlesex/Census
1871/Walter Collins/Potman/28/Harlow, Essex/Census
1871/Elizabeth Callwer/Lodger, Widow/71/Shelton, Oxford/Census
1871/Hannah Callwer/Lodger, Glove Maker, Widow/69/Witney, Oxford/Census

1874/Mrs Sybella Duck/../../../Post Office Directory **

1878/E Hodges/../../../LV Directory

1881/Mary E Fielding/Licensed Victualler/35/Huntingdon/Census
1881/Fanny F Fielding/Sister, Licensed Victualler/25/Huntingdon/Census
1881/George Fielding/Brother, Licensed Victualler/21/Huntingdon/Census
1881/Rose Williams/Barmaid/23/Maidstone, Kent/Census
1881/Mary J Ellaway/Servant/21/Gloucester/Census

1882/Mrs Mary Eliza Fielding/../../../Post Office Directory

1884/Mary E Fielding/../../../Post Office Directory

1891/Henry Fritt/../../../Post Office Directory

1899/Frank Evans/../../../Post Office Directory

1901/Frances J R Smith/Public House Manager/33/Brighton, Sussex/Census
1901/Nellie Smith/Wife/27/Lewisham, Kent/Census
1901/Frances Smith/Daughter/5/Westminster, London/Census
1901/Ada Smith/Daughter/3/Paddington/Census
1901/Ivy Smith/Daughter/1/St Clement Danes/Census
1901/Hetty Hack/Sister in Law/14/Lewisham, Kent/Census
1901/Emily Lock/Barmaid/26/City of London/Census
1901/Alice Millar/Barmaid/20/City of London/Census
1901/Emily Mecham/Barmaid/22/Egham, Surrey/Census
1901/G Hewitt/Barmaid/25/Scotland/Census
1901/Emma Hines/Cook/44/Sussex/Census
1901/Alice Street/Housemaid/22/Lambeth/Census

1910/Mrs Fanny Maddick/../../../Post Office Directory

My great grand uncle there, Francis Arthur Dunn and his wife Marie, plus his son and three servants. The electoral register for 1909-10 shows him at 146 High Holborn.
Probate records show that my great great grandfather, George Richard Dunn seems to have been owner or co-owner, and is recorded as having died on the premises in 1917, leaving £201 9s worth of 'effects'.
Probate was granted to one son, George Frank.
Sadly his son didn't enjoy the pub for long, as Francis Arthur also appears to have died on the premises in 1918! Probate was also granted to George Frank.

I have also dug up a connection between George frank and the Metropolitan Hotel at 60 Southwark St, but I have yet to investigate that.

1911/Francis Arthur Dunn/Licensed Victualler/35/Bermondsey, London/Census *
1911/Marie Dunn/Wife, Licensed Victualler/34/Westminster, London/Census
1911/Francis Arthur Dunn/Son/6/Clapham, London/Census
1911/Ada Carter/General Servant/38/Woodcock, Oxfordshire/Census
1911/Maud Eliza Russell/Barmaid/19/Stamford Hill, London/Census
1911/Elizabeth Hickman/Barmaid/27/Battersea, London/Census

1917/George Richard Dunn of the Essex Head Hotel Essex street Strand Middlesex died 11 July 1917 Administration London 13 March to George Frank Dunn Licensed Victualler. Effects £201 9s/Probate

1918/Francis Arthur Dunn of the Essex Head Hotel Essex street Strand Middlesex died 7 December 1918 Probate London 29 July to George Frank Dunn Licensed Victualler and James Cummins oyster dealer. Effects £1823 14s 2d/Probate

1921/Frank I Dunn../../../Post Office Directory

1934/Alfred Hancock/../../../Kellys Directory

1938/Alfred Hancock/../../../Post Office Directory

1944/Miss Florence M Hancock/../../../Post Office Directory



* Provided By Adrian Kirkup

** Provided By Stephen Harris