Criterion, 116 St John street, Clerkenwell, London EC1V
Clerkenwell pub history index
It was built in 1876, but is now closed and in restaurant use. ** It would appear that the Criterion at 116 St John street was built, as the Rose & Punch Bowl at 118 St John street closed.
Historical London public houses, Taverns, Inns, Beer Houses and Hotels.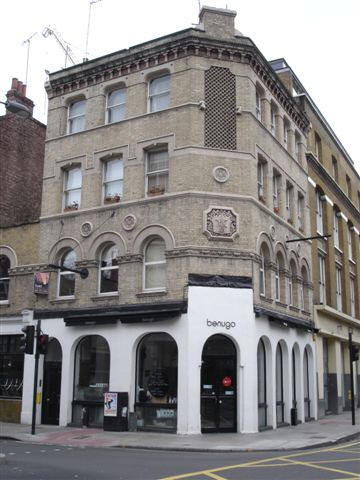 Criterion, 116 St John Street - in March 2007
Kindly provided by Stephen Harris
The following entries are in this format:
Residents at this address.
1877/Frank Johns Carter/../../../Post Office Directory

1879/Frank John Carter/../../../Post Office Directory **

1881/Richard L Melluish/Licenced Victualler/42/Devon/Census
1881/Ellen Melluish/Wife/39/Devon/Census
1881/Richard A Melluish/Son/13/Devon/Census
1881/Andrew R Melluish/Son/11/Devon/Census
1881/Harry L Melluish/Son/5/Lambeth, Surrey/Census
1881/Helen H Poulson/Barmaid/26/Middlesex/Census
1881/Emma Heskett/Barmaid/21/Bromley/Census
1881/Maria Stoman/Barmaid/19/Devon/Census
1881/Mary Kelly/Cook/39/Ireland/Census

1882/Rd Luxton Melluish/../../../Post Office Directory

1884/Rich. L Melhuish/../../../Business Directory of London **

1891/Richard L. Melhuish/../../../Post Office Directory *

1895/Richard Luxton Melhuish/../../../Post Office Directory *

1899/Richard L Melluish/../../../Post Office Directory

1900/Rd Luxton Melhuish/../../../Post Office Directory **

1910/Mrs Ellen Melhuish/../../../Post Office Directory

1915/Mrs Ellen Melhuish/../../../Post Office Directory

1919/Mrs Alice Sarah Bulring/../../../Post Office Directory **

1921/Mrs Alice Sarah Bulring/../../../Post Office Directory **

1934/Frank Downs James/../../../Kellys Directory

1938/Jn Wm Magnurson/../../../Post Office Directory

1944/L. T. Salmon & C. F. Dingley/../../../Post Office Directory *



* Provided By Ewan

** Provided By Stephen Harris