Marquis of Anglesea, 39 Bow street, Covent Garden WC2E 7AU
Covent Garden index
This pub was first licensed in 1752 as the Barley Mow. From 1755 to 1815 it traded as the Green Man. From 1815 it became the Marquis of Anglesea. The 1839 Pigots directory lists the pub as the Marquis of Clanricarde, but this may be an error! The pub was re-built in its present form in 1956 following wartime damage. In 1979 the spelling of the pub's name was amended to Marquess of Anglesey. ** This is a Youngs pub in 2017.
The address is 22 Great Russell Street in just the 1861 census, otherwise the Marquis of Anglesea at the junction with Russell place, and the address is usually given as 39 Bow Street. There is a short lived beer house at 22 Great Russell street; this also shows up in the 1856 directory. In 1857 an application is made to extend the Marquis of Anglsea to not only make this a larger public house, and the description in 1875 in the auction clearly explain the reason for this being a large corner placed public house. **

Historical London public houses, Taverns, Inns, Beer Houses and Hotels.
You may also wish to take a look at the St Clements Danes parish.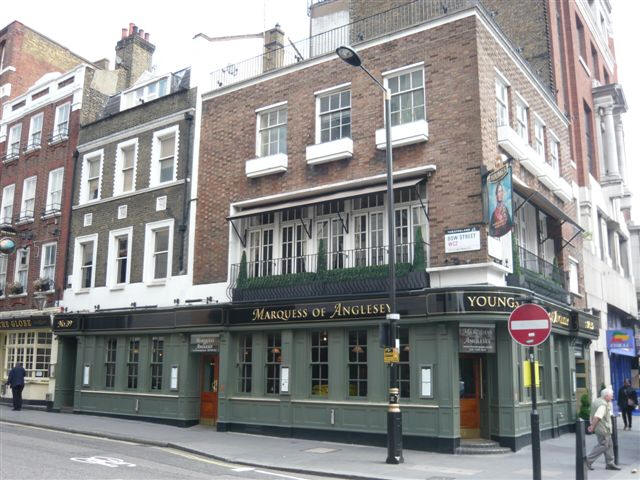 Marquis of Anglesea, 39 Bow Street, WC2 - in May 2008
Kindly provided by Stephen Harris
Residents at this address.
1819/Mr Wilkinson, Marquis of Anglesea, Bow street, Covent garden/../../Licensed Victuallers Association

1832/S Douglas, Marquis of Anglesea, 39 Bow Street/../../Robsons Directory

October 1834/Poor Law Act - Catherine Withers, now upwards of 100 years of age, during twenty four of which she kept the "Green Man" public house, which was now the sign of the "Marquis of Anglesea" in Bow street, by which she became entitled to a settlement in the parish of St Paul, Covent garden. She at length, however, became reduced, and was compelled to give up the house in question. For some time past she had been in the receipt of 1s 6d per week from the parish officers of St Pauls, which was all she received for her subsistence. This small allowance had recently been stopped by the overseers, who assured her that the law no longer authorized them to grant money for the relief of paupers, and the only assistance they could now offer her was to take her into the work house.
The magistrates wrote her a note for her to lay the matter before the Poor Law Commissioners, recommending assistance to her. /Morning Post

1839/Benjamin Kelsey/../../../Pigots Directory

1841/B Kelsey/../../../Pigots Directory

1842/W Wilkins, Marquis of Anglesea, 39 Bow Street/../../Robsons Directory

15 July 1845/Burglary in Bow Street, and capture of three burglars - Yesterday morning, at ten minutes past two o'clock, a daring burglary was committed on the premises of Mr Whelpdale, landlord of the Marquis of Anglesea wine vaults, in Bow street, one door from the police station. The burglars effected an entrance into an empty house, and passing over a back area wall into the yard of Mr Whelpdale, they commenced breaking open the back doors; the noise of which awoke Mr Douglas, who occupies the adjoining house, and on looking out of the window he observed the burglars entering Mr Whelpdales house. He immediately dressed himself, and proceeded to the station in Bow street, where he procured the assistance of Sergeant Chadwick and several other Constables; who got over the wall of Mr Douglas's house to the premises of Mr Whelpdale, and rushing into the house, they captured the three burglars, who were busily engaged ransacking cupboards and drawers./../../../Morning Post

1848/Christopher List/../../../Post Office Directory

1851/Wm Howard/../../../Kellys Directory

1851/William Howard/Victualler/45/St Giles, Middlesex/Census
1851/Jane Howard/Wife/36/Remenham, Berkshire/Census
1851/Eliza Hutton/Servant/17/St Olaves Southwark, Surrey/Census

1852/Wm Howard/../../../Watkins Directory **

1856/William Howard/../../../Post Office Directory

January 1856/William Howard/Outgoing Licensee/../../Era

January 1856/John Smith/Incoming Licensee/../../Era

March 1856/Marquis of Anglesea, Bow street - This house was already licensed, but John Smith today applied that the license might be extended, so as to include the adjoining house, No 22 Russell Street
Case:
Mr Bodkin opposed, and said that the applicant had recently taken the Marquis of Anglesea, which had been shut up, and also an adjoining house, which had been used for many trades, and among others, for that of a beer seller; and he now sought for a license for both houses, Such an enlargement was not at all required, for there were a great many licensed houses in the neighbourhood, and indeed, within the last few years, three public houses in Bow street had been shut up for want of business.
Mr Wire (for the applicant) impressed upon the magistrates that he was not asking for an increase in the number of licenses, but only to enlarge the existing house. It was said that the site of the Covent Garden Theatre was to be thrown into the market, and if so, would increase business in the neighbourhood. His client had the freehold of the public house, and an interest for sixteen years in the adjoining house.
A ground plan of the premises was produced, but the Bench expressed a wish to see detailed plans of the alterations before they granted the application. a discussion ensued, and it was ultimately decided not to grant the extension asked for. The license to the old house was renewed./Era

January 1857/Mr John smith, landlord of the Marquis of Anglesea public house, in Bow street was summonsed due to 'communication' between this house and the adjoining premises.
Inspector Mitchell stated that on the 19th December a portion of the wall between the properties had been removed and replaced with three large sheets of plate glass.
The next house is a beer shop, at the corner of Bow street and Great Russell street, and licenced in the name of Miss Smith, the defendants sister. At this second hearing the glass had been replaced with brick, and case again adjourned for further work to be carried out./Morning Post

1861/John Smith/Victualler/37/St Martins Lane, Middlesex/Census
1861/Thomas H Smith/Brother/39/Southwark, Surrey/Census
1861/Anne E Smith/Sister/36/Strand, Middlesex/Census
1861/Eliza Hill/Sister/27/Dover Road, Southwark, Surrey/Census
1861/Fredk Hill/Brother in Law/27/Aylscham, Norfolk/Census
1861/Ann C Smith/Niece/13/Bermondsey, Surrey/Census
1861/Eliza Hill/Niece/8 months/Kentish Town, Middlesex/Census
1861/James Simpson/Assistant/20/Kennington, Surrey/Census
1861/Robert Bainbridge/Assistant/19/Epping, Essex/Census
1861/Thomas Melridge/Assistant/26/Dartford, Kent/Census
1861/Arthur H Cox/Assistant/25/Deptford, Kent/Census
1861/Emmery Garrard/Nursemaid/13/Tottenham, Middlesex/Census

1869/John Smith/../../../Post Office Directory

1871/John Smith/Licensed Victualler/48/St Martins in Fields, Middlesex/Census
1871/Eliza Hepton/Sister, Assistant/36/St Georges Southwark, Surrey/Census
1871/William Hepton/Nephew/3/Brixton, Surrey/Census
1871/Caroline Ann Wills/Ward/16/Clerkenwell, Middlesex/Census
1871/George Henry Lee/Barman/22/Hemel Hempstead, Herts/Census
1871/Henry Bedell/Barman/20/Tiverton, Devon/Census
1871/William Robert Robertson/Barman/23/Oxford Street, Middlesex/Census
1871/Joseph Turner/Barman/22/Southwark, Surrey/Census
1871/William Walker/Barman/19/St Hilliers, Jersey/Census
1871/Eliza Pain/Domestic Servant/66/St Martins in Fields, Middlesex/Census

1872/John Smith/../../../Post Office Directory **

October 1875/The Marquis of Anglesea, admirably situate and being at the corner of Bow street and Russell street, Covent Garden. The position of this property for the command of a gigantic trade is singularly eligible, being at the junction of four thoroughfares, also in direct line from NW to the SE of London, via Waterloo Bridge, and within a few yards of Drury lane and Covent garden Theatres; likewise a short distance from the Gaiety and Lyceum Theatres, and abutting upon the Police court and station of the district; and lastly, its contiguity to the largest Flower and fruit market in the Metropolis.
From these multifarious and never failing sources the present trade is derived, which is extensive, lucrative, and thoroughly spontaneous. The premises are in excellent condition, fitted with an attractive plate-glass front, and replete with domestic comforts far beyond the average. A Lease will be granted for a term of about Thirty four years, at a rental of £150 per annum. May be viewed by cards from the Auctioneers, and printed particulars obtained prior to the day of sale on the premises; at the place of sale; at Messrs Shum, Crossman and Crossman, solicitors, Kings road, Bedford row; and at the auctioneers Offices, 21 Hart street, Bloomsbury square./Era

1881/Alfred Packham/Licensed Victualler/33/Seven Oaks, Kent/Census
1881/Charlotte Packham/Wife/35/St Johns Wood, Middlesex/Census
1881/Glassiy Packham/Daughter/18/Hildenborough, Kent/Census
1881/Minnie Packham/Daughter/5/Underiver, Kent/Census
1881/Florence Packham/Daughter/4/Bayswater, Middlesex/Census
1881/William Packham/Son/3/Holloway, Middlesex/Census
1881/Lillie Packham/Daughter/1/St Paul Covent Garden, Middlesex/Census
1881/Phillis Woodram/Mother, Widow/67/Lit Carnford, Dorset/Census
1881/Elizh Johnson/Visitor/76/Parson Gn, Cambridge/Census
1881/Clara Cousins/Cook/19/Syston, Leicester/Census
1881/Alice Thomson/Nurse/14/Pimlico, Middlesex/Census
1881/Agnes Bylse/Nurse/21/Clacton On Sea, Essex/Census
1881/Fredk Goddard/Barman/19/Old Windsor, Berkshire/Census
1881/John Benson/Barman/19/Paddington, Middlesex/Census
1881/Jas Marshall/Potman, Widow/41/Chobham, Surrey/Census
1881/Kate Lane/Barmaid/20/Brixham, Surrey/Census

1882/Miller & Packham/../../../Post Office Directory

1884/Miller & Packham/../../../Post Office Directory

1887/Alfred Packham/../../../Post Office Directory **

1892/Alfred Packham/../../../Post Office Directory **

1899/William Mills/../../../Post Office Directory **

1903/Wm Mills/../../../Post Office Directory **

1910/Moore & Edwards/../../../Post Office Directory

1926/Moore & Edwards/../../../Post Office Directory **

1938/Moore & Edwards/../../../Post Office Directory

2017/../Marquis of Anglesea, 39 Bow Street, Covent Garden, London, WC2E 7AU : Youngs../../../pub directory ***



** Provided By Stephen Harris