Search London wiki and Pub wiki history sites
All public house, restaurants, bars etc closed for the forseeable future from 20th March 2020, but this is a history site.
Globe Tavern, 37 Bow street, Covent Garden WC2
Covent Garden index
Existed from at least 1832. This pub was rebuilt in its present form in 1930. ***
Historical London public houses, Taverns, Inns, Beer Houses and Hotels.
You may also wish to take a look at the St Clements Danes parish.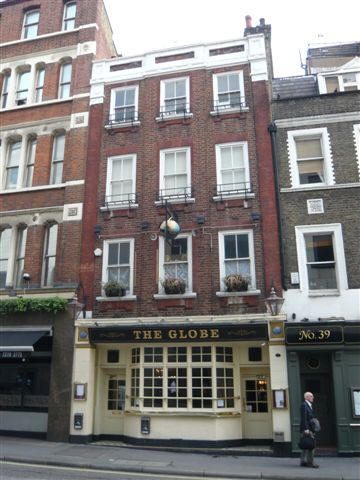 Globe Tavern, 37 Bow Street, WC2 - in May 2008
Kindly provided by Stephen Harris
Residents at this address.
1832/T Jackson/Globe Tavern, 37 Bow street/../../Robsons Directory

1839/Thomas Jackson/../../../Pigots Directory

1842/T Jackson/Globe Tavern, 37 Bow street/../../Robsons Directory

June 1848/Richard Burnet and _ Hale, assignees of William Humphreys/Outgoing Licensee/../../Era

June 1848/Thomas ??ckson/Incoming Licensee/../../Era

1851/William Edmonds/../../../Kellys Directory

1851/William Edmonds/Licensed Victualler/29/Lambeth, Surrey/Census
1851/Frances Edmonds/Wife/24/Chelsea, Middlesex/Census
1851/Frances Maude Edmonds/Daughter/3/Chelsea, Middlesex/Census
1851/Louisa Sarah Edmonds/Daughter/2/St Martins, Middlesex/Census
1851/Margaret Lee/General Servant/18/Holborn, Middlesex/Census
1851/Owen Oham/Lodger, Cook/45/St James, Middlesex/Census
1851/George Oham/Lodger, Errand Boy/13/Lambeth, Surrey/Census
1851/Edward Oham/Lodger/9/St James, Middlesex/Census
1851/Horton Duck/Lodger, Artist/35/Egham, Surrey/Census
1851/Alexander Mezier/Visitor, Waiter/26/France/Census

1852/William Edmonds/../../../Watkins Directory **

1856/William Edmonds/../../../Post Office Directory

1861/William Edmonds/Publican/38/Kensington, Middlesex/Census
1861/Frances Edmonds/Wife/32/Chelsea, Middlesex/Census
1861/William H Edmonds/Son/9/St Paul, Covent Garden, Middlesex/Census
1861/Willian Sen Edmonds/Lodger, Confectioner, Widow/70/Buckinghamshire/Census
1861/Frances Beasley/Visitor, Dressmaker/28/Marylebone, Middlesex/Census
1861/Margaret Mahoney/Servant/26/Ireland/Census
1861/Samuel Head/Servant/22/Woolwich, Kent/Census

1869/Mrs Ann Harding/../../../Post Office Directory

1871/Thomas Luty/Manager to Licensed Victualler/32/Bramham, Yorkshire/Census
1871/Hannah Luty/Wife/30/Scarcroft, Yorkshire/Census
1871/Florence Luty/Daughter/11/London, Middlesex/Census
1871/James Robert Luty/Son/3/Camberwell, Surrey/Census
1871/Ada Luty/Daughter/1/Walworth, Surrey/Census
1871/Sarah Ann Warmaid?/Niece/31/Leeds, Yorkshire/Census
1871/Jane Walker/Niece/23/Lambeth, Surrey/Census
1871/Frederick Bunce/Barman/26/Camberwell, Surrey/Census
1871/Joseph Bird/Waiter/16/Stratford, Essex/Census
1871/Isaac Andrews/Potman/23/Ealing, Hants/Census
1871/Ann Lamborne/Domestic Servant/28/Westerford, Ireland/Census
1871/Alice Cook/Domestic Servant/15/Lambeth, Surrey/Census

1872/George Newby/../../../Post Office Directory **

1881/John W Francis/Licensed Victualler/26/Haggerston, Middlesex/Census
1881/Rebecca Francis/Wife/25/Rickmansworth, Hertford/Census
1881/Maud L Francis/Daughter/3/Westr Chelsea/Census
1881/Phoebe Ma**/Servant Domestic/27/Roseneath, Scotland/Census
1881/Margaret Bishop/Barmaid/18/Edinburgh, Scotland/Census
1881/Alfred Williams/Potman/27/City Westr, Middlesex/Census
1881/Arthur Carman/Errand Boy/14/Westr 7 Dials, Middlesex/Census

1882/John Wm Francis/../../../Post Office Directory

1884/James F Godwin/../../../Post Office Directory

1887/Howell & Co/../../../Post Office Directory **

1891/William Seekins/../../../Post Office Directory

1895/William Seekins/../../../Post Office Directory

1899/Thos Hy Bonner/../../../Post Office Directory

1903/Thos Hy Bonner/../../../Post Office Directory **

1915/Thos Hy Bonner/../../../Post Office Directory

1926/Benjamin Foley/../../../Post Office Directory **

1938/Wm G King/../../../Post Office Directory

1944/Wm G King/../../../Post Office Directory



** Provided By Stephen Harris