Search London wiki and Pub wiki history sites
All public house, restaurants, bars etc closed for the forseeable future from 20th March 2020, but this is a history site.
Green Gate, 220 City road, St Luke EC1
The Cumberland & Green Gate, at 1 Powell Place, City Road in 1866 and earlier; also listed as the Cumberlands Head in 1825; At 198 City Road by 1911; NOT to be confused with the Royal Star which is latterly at 220 City Road through road renumbering; It has been closed since before 1983 and is in commercial use today. **
St Luke pub history index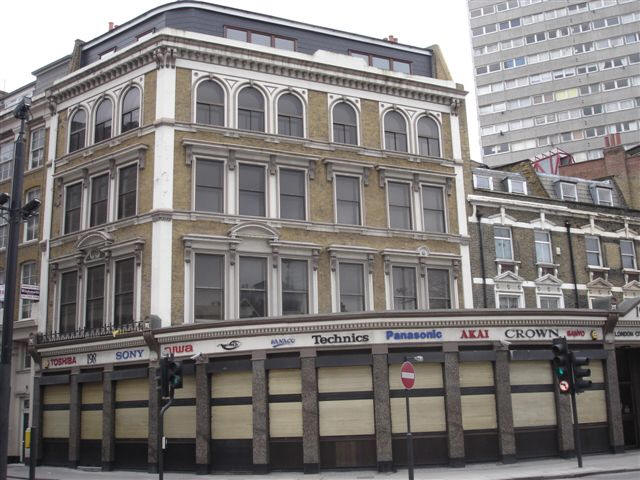 Green Gate, 198 City Road - in March 2007
Kindly provided by Stephen Harris
Residents at this address.
1800/Mary Powell / Victualler /../../Sun Fire Office records held at Guildhall Library **

1807/William Morle/../../../Proceedings of the Old Bailey **

1811/William Potter, Cumberland Head, City road/../../Holdens Directory

1814/Mary Powell/../../../Sun Fire Office records held at Guildhall Library **

1825/Mr Thomas Moore/../../../Licensed Victuallers Association

1831/Thomas Osborn, Cumberlands Head, City road, in addition to 6 guineas, 4 guineas/../../Licensed Victuallers Association

1848/Henry Miller/../../../Post Office Directory *

1851/Henry Miller/../../../Post Office Directory *

1852/Henry Miller/../../../Watkins Directory **

1856/Henry Miller/../../../Post Office Directory

1861/William Anderson/Licensed Victualler/52/Blyth Bawtrey, Nottinghamshire/Census *
1861/Anne Anderson/Daughter/16/Woburn, Bedfordshire/Census
1861/E. Layton/Sister-in-Law/27/Hickling, Norfolk/Census
1861/James Smith/Potman/30/Bath, Somerset/Census
1861/Sarah Chatwood/Servant/27/St Sepulchre, Middlesex/Census
1861/E. Rann/Servant/19/Essex/Census

1862/William John Ward/../../../Watkins Directory **

March 1866/William John Ward/License renewal/../Clerkenwell News

1866/William John Ward/../../../P.O. Directory **

1869/William John Ward/../../../Post Office Directory

July 1869/W J Ward/Outgoing Licensee/../../Era

July 1869/George Reed Peerless/Incoming Licensee/../../Era

1871/James Bond/Licensed Victualler/47/Bridgwater, Somerset/Census
1871/Hannah S Bond/Wife/46/Barnwell, Somerse/Census
1871/Sarah C Bond/Daughter/18/London/Census
1871/Helena E Bond/Daughter/13/London/Census
1871/Elizabeth Layton/Visitor, Barmaid/40/Mickling, Norfolk/Census
1871/Anne Anderson/Barmaid/25/Woburn, Bedfordshire/Census
1871/Mary E Layton/Barmaid/19/London/Census
1871/David C Home/Barman/36/Kelvedon, Essex/Census
1871/Harriet Home/Barmaid/29/Norfolk/Census

1872/G R Pierless/../../../Brabnerís Hackney Directory **

1879/William Hurran/../../../Post Office Directory **

1881/Benjamin J Hurran/Son (Head)/12/Holborn, Middlesex/Census
1881/Percival H Hurran/Son/10/Holborn, Middlesex/Census
1881/Rowland F Hurran/Son/7/St Lukes, Middlesex/Census
1881/Harriet K Hume/House Keeper, Widow/48/Hatteringham, Norfolk/Census
1881/Harriet K Hume/Barmaid/20/Kelvedon, Essex/Census
1881/Emma S Giles/Barmaid/21/Paddington, Middlesex/Census
1881/Florence Revett/Barmaid/17/Kelvedon, Essex/Census
1881/Henry Farr/Barman/21/Itchin, Hertford/Census
1881/Joe s Supton/Barman, Widow/30/Shipley, York/Census

1882/William Hurran/../../../Post Office Directory

1883/William Hurran/../../../Post Office Directory **

1891/Rowland Hirst & Co/../../../Post Office Directory **

1892/Rowland Hirst & Co/../../../Post Office Directory **

1895/Rowland Hirst & Co/../../../Post Office Directory

1899/James Kirk/../../../Post Office Directory **

1899/James Kirk / Licensed Victualler /../../London Gazette, 13 July 1900 **

1900/Chris Wakefield/../../../Post Office Directory **

1901/Frederick C Rymer/Licensed Victuallers Manager/33/Islington, London/Census
1901/Alice M M Rymer/Wife, Manageress/33/Kensington, London/Census
1901/Florence Frost/Barmaid/21/Camberwell, London/Census
1901/James Hayward/Barman/23/Bermondsey, London/Census
1901/William Prokett?/Barman/19/Croydon, Surrey/Census
1901/Sarah Brown/Domestic Servant, Widow/33/Kennington, London/Census
1901/Joseph Parker/Barman/38/New Cross, London/Census

1902/George Frederick Tuckfield/../../../Post Office Directory **

1910/Conrad Wood/../../../Post Office Directory **

1915/Walter James Briggs/../../../Post Office Directory *

1919/Benjamin Foley/../../../Post Office Directory **

1921/Benjamin Foley/../../../Post Office Directory

1934/Pioneer Catering Co Ltd/../../../Kellys Directory

1938/Pioneer Catering Co Ltd/../../../Post Office Directory

1944/Pioneer Catering Co. Ltd/../../../Post Office Directory *



* Provided By Ewan

** Provided By Stephen Harris