Search London wiki and Pub wiki history sites
All public house, restaurants, bars etc closed for the forseeable future from 20th March 2020, but this is a pub history site.
White Lion, 24 James street, Covent Garden WC2
Covent Garden index
Existed from at least 1825.
Historical London public houses, Taverns, Inns, Beer Houses and Hotels.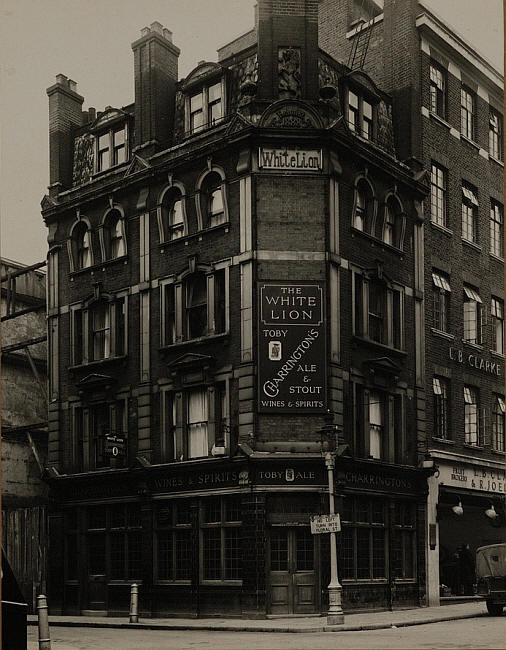 White Lion, 24 James Street, St Paul, Covent Garden
You may also wish to take a look at the St Clements Danes parish.
Residents at this address.
1825/Mr. Tarrant, White Lion, James street, Covent Garden/../../Licensed Victuallers Association

1839/John Staples/../../../Pigots Directory

1841/J Staples/../../../Post Office Directory

1848/Robert F Wilson/../../../Post Office Directory

1851/Robert F Wilson/Licensed Victualler/38/City, Durham/Census
1851/Mary Ann Wilson/Wife/32/Northallerton, Yorkshire/Census
1851/Ann Wilson/Daughter/6/St Pauls Covent Garden, Middlesex/Census
1851/Margaret L Wilson/Daughter/4/St Pauls Covent Garden, Middlesex/Census
1851/Fanny A Wilson/Daughter/2/St Pauls Covent Garden, Middlesex/Census
1851/William H Child/Barman/25/Brighton, Sussex/Census
1851/Ann Street/General Servant/21/Hounslow, Middlesex/Census
1851/Emma Wright/Nursemaid/18/London, Middlesex/Census
1851/James Laker/Waiter/21/Godstone, Surrey/Census
1851/William Smart/Potman/33/St Lukes, Middlesex/Census

1856/Stephen Overall/../../../Post Office Directory

1861/Stephen Overall/Victualler/46/West Mersea, Essex/Census
1861/Hester Overall/Wife/37/Fulham, Middlesex/Census
1861/Ann Welton/Servant/18/Suffolk/Census
1861/Joseph Lawes/Visitor/21/Norfolk/Census
1861/Samuel M Overall/Son/5/St Pauls, Covent Garden, Middlesex/Census

1869/Francis White/../../../Post Office Directory

1871/Francis White/Licensed Victualler/56/Somersetshire/Census
1871/Fanny White/Wife/51/Tunbridge, Kent/Census
1871/Frederick White/Son, Barman/27/Old Kent Road, Surrey/Census
1871/Sofia White/Daughter, Barmaid/20/Old Kent Road, Surrey/Census
1871/Fanny White/Daughter, Barmaid/16/Old Kent Road, Surrey/Census
1871/Charles White/Son/14/Old Kent Road, Surrey/Census
1871/Alice White/Daughter/12/Old Kent Road, Surrey/Census
1871/Francis White/Son/10/Old Kent Road, Surrey/Census

1881/Patrick F Callaghan/Licensed Victualler/42/Cork, Ireland/Census
1881/Hannah Callaghan/Wife/38/Kidderminster, Worcester/Census
1881/Cornelius Callaghan/Son/15/London, Middlesex/Census
1881/Eliza Callaghan/Daughter/13/London, Middlesex/Census
1881/Anna Callaghan/Daughter/11/London, Middlesex/Census
1881/Alice Callaghan/Daughter/8/London, Middlesex/Census
1881/Francis Callaghan/Son/5/London, Middlesex/Census
1881/Emily Callaghan/Daughter/7 months/London, Middlesex/Census
1881/Mary Cawdell/Visitor, Wife Of Clerk/44/Kidderminster, Worcester/Census
1881/James Witten/Barman/22/London, Middlesex/Census
1881/Ellen Bick/Domestic General/18/London, Middlesex/Census

1882/Patrick Frs Callaghan/../../../Post Office Directory

Clifford Charles Dixon is a wine merchant at 43 Milton street, Cripplegate in 1897 when he marries Julia Alberta Gibson. He is also listed in 1899 at the White Lion, 24 James street, Covent garden; and at the Grapes, 70 Milton street, Cripplegate in the 1901 census. The Grand Lodge membership listing showing his initiation in 18th February, 1897 also lists Stanley Herbert Gibson, wine merchant, at 24 James street, initiated the same day. By 1911 he is at the Prince of Wales tavern, Finsbury road, wood Green

1899/Clifford Charles Dixon/../../../Post Office Directory

1901/George Simmonds/../../../Post Office Directory

1903/George Simmonds/../../../Post Office Directory

1905/George Simmonds/../../../Post Office Directory

1910/Samuel Woolf/../../../Post Office Directory

1915/Samuel Woolf/../../../Post Office Directory

1924 - 1936/J Woolf/../../../Freehold

1938/Jn Woolf/../../../Post Office Directory

1937 - 1950/J Jesky/../../../Freehold

1944/Isaac Jesky/../../../Post Office Directory

1951 - 1959/Mrs E J Jesky/../../../Freehold

1960 - 1962/F W Metalli/../../../Freehold