Search London wiki and Pub wiki history sites
Prince of Wales Tavern, 1 Finsbury Road, Wood Green N22
Wood Green pub history index
At Colney Hatch Road in 1874; still open and now called the Prince (2019).
A listing of historical public houses, Taverns, Inns, Beer Houses and Hotels in Middlesex.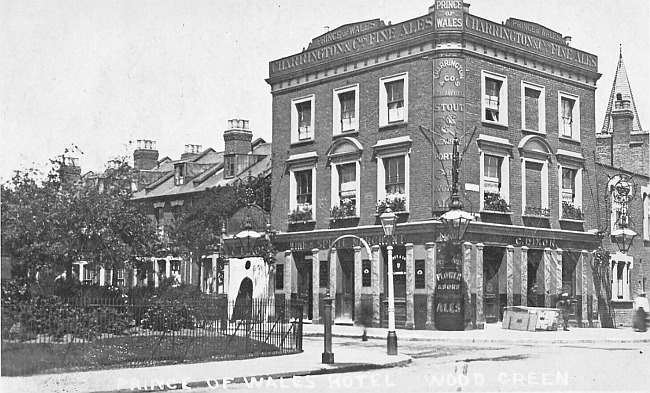 Prince of Wales, 1 Finsbury Road and Trinity road, Wood Green - circa 1910 with landlord C Dixon
Kindly provided by Vincent O'Loughlin
The following entries are in this format:
Year/Publican or other Resident/Relationship to Head and or Occupation/Age/Where Born/Source.
1874/William Freeman Thomas/../../../Post Office Directory

1881/William James Thomas/Licensed Victualler/46/Fleet Street, London/Census
1881/William Victor Thomas/Son, Licensed Victualler/20/Duke Street, London/Census
1881/Thomas Long/Barman/33/Lake, Wiltshire/Census
1881/Emily Long/Housekeeper/28/Bishopstone, Wiltshire/Census
1881/Henry Thomas Long/Infant/12 days/Wood Green, London/Census
1881/Jane Isaacs/Nurse Monthly/27/Bishopstone, Wiltshire/Census
1881/Fanny Giles/Domestic Servant/13/Langford, Wiltshire/Census
1881/Gilbert Burbridge/Barman/17/East Knoyles, Wiltshire/Census

1890/Wm J Thomas/../../../Post Office Directory

1894/John Walter Woodwell/../../../Post Office Directory

1899/Edward Dolden/../../../Post Office Directory

1902/Edward Dolden/../../../Kellys Directory

Clifford Charles Dixon is a wine merchant at 43 Milton street, Cripplegate in 1897 when he marries Julia Alberta Gibson. He is also listed in 1899 at the White Lion, 24 James street, Covent garden; and at the Grapes, 70 Milton street, Cripplegate in the 1901 census. The Grand Lodge membership listing showing his initiation in 18th February, 1897 also lists Stanley Herbert Gibson, wine merchant, at 24 James street, initiated the same day.

1911/Clifford Charles Dixon/Licensed Victualler/39/Guernesy, Channel islands/Census
1911/Julia Alberta Dixon/Wife, Assistant/39/Bow, London/Census
1911/John Gibson/Cellerman/55/Bow, London/Census
1911/Eliza Whiten/General Servant/60/Holloway, London/Census
1911/Constance Slater/General Servant/28/Holloway, London/Census
1911/Frederick G W Croom/Assistant Potman/19/Glasgow, Scotland/Census
1911/Kathleen Smith/Manageress/32/Highgate, London/Census
1911/Amy Glithers/Barmaid/29/St Lukes, London/Census
1911/Ethel Ada Marshall/Barmaid/22/Kilburn, London/Census
1911/Eliza Burton/Barmaid/20/Southgate, London/Census

1914/Clifford Dixon/../../../Post Office Directory

1924/Clifford Charles Dixon of the Prince of Wales 1 Finsbury Road Wood green Middlesex died 20 November 1923 Probate London 12 January to Julia Alberta Dixon widow. Effects £2051 16s 8d.

1926/Mrs Julia A Dixon/../../../Post Office Directory

1937/Mrs Julia A Dixon/../../../Post Office Directory