Search London wiki and Pub wiki history sites
All public house, restaurants, bars etc closed for the forseeable future from 20th March 2020, but this is a history site.
Britannia, 515 Fulham Road, Fulham SW6
At Britannia Place in 1881. Now converted to bar/restaurant use (2015). *
Fulham index
A listing of historical London public houses, Taverns, Inns, Beer Houses and Hotels in Fulham, London.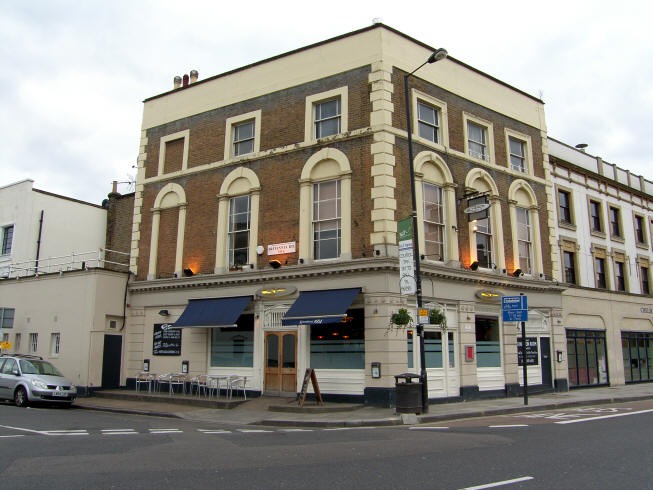 Britannia, 515 Fulham Road, Fulham - in February 2009
Kindly provided by Fred Roll
Residents at this address
July 1851/Leonard Gibson/Outgoing Licensee/../../Era

July 1851/Thomas Broughton/Incoming Licensee/../../Era

1855/T Broughton/../../../Post Office Directory

1861/Lucy Larby/Licensed Victualler, Widow/48/Desborough, Northamptonshire/Census
1861/Charlotte Kilbourn/Barmaid/25/Desborough, Northamptonshire/Census
1861/Emma Payne/Housemaid/19/Oxford/Census
1861/William Bull/Pot Man/18/Aylesbury, Buckinghamshire/Census

1867/Mrs Lucy Larby/Widow of Past Chairman/../../Licensed Victuallers Association

July 1870/Lucy Larby/Outgoing Licensee/../../Era

July 1870/John Smith, victualler, late of Hollywood road, Brompton/Incoming Licensee/../../Era

1871/John Smith/Licensed Victualler/54/London, Middlesex/Census
1871/Maria Smith/Wife/53/St James, Middlesex/Census
1871/Charlotte Smith/Daughter/26/Southwark, Surrey/Census
1871/Alice Smith/Daughter/24/Southwark, Surrey/Census
1871/Walter Smith/Son, Apprentice to Plumber/18/Southwark, Surrey/Census
1871/Lucy Westcott/General Servant/30/Somerset/Census
1871/William Hearsey/Potman/20/Kent/Census

1872/John Smith, Britannia Hotel, Britannia place, Walham green/../../Post Office Directory

1874/Maria Smith/../../../Licensed Victualler & Hotelier Directory

1874/Thomas Wise/../../../Post Office Directory

1881/William Archer/Publican, Widow/50/East Dereham, Norfolk/Census
1881/Elizabeth Archer/Sister/55/East Dereham, Norfolk/Census
1881/Emma E Turtle/Niece/22/Norwich, Norfolk/Census
1881/Lilly A Turtle/Niece child/8 months/Fulham, Middlesex/Census
1881/Maria Taylor/Niece, Barmaid/20/Norwich, Norfolk/Census
1881/Jeanette Taylor/Niece, Barmaid/13/Norwich, Norfolk/Census
1881/Frederick Moore/Barman/20/Hatfield, Hertford/Census
1881/Betsy Davis/General Servant/20/Fulham, Middlesex/Census

William J C Lloyd is the son of William R A Lloyd, and he is at his fathers pubs at the Lord Hill, 1a Westbourne Park place, Paddington in 1871 and then the Bucks Head, 202 Camden High Street in 1881. In August 1889 at the parish church of St Pancras, William Joseph Charles Lloyd, aged 29, marries Helen Elizabeth Turner, aged 28.

1891/William J C Lloyd/Licensed Victualler/31/Marylebone, London/Census
1891/Helen E Lloyd/Wife/29/St Pancras, London/Census
1891/William Duncan/Barman/20/Woolwich/Census
1891/William A Lloyd/Son/8 months/Fulham, London/Census
1891/Priscilla Thompson/Servant/26/Clare, suffolk/Census
1891/Annie Taylor/Servant/15/Hammersmith, London/Census
1891/Charles A Fern/Barman/21/South Kensington, London/Census

1899/Frederick John Piper/../../../Post Office Directory

1901/Frederick O Clarke/Licensed Victualler/39/Southampton, Hants/Census
1901/Louisa Clarke/Wife/38/Southampton, Hants/Census
1901/Frederick C Clarke/Son, Assistant/17/Southampton, Hants/Census
1901/Winifred L Clarke/Daughter/12/Southampton, Hants/Census
1901/William P Clarke/Son/7/Southampton, Hants/Census
1901/May Harrod/Barmaid/20/Stanmore, Middlesex/Census
1901/Gertrude E Francis/Barmaid/17/Chelsea, London/Census
1901/Margaret S Roughton/General Servant/27/Wisbeach, Lincs/Census

1904/Walter Holmes/../../../London Suburban Directory

1921/Arthur Bloxham/../../../Post Office Directory

1934/Mrs Louisa Adelaide Bloxham/../../../Kellys Directory

1938/Mrs Louisa Adelaide Bloxham/../../../Post Office Directory

1944/Mrs Louisa Adelaide Bloxham/../../../Post Office Directory

1971/../Britannia, 515 Fulham Road SW6/../../Post Office Directory



* Provided By Tris