Search London wiki and Pub wiki history sites
All public house, restaurants, bars etc closed for the forseeable future from 20th March 2020, but this is a history site.
Lord Palmerston, 648 Kings road, Fulham SW6
[In 1874 at Schofield Terrace, Kings Road]. An ex-Courage house and known later as The Morrison. Closed around 2011 and boarded up as of late 2014. *
Fulham index
A listing of historical London public houses, Taverns, Inns, Beer Houses and Hotels in Fulham, Middlesex, London. The Fulham, Middlesex, London listing uses information from census, Trade Directories and History to add licensees, bar staff, Lodgers and Visitors.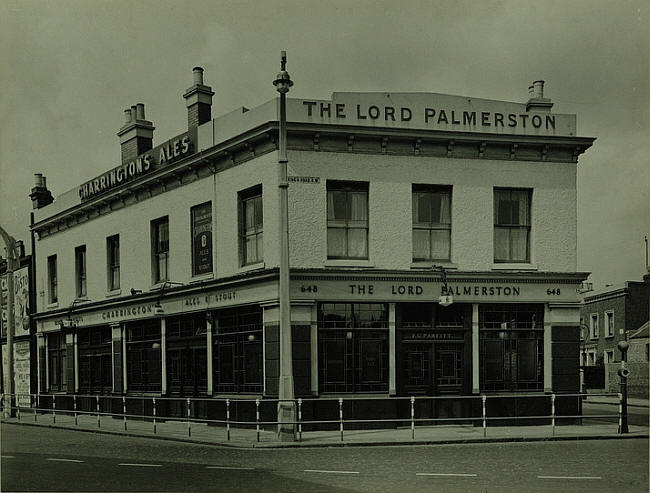 Lord Palmerston, 648 Kings Road, Fulham, London SW6 - in 1939
Lord Palmerston, 648 Kings Road, Fulham, London SW6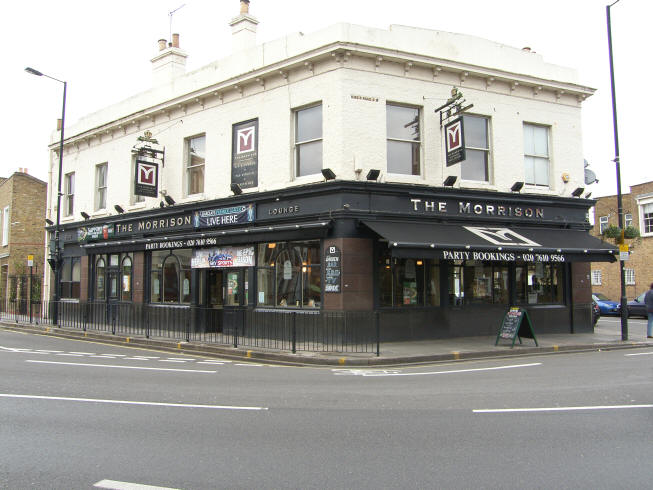 Lord Palmerston, 648 Kings Road, Fulham, London - in February 2009
Kindly provided by Fred Roll
Residents at this address
1871/Sarah Cox/Publicans Wife/46/Emeline, Oxfordshire/Census
1871/James Mason/Barman/30/St Pancras, Middlesex/Census
1871/Mary Lasell/Servant/20/Brentford, Middlesex/Census

1872/Mrs Elizabeth Hill, Lord Palmerston, Schofield Terrace, Kings Road/../../../Post Office Directory

1874/Mrs Elizabeth Hill/../../../../Post Office Directory

1881/Joseph Marshall/Licensed Victualler, Widow/42/Birmingham, Warwick/Census
1881/Alice Sophia Marshall/Daughter, Barmaid/16/Spittlefield, Middlesex/Census
1881/Katherine S Marshall/Daughter/10/Mile End, Middlesex/Census
1881/Herbert A Marshall/Son/5/St Clements Dane, Middlesex/Census
1881/Jane Percival/Barmaid/19/Chippenham, Wiltshire/Census
1881/Lucy Matilda Richard/Barmaid/18/Peckham, Surrey/Census
1881/Clara Fergerson/Domestic Servant/30/Holborn, Middlesex/Census
1881/Frederick Ward/Potman/32/London, Middlesex/Census

1901/Horatio Orbell/Public House Manager/66/Pimlico, London/Census
1901/James Orbell/Son, Sub-Manager/29/Hampstead, London/Census
1901/Elizabeth A Orbell/Daughter in Law, Housekeeper/30/Charney, Berkshire/Census
1901/Lottie Thorpe/Barmaid/23/Brenchley, Kent/Census
1901/Maude Lindsell/Barmaid/23/Islington, London/Census
1901/Annie L Brown/Barmaid/21/Shorncliffe/Census
1901/Hettie M Arnold/Barmaid/19/Mousley/Census
1901/Geo H Walker/Potman/48/Great Yarmouth, Norfolk/Census

1904/Strange & Co/../../../../Post Office Directory

1914/Strange & Co/../../../../Post Office Directory

1919/Strange & Co/../../../../Post Office Directory

1932 - 1936/F Strange/../../../../Freehold

1934/Strange & Co/../../../../Kellys Directory

1937 - 1939/F G Parfitt/../../../../Freehold

1940 - 1951/S Elvey/../../../../Freehold

1944/Sidney Elvey/../../../../Post Office Directory

1952/Mrs B E Elvey/../../../../Freehold

1953 - 1965/L J Mancini/../../../../Freehold



* Provided By Tris