Lord Raglan, 139 Southgate Road, Hackney
Hackney pub history Index
The Lord Raglan, Englefield road in the 1855 and 1860 license transfers. Demolished in 2005 at which time it was known as the Artful Dodger. Replaced with a residential block known as Lord Raglan Court.
Historical London public houses, Taverns, Inns, Beer Houses and Hotels.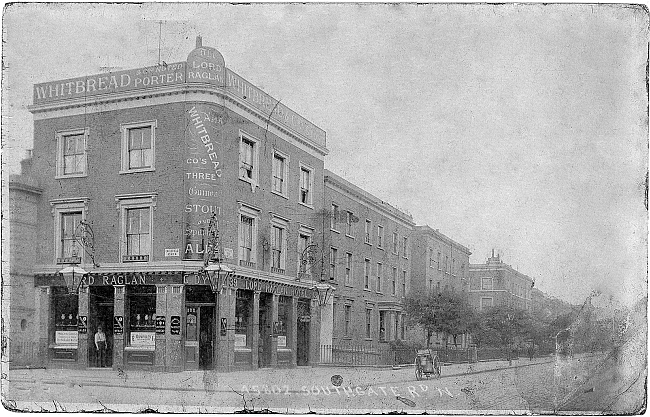 Lord Raglan, 139 Southgate Road, Hackney
Kindly provided by Paul Bolding
Residents at this address.
September 1855/Thomas Kelly/ Outgoing Licensee /../../The Era

September 1855/Samuel Kemp Richards/ Incoming Licensee /../../The Era

1856/Samuel Kemp Richards/../../../Post Office Directory

September 1857/Charles Carthy/Outgoing Licensee/../../Era

September 1857/Joseph Martin/Incoming Licensee/../../Era

January 1860/Thomas Purday, deceased/Outgoing Licensee/../../Era Newspaper

January 1860/Jane Purday, his widow/Incoming Licensee/../../Era Newspaper

March 1860/Jane Purday/Outgoing Licensee/../../Era

March 1860/Lewis Fritzlin/Incoming Licensee/../../Era

1861/Mark Coles/Licensed Victualler/37/Wokingham, Berkshire/Census
1861/Sarah A Coles/Wife/39/Camberwell, St Giles/Census
1861/Sarah A Coles/Daughter/6/St James, London/Census
1861/Elizabeth Coles/Daughter/4/St Mary, London/Census
1861/Minnie G Coles/Daughter/2/St Leonards, London/Census
1861/John Coles/Son/8 months/St Leonards, London/Census
1861/Mary Rogers/Visitor/45/Southwark; Bow/Census
1861/Jane Greaves/Nurse/48/Solnham, EOM/Census
1861/Rebecca Watt/Nurse Maid/15/Clerkenwell, Middlesex/Census
1861/Eliza Mainard/Cook/44/Thaxted, Essex/Census
1861/Francis Snuggs/Waiter/27/Stepney, Middlesex/Census
1861/Alfred G Harris/Potman/20/Islington, Middlesex/Census

May 1862/Mark Coles/LV Association, Trustee/../../Era

November 1865/James Beagle/Outgoing Licensee/../../Era

November 1865/Charles Joseph James/Incoming Licensee/../../Era

1869/Charles Joseph James/../../../Post Office

August 1873/Charles Joseph James/Outgoing Licensee/../../East London Observer

August 1873/Charles John Godfrey Wood/Incoming Licensee/../../East London Observer

22nd January 1876/no name/Outgoing Licensee/../../East London Observer +

22nd January 1876/Charles John Godfrey Wood/Incoming Licensee/../../East London Observer +

1881/James Abbott/Licensed Victualler/45/Hackney, Middlesex/Census
1881/Matilda Abbott/Wife/47/Hackney, Middlesex/Census
1881/Martha A Abbott/Daughter/21/Hackney, Middlesex/Census
1881/Herbert R Abbott/Son/19/Hackney, Middlesex/Census
1881/Amy M Abbott/Daughter/16/Hackney, Middlesex/Census
1881/Florence Abbott/Daughter/14/Hackney, Middlesex/Census
1881/Walter T Abbott/Son/12/Hackney, Middlesex/Census
1881/Hetty Abbott/Daughter/10/Hackney, Middlesex/Census
1881/Frederick Abbott/Son/8/Hackney, Middlesex/Census
1881/Percy Abbott/Son/6/Hackney, Middlesex/Census
1881/Emily Borley/Barmaid/23/Suffolk/Census
1881/Elizabeth Durell/General Servant/37/Islington, Middlesex/Census

1882/James Abbott/../../../Post Office Directory *

1884/James Abbott/../../../Post Office Directory

1891/James Abbott/../../../Post Office Directory

1895/Joseph Dyke/../../../Post Office Directory

1899/Thos Wm Fisher/../../../Post Office Directory

1915/George Dyke/../../../Post Office Directory *

1921/Mrs Phoebe Dyke/../../../Post Office Directory

1934/Harry Arnhard/../../../Post Office Directory *

1938/Herbert Hy Hewitt/../../../Post Office Directory

1944/George Henry Martin Cox/../../../Post Office Directory *



+ Provided by Friends of Tower Hamlets Cemetery Park

* Provided By Ewan