Search London wiki and Pub wiki history sites
All public house, restaurants, bars etc closed for the forseeable future from 20th March 2020, but this is a history site.
Nags Head, 456 Holloway Road, Islington N1
Islington index
At Holloway in 1851; At 1 & 2 Holloway Terrace, Holloway Road in 1869; This pub has closed in recent years and is now in use as an amusement arcade. ** The pub closed in 2004, towards the end it was renamed The Mustang Diner and finally O'Neills. ***
Historical London public houses, Taverns, Inns, Beer Houses and Hotels.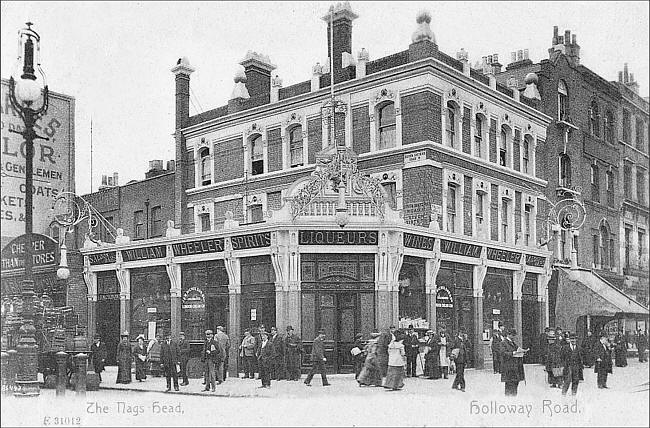 Nags Head, Holloway road & Seven Sisters road, N1 - circa 1900 with landlord William Wheeler
Kindly provided by Vincent O'Loughlin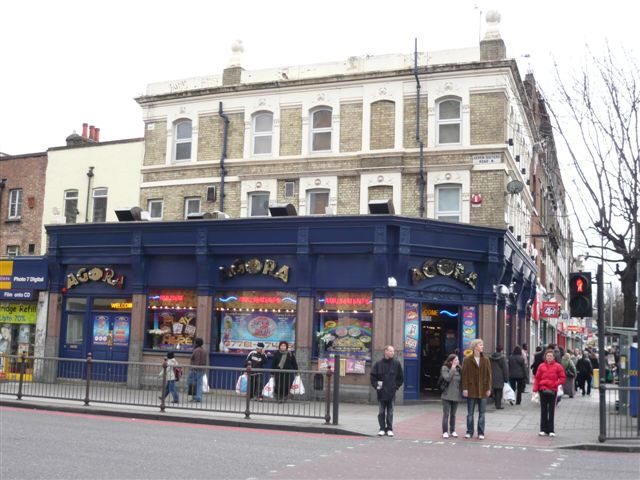 Nag's Head, 456 Holloway Road, N1 - in March 2008
Kindly provided by Stephen Harris
The following entries are in this format:
Residents at this address.
1848/William Newman/beer retailer/../../Post Office Directory *+

1851/William Newman/../../../Finsbury Petty Sessions

July 1854/William Newman/Outgoing Licensee/../../Era

July 1854/George Palmer/Incoming Licensee/../../Era

1856/George Palmer/../../../Post Office Directory *+

1861/Joseph Wood /Head - Licensed victualler/50/Greenwich, Kent /census *
1861/Mary Selby Wood /wife /50 /Shoreditch, Middlesex /census
1861/Mary Elizabeth Wood /daughter /23 /St Pancras, Middlesex /census
1861/Ann Mansfield /servant /23 /St Pancras, Middlesex /census
1861/Henry Owen /servant /21 /St Pancras, Middlesex /census

August 1862/Mary Selby Wood/Outgoing Licensee/../../Era Newspaper

Richard Hollyman is born in 1834, and here in the 1871 census, and by August 1862 according to Petty Sessions records. He is a son of Richard Hollyman, also a victualler at the Dolphin, 16 Long Alley, Shoreditch.

August 1862/Richard Hollyman/Incoming Licensee/../../Era Newspaper

March 1866/Richard Hollyman/License renewal/../Clerkenwell News

1869/Richard Hollyman/../../../Post Office Directory

July 1869/Richard Hollyman/../../../Licensed Victuallers Association

1871/Richard Hollyman/Licensed Victualler/36/Finsbury, Middlesex/Census
1871/Jane Hollyman/Wife/36/Harrow, Middlesex/Census
1871/Jane Hollyman/Daughter/12/St Clement Danes, Middlesex/Census
1871/Emma Hollyman/Daughter/10/St George Hanover Square, Middlesex/Census
1871/Thos Hollyman/Son/8/Islington, Middlesex/Census
1871/Frederick Hollyman/Son/6/Islington, Middlesex/Census
1871/Annie Hollyman/Daughter/5/Islington, Middlesex/Census
1871/Christeen Hollyman/Daughter/3/Islington, Middlesex/Census
1871/Samuel Burson/Barman/28/Finchley, Middlesex/Census
1871/Thos Thorne/Barman/20/Unknown/Census
1871/Jane Curby/Domestic Servant/21/St Pancras, Middlesex/Census
1871/Jessie Cuspson/Domestic Servant/14/St Pancras, Middlesex/Census

1877/Richard Hollyman/../../../Marriage of Sarah Jane Hollyman to Thomas Henry Jackson

1879/Richard Hollyman/../../../Post Office Directory

By 1881, Richard Hollyman is at the Earl of Lonsdale, 16 Archer Street, Kensington. He dies there in 1884.

1881/William Buxton/Manager To Publican/36/Middlesex/Census
1881/Emma Buxton/Wife/31/Middlesex/Census
1881/Alice Buxton/Daughter/5/Epsom, Surrey/Census
1881/Edith Buxton/Daughter/3/Bermondsey, Surrey/Census
1881/Arthur Buxton/Son/2/Middlesex/Census
1881/Florence Buxton/Daughter/1/Middlesex/Census
1881/Arthur Bowyer/Barman/21/Islington, Middlesex/Census
1881/George Croxon/Barman/19/Finley, Essex/Census
1881/George Knolman/Barman/18/Islington, Middlesex/Census
1881/Rosa Dickie/Barmaid/20/Middlesex/Census
1881/James Burrs/Potman/24/Birmingham, Warwick/Census
1881/Lucy Bent/General Servant21/Hackney, Middlesex//Census
1881/Mary Pryor/Nurse/17/Stratford, Essex/Census

1882/William Wheeler/../../../Post Office Directory *+

1884/William Wheeler/../../../Post Office Directory *+

1885/William Wheeler/../../../Post Office Directory **

1891/William Wheeler/../../../Post Office Directory

1895/William Wheeler/../../../Post Office Directory *+

1899/William Wheeler/../../../Post Office Directory

1901/Herbert Wheeler/Publican/23/Lambeth, London/Census
1901/Thomas E Abbott/Head Barman/37/Lambeth, London/Census
1901/Alfred Cooper/Waiter/42/Portsmouth, Hampshire/Census
1901/Joseph J Powell/Barman/19/Hadleigh, Suffolk/Census
1901/Horace Grover/Barman/18/Hammersmith, London/Census
1901/John F Powell/Barman/18/Ireland/Census
1901/Florence M A Mead/Barmaid/27/Islington, London/Census
1901/Ada B Mead/Barmaid/23/Islington, London/Census
1901/Lillian R Whatmore/Barmaid/18/St Johns Wood, London/Census
1901/Helen L Scott/Barmaid/22/Middlesex Barracks/Census
1901/Annie Mitchell/Domestic Servant/26/London/Census

1906/William Wheeler Lim./../../../Post Office Directory *+

1910/Wm Wheeler Lim/../../../Post Office Directory

1915/Wm Wheeler Lim/../../../Post Office Directory

1921/William Wheeler Lim/../../../Post Office Directory

1934/William Wheeler Ltd/../../../Kellys Directory

1938/William Wheeler Ltd/../../../Post Office Directory

1944/William Wheeler Ltd/../../../Post Office Directory


* Provided By Martin Garrod

*+ Provided by Ewan

** Provided By Stephen Harris

*** Provided By Vincent O'Loughlin