Pub history, pubwiki and London
Dolphin, 27 Sirdar Road, Notting Hill, W11
Kensington pub index
In 1871, named the Dolhin, at an address of 4 Union street, but is correct. The address was then at 27 St Clements road up until 1895; renamed by 1899 to 27 Sirdar road. Now in residential use. Named in 1871, 1891, 1911 census and 1971. *
A listing of historical London public houses, Taverns, Inns, Beer Houses and Hotels in Kensington, London. This includes a massive area of London, including Brompton, Ladbroke Grove, Notting Hill, Kensal Town, parts of Fulham Road , Portobello Road etc. The Kensington Public House Trade Directory uses information from census, Trade Directories and History to add licensees, bar staff, Lodgers and Visitors.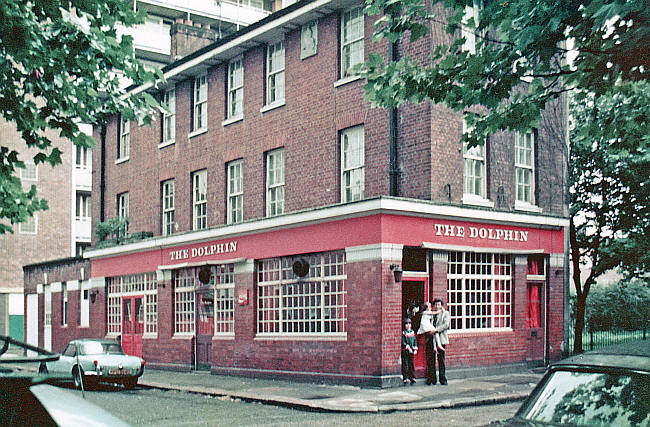 Dolphin, 27 Sirdar Road, Notting Hill, W11 - in August 1978
Kindly provided by Peter Aylett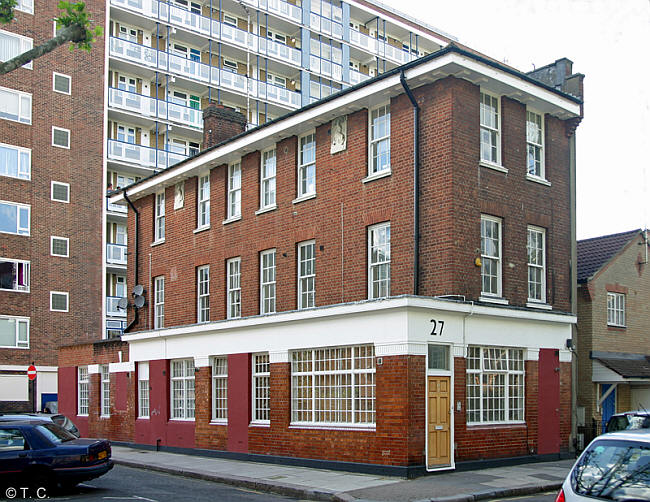 Dolphin, 27 Sirdar Road, W11 - in May 2011
Kindly provided by Tris
The following entries are in this format:
Year/Publican or other Resident/Relationship to Head and or Occupation/Age/Where Born/Source.
1871/George White/Beer Retailer/32/Great Bentley, Essex/Census ****
1871/Harriett White/Wife/28/Bermondsey/Census
1871/Edward G White/Son/6/London/Census
1871/Richard C White/Son/4/Notting Hill/Census
1871/Alfred J White/Son/2/Notting Hill/Census

1881/Arthur Varnham/Beer Retailer/32/Lancashire/Census ****
1881/Alice Varnham/Wife/28/Middlesex/Census
1881/Arthur Varnham/Son/5/Middlesex/Census
1881/Mille Varnham/Daughter/3/Middlesex/Census
1881/William Varnham/Son/9 months/Middlesex/Census
1881/Helena Pratt/Sister In Law, Widow/31/Middlesex/Census
1881/Elizabeth Netches/Nurse Girl/15/Kent/Census

1882/Arthur Horatio Varnham/Beer Retailer/../../Post Office Directory ****

1891/William Smith/../../../Post Office Directory ****

1895/William Smith/Beer Retailer/../../Post Office Directory ****

1899/William Smith/Beer Retailer/../../Post Office Directory ****

1910/Albert Edwin Weller/Beer Retailer/../../Post Office Directory ****

My grandfather Percy Aylett owned The Dolphin from 1910 to July 1920. My father and two siblings were born there. Prior to this in 1901, he is listed at his fathers public house at 38 Woolf street, in Bermondsey - the Woolfs Arms. We believe the next owner in 1920 may have been a relative: Charles Alfred Cook, who died at this location in 1932.
Percy then owned The Park Road Tavern (later known as The Hole in the Wall) in Richmond, from July 1920 to November 1921. **

1909/Percy Aylett marries Edith Knott in March 1909, an Licensed Victualler, listing his address as 10 Boundary road/../../Marriage

1911/Percy Aylett/Publican/29/Poplar, Middlesex/Census
1911/Edith Aylett/Wife/30/Harrow, Middlesex/Census
1911/John Henry Cook/Relative, General Grocer/29/Notting Hill/Census
1911/Florence Cook/Relative/31/Harrow, Middlesex/Census
1911/George Percy Aylett/Son/1/Notting Hill/Census
1911/Edith Dorothy Cook/Relative/1/Notting Hill/Census

1914/Percy Aylett/Beer Retailer/../../Post Office Directory ****

1919/Percy Aylett/../../../Electoral Register
1919/Edith Aylett/../../../Electoral Register

Percy then owned The Park Road Tavern (later known as The Hole in the Wall) in Richmond, from July 1920 to November 1921.

1934/Edward Hesling/Beer Retailer/../../Post Office Directory ****

1944/H Hesling/Beer Retailer/../../Post Office Directory ****

1971/../Dolphin/../../Post Office Directory ****



* Provided By Tris

** Provided By Peter Aylett

**** Provided By Kevan