Search London wiki and Pub wiki history sites
All public house, restaurants, bars etc closed for the forseeable future from 20th March 2020, but this is a history site.
Devonshire Castle, 320 Harrow road, Paddington W2
Paddington pub history index
Existed from at least 1864. Earlier address is at 24 Desborough Place, Harrow Road
Historical London public houses, Taverns, Inns, Beer Houses and Hotels.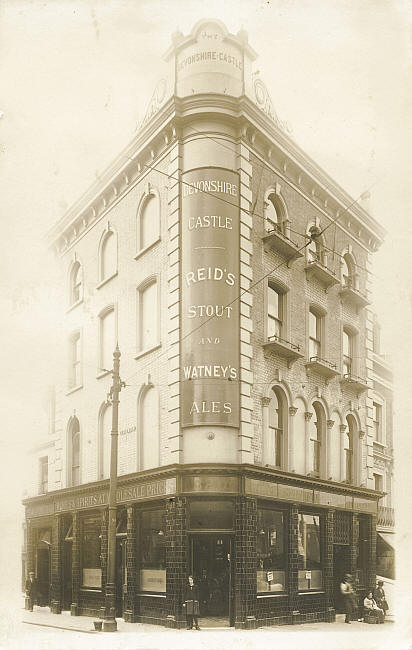 Devonshire Castle, 320 Harrow Road, Paddington W2 - circa mid 1920s
The girl in front of the pub was born in 1910, so I imagine the photo dates from the mid-1920s.
Kindly provided by Roger Hughes
Residents at this address.
Samuel Richardson is the Licensed Victualler at the Portman Arms, Edgware road in the 1861 census, and just prior at the Green Man, Edgware road and at the Devonshire Castle, Desborough Place by 1864, and at the Skiddaw Hotel by the 1871 census.

1864/Samuel Richardson/../../../Post Office Directory

1865/Mr S Richardson, Devonshire Castle, Desborough place, Harrow road/../../Licensed Victuallers Association

1866/Samuel Richardson/../../../Morning Advertiser
1866/Eliza Morgan/Barmaid/17/seven days hard labour for stealing/Morning Advertiser

24th January 1867/Samuel Richardson/Probate of his mother Elizabeth Richardson/../../Probate

1867/Mr Samuel Richardson/Steward/../../Licensed Victuallers Association

1869/Samuel Richardson/../../../Post Office Directory

1871/Richard Davis/../../../Post Office Directory

1873/Stephen Miller/../../../Post Office Directory

1877/Thomas Brown/../../../Post Office Directory

1881/William Parker/Publican/35/Dinton, Buckingham/Census
1881/Sydney Parker/Nephew, Barman/12/Bermondsey , Middlesex/Census
1881/William Bruton/Barman/23/Islington, Middlesex/Census
1881/Alfred Cornish/Barman/18/Paddington, Middlesex/Census
1881/George Humphreys/Potman/15/Paddington, Middlesex/Census

1882/William Parker/../../../Post Office Directory

1884/William Parker/../../../Post Office Directory

1886/Thomas William Guest/../../../Post Office Directory

1888/Thomas William Guest/../../../Post Office Directory

1891/Edward Thomas Ginder/../../../Post Office Directory

1899/Robert Stanley Chattey/../../../Post Office Directory

1901/Robert Chattey/../../../Post Office Directory

1904/W Ferris & Co/../../../Post Office Directory

1906/W Ferris & Co/../../../Post Office Directory

1908/Robert Stanley Chattey/../../../Post Office Directory

1910/Samuel Cohen/../../../Post Office Directory

1911/Samuel Cohen/Licensed Victualler/37/Boston USA/Census
1911/Julia Cohen/Wife, Proprietoress/40/Middlesex/Census
1911/Annie Constance Phipps/Servant/35/Wansford, Northampton/Census
1911/Charlie Trusson Cackett/Barman/25/Acton, Middlesex/Census
1911/Charles Day/Barman/31/Ipswich, Suffolk/Census
1911/Arthur Earnest Howard/Barman/25/Camberwell, London/Census
1911/Arthur Robert Isbell/Barman/27/Black Notley, Essex/Census

1915/Mrs Julia Cohen/../../../Post Office Directory

1916/David Davies/../../../Post Office Directory

1918/David Davies/../../../Post Office Directory

1921/George Henry Charlton/../../../Post Office Directory

1927/George Henry Charlton/../../../Post Office Directory

1934/Rt G Bicknell/../../../Kellys Directory

1938/Rt G Bicknell/../../../Post Office Directory

1940/Edward Hesling/../../../Post Office Directory

1942/Edward Hesling/../../../Post Office Directory

1944/Edward Hesling/../../../Post Office Directory