Angel, 73 Lambeth Walk, Lambeth, London
Lambeth pub history index
At 125 Lambeth walk before 1884; renamed Lambeth Sportsman in 1985 and now named Journeys Hostel. **
A listing of historical London public houses, Taverns, Inns, Beer Houses and Hotels in Lambeth, London. This includes Kennington, Brixton, Lambeth, Norwood, Peckham & Waterloo Road. The Lambeth Pub history Directory uses information from census, Trade Directories and History to add licensees, bar staff, Lodgers and Visitors.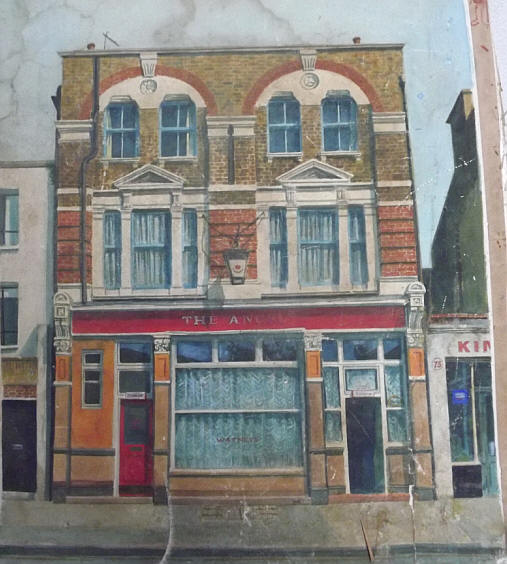 The Angel, 73 Lambeth Walk (watercolour painting) - in 1975
Kindly provided by Dave Stupple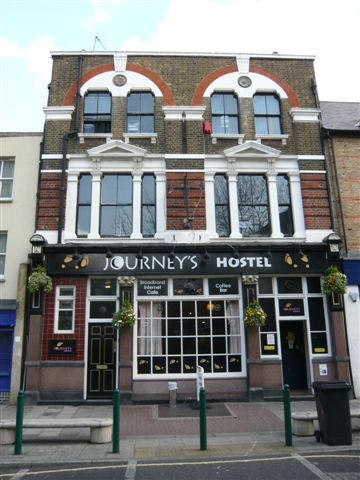 Angel, 73 Lambeth Walk, SE11 - in April 2008
Kindly provided by Stephen Harris
Residents at this address.
1825/Thomas Boatwright/../../../Victuallers Recognizance

1827/Edw Green, Angel, Lambeth walk/../../Pigot's Directory

1829/E Green, Angel, 12 Chapmans place, Lambeth walk/../../Robsons Directory

1833-34/John Simpson, Angel, 12 Chapmans place, Lambeth walk./../../Pigots Directory

1836/John Quaye, Angel, 125 Lambeth walk/../../../Pigots Directory

1839/William Chapling/../../../Pigots Directory

1841/William Wheeler/../../../Post Office Directory

1843/William Wheeler/../../../Kellys Directory

1846/William Fencott/../../../Post Office Directory

1851/James Abbott/../../../Kellys Directory

1861/James Abbott/Licensed Victualler/37/Bermondsey, Surrey/Census
1861/Emma M Abbott/Wife/31/Clerkenwell, Middlesex/Census
1861/Arthur P Abbott/Son/4/Lambeth, Surrey/Census
1861/Mary A Bridges/Barmaid/19/Great Holland, Essex/Census
1861/Ann Cormack/Cook/32/Kensal Green, Middlesex/Census
1861/Elizabeth Grisbrook/Nurse Maid/14/Lambeth, Surrey/Census
1861/Charles Justice/Potman & Waiter/21/Wandsworth, Surrey/Census

1862/James Abbott/../../../Post Office Directory

1869/James Abbott/../../../Post Office Directory

January 1870/James Abbott/Outgoing Licensee/../../Era Newspaper

January 1870/John Deakin/Incoming Licensee/../../Era Newspaper

June 1872/John Dakin/Outgoing Licensee/../../Era

June 1872/Edwin Warman/Incoming Licensee/../../Era

1874/C Warman/../../../Licensed Victualler & Hoteliers Directory

1881/James Craigen/Licensed Victualler/40/Morayshire, Scotland/Census
1881/Jane Craigen/Wife/40/Tottenham, Middlesex/Census
1881/John Craigen/Son/5/Lambeth, Surrey/Census
1881/Frances Craigen/Daughter/4/Lambeth, Surrey/Census
1881/Helen A Wilson/Barmaid/17/Poplar, Middlesex/Census
1881/Emma Salter/General Servant/25/Lambeth, Surrey/Census
1881/John Corbet/Potman/19/Bermondsey, Surrey/Census

1882/James Craigen/../../../Post Office Directory

1884/James Craigen/../../../Post Office Directory

1891/James Craigen/../../../Post Office Directory

1891/James Craigen/Licensed Victualler/50/../Census
1891/Jane Craigen/Wife/47/Richmond, Surrey/Census
1891/William J Craigen/Son/15/Lambeth, Surrey/Census
1891/Frances A Craigen/Daughter/14/Lambeth, Surrey/Census
1891/James R Fiske/Boarder/20/Queensborough, Kent/Census
1891/Ethel Donnell/Servant/18/Deptford, London/Census
1891/Jane Chapman/Servant/20/Brixton, London/Census
1891/Hannah Elnaugh/Servant/17/Lambeth, London/Census

1895/James Craigen/../../../Post Office Directory

1899/Frederick Tucker/../../../Post Office Directory

1910/Hy Squire Hartwell/../../../Hughes Directory

1915/Alfred Edward Frame/../../../Hughes Directory

1921/Alfred & Margaret Bishonden/../../../Hughes Directory

1934/Alfred & Margaret Bishonden/../../../Kellys Directory

1938/Joseph Cyril Stone/../../../Post Office Directory

1944/Frank Valentine Tuck/../../../Post Office Directory

My family had The Angel in Lambeth Walk (SE11) from about 1973 to 1978. The Licensees, my parents, were Danny and Patricia Stupple. The watercolour was painted c.1975; possibly by the artist 'Richard Ballard' if memory is correct. It is highly likely that he painted other pubs in the area, and proper credit to the actual artist would be good. *

Peters and Lee (pop duo in the 1970's) appeared there several times whilst we were there. Immediately to the rear of the pub was a flour storage silo that occasionally used to blow its top and coat the whole area in a dusting of white (if it happened now planes would be grounded, it was pretty dramatic!). *

Later, my parents were at 'The Royal Standard', in Hastings from 1978 to 1986. There was a serious flood weeks after this (1986) whilst still on the premises. They were a fantastic bunch of customers back then. *

1972 - 1978/Danny & Patricia Stupple/../../../.. ***

We held a talent competition in the Angel and the eventual winners were Peters and Lee. The competition was held over a number of months and when the final was held, their song 'Welcome Home' was top of the charts in the same week as the final. You can imagine the crowds it attracted, the Lambeth Walk was brought to a standstill as it was blocked solid.
It was rumoured that Joe Stone who was the governor of the pub in 1938, shot himself in the cellar and it was haunted. But I was later told by someone who knew him, that he took a pub in Knightsbridge somewhere and it was there that he committed suicide.
I was also told by some of the older customers that Charlie Chaplin used to perform in the Angel at one time and also the jazz pianist George Shearing also played there.
I cannot verify the last two. ***



* Provided By Dave Stupple

** Provided By Stephen Harris

*** Provided By Danny Stupple