Search London wiki and Pub wiki history sites
All public house, restaurants, bars etc closed for the forseeable future on 20th March 2020, but this is a history site. But how about the landlords give their tenants a break, no business, then please charge them no rent.
Angel, 69 Binfield Road, Clapham SW4
Lambeth pub history index
The Angel Arms is listed in the Clapham 1869 directory. The Angel up until at least 1934, but the Angell Arms in 1906. Geographically this pub is more accurately located at the junction of Larkhall Lane and Lansdowne Way, south-east side, probably due to changes to the street layout. Converted to residential use by at least 2006. ***
A listing of historical London public houses, Taverns, Inns, Beer Houses and Hotels in Lambeth, London. This includes Kennington, Brixton, Lambeth, Norwood, Peckham & Waterloo Road. The Lambeth Pub history Directory uses information from census, Trade Directories and History to add licensees, bar staff, Lodgers and Visitors.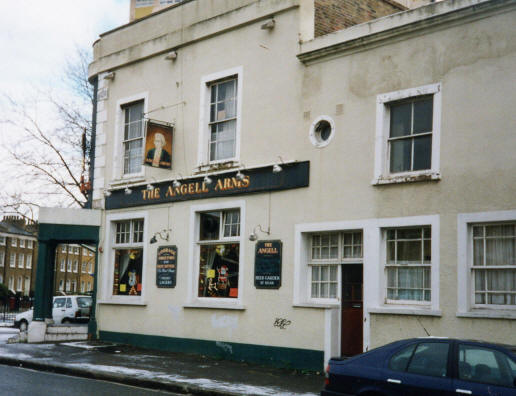 Angell Arms, 69 Binfield Road, Clapham SW4
Kindly provided by Philip Carter
Residents at this address.
22 January 1861/The Will of Thomas Foulkes formerly of Ember gardens Thames Ditton but late of the "Angel Arms" Binfield road Stockwell both in the County of Surrey Licensed Victualler deceased who died 11 January 1861 at Ember Court Thames Ditton aforesaid as proved at the Principal registry. Effects under �10,000. *

1861/Martha Foulkes/Licensed Victualler, Widow/65/Dunstable, Bedfordshire/Census *
1861/John W Foulkes/Son, Cab Proprietor/25/Southwark/Census
1861/Edmund Pittkin/Son in Law/35/Kingston, Surrey/Census
1861/Mary Ann Pittkin/Wife/34/Southwark/Census
1861/Emma Kingston/Servant/21/Kingston, Surrey/Census
1861/William Dalby/Servant/19/West Ham, Essex/Census

June 1862/John William Foulks/Outgoing Licensee/../../Era

June 1862/Thomas Masters/Incoming Licensee/../../Era

1863/Thomas Masters, Angel, Binfield road/../../Post Office Directory

July 1864/Thomas Masters/Outgoing Licensee/../../Era

July 1864/George Sams/Incoming Licensee/../../Era

April 1868/Henry Hammond/Outgoing Licensee/../../Era

April 1868/Martha Jewell/Incoming Licensee/../../Era

1869/Mrs Martha Jewell/Angel Arms, Binfield road/../../Post Office Directory

1878/Geo Shipwright/../../../Suburban Post Office Directory

1881/George Shipwright/Licensed Victualler/57/St James, Middlesex/Census
1881/Elizabeth L Shipwright/Wife/46/St Annes, Middlesex/Census
1881/Amy Shipwright/Daughter/20/Brompton, Middlesex/Census
1881/Walter J Shipwright/Son, Stationer Assistant/19/Brompton, Middlesex/Census
1881/Eleanor Shipwright/Daughter/17/Brompton, Middlesex/Census
1881/Elizabeth J Courant/General Servant/33/Hastings, Sussex/Census
1881/Ann Leake/Barmaid/21/Putney, Surrey/Census

1892/Max Belilo/../../../Suburban Post Office Directory

1896/Edmund Dare/../../../Suburban Post Office Directory

1905/Mrs E A Curtis/../../../Suburban Post Office Directory

1906/William Jesse Peachey/../../../Suburban Post Office Directory

1911/Edward George Woolton/../../../Suburban Post Office Directory

1921/Edward G Woolton/../../../Hughes Directory

1934/Edward George Woolton/../../../Kellys Directory

1938/Mrs Olive Elder/../../../Post Office Directory

1944/Mrs Olive Elder/../../../Post Office Directory



* Provided By Jill Hoge

*** Provided By Tris