Black Horse, 393 Brixton Road, Lambeth SW9
Lambeth pub history index
The address is the Black Horse, Brixton causeway in 1805 and also 1842. The Black Horse, Brixton place in 1833, and the 1851, and 1861 census and 1863 license transfer. Probably closed for quite some time and is now a branch of the Halifax (2014).
A listing of historical London public houses, Taverns, Inns, Beer Houses and Hotels in the Lambeth parish, Surrey, London. This includes Kennington, Brixton, Lambeth, Norwood, Peckham & Waterloo Road.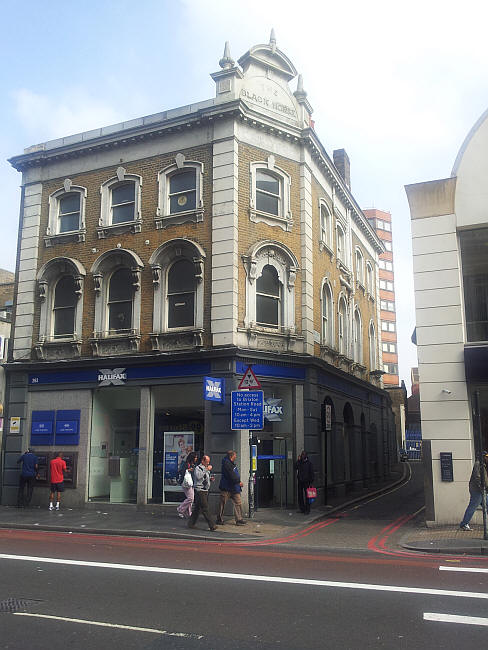 Black Horse, 393 Brixton Road, Lambeth SW9 - in September 2014
Kindly provided by Alan Skinns
Residents at this address.
1805/Thomas Passmore, Black Horse, Brixton Causeway/../../Holdens Directory

1825/Robert Elden, Black Horse, Brixton place/../../Victuallers Recognizances

1833-34/Robert Eldon, Black Horse, Brixton place/../../Pigots Directory

1836/Robert Elden, Black Horse, West Brixton/../../Pigot's Directory

1840/Robert Elden, Black Horse, Brixton place/../../Pigots Directory

1841/Robert Elden/Publican/51/../Census
1841/Elizabeth Elden/../50/../Census
1841/Catherine Elden/../20/Surrey/Census
1841/Elizabeth Elden/../15/Surrey/Census
1841/Charlotte Elden/../15/Surrey/Census
1841/Robert Elden/../14/Surrey/Census
1841/Susanna Berry/../18/Surrey/Census
1841/Henry Chandler/Male Servant/20/Surrey/Census
1841/Elleanor Chandler/Female Servant/25/Surrey/Census
1841/William Lee/../55/../Census
1841/Joseph Greening/../2/Surrey/Census

1840/R Elden, Black Horse, Brixton causeway/../../Robsons Directory

1861/Robert Eldon/Victualler, Widow/69/Aldborough, Suffolk/Census
1861/Catherine M Eldon/Daughter, Housekeeper/40/Lambeth, Surrey/Census
1861/Mary T Greening/Grand Daughter, Assistant/19/Lambeth, Surrey/Census
1861/Mary E Anderson/Grand Daughter/12/Lambeth, Surrey/Census
1861/Thomas Vandenburgh/Potman/38/Chelsea, Middlesex/Census
1861/Edward Luckast/Potboy/14/Lambeth, Surrey/Census

January 1863/Robert Eldon, deceased/Outgoing Licensee/../../Era Newspaper

January 1863/Robert Elden, son and administrator of Robert Eldon, late occupier/Incoming Licensee/../../Era Newspaper

1874/R Eldon (executors)/../../../Licensed Victualler & Hoteliers Directory

1878/Mrs Robert Elden/../../../Post Office Directory

1881/Mary Elizabeth Elden/Victualler, Widow/52/City, London/Census
1881/Mary E Elden/Daughter/26/Brixton, Surrey/Census
1881/Thomas G Elden/Son/25/Brixton, Surrey/Census
1881/Edward Elden/Son/22/Brixton, Surrey/Census
1881/Richard Amos/Barman/21/Regents Park, Middlesex/Census
1881/John Gill/Barman/36/Puckridge, Middlesex/Census
1881/Emma Hays/Domestic/15/Camberwell, Surrey/Census

October 1885/Frederick William Fielder, I am manager of the Black Horse, Brixton road, in a case of passing bad coinage, the defendant was not guilty - see Old Bailey *

1891/Alfred Charles Butcher/Manager Public House/31/St Pancras, London/Census
1891/Henry Rumsey Harrison/Barman/21/St Georges East, London/Census
1891/Sydney Charles Hewman/Barman/18/Southwark, Surrey/Census
1891/Ada Caroline Day/Barmaid/21/Camberwell, Surrey/Census
1891/Elizabeth Wood/Barmaid/24/Lambeth, Surrey/Census
1891/Emily Agnes Brooks/Servant/30/Elmdon, Essex/Census

1896/Charles Austin Newton/../../../Post Office Directory

1904/Walter Callingham/../../../Post Office Directory

1905/Walter Callingham/../../../Post Office Directory

1911/Walter Callingham/../../../Post Office Directory

1911/Sarah Jane Mellors/Manageress/54/Hull, Yorkshire/Census
1911/Samuel Heiks Parvirot/Manager/30/Truro, Cornwall/Census
1911/Florence Wyatt Guinea/Barmaid/36/Leamington, Warwickshire/Census
1911/Frances Maud Wyatt/Barmaid/28/Westminster, London/Census
1911/Margaret Walker/Barmaid/28/Bishopsgate, London/Census
1911/Alice Maud Staples/Barmaid/31/Sevenoaks, Kent/Census
1911/Lily Harriet Maud Tompsett/Barmaid/22/Chatham, Kent/Census
1911/Caroline Beatrice Adams/Cashier/34/Loughborough, London/Census
1911/Catherine Walker/Cashier/27/Bishopsgate, London/Census
1911/Annie Vickery/Cook, Widow/43/Wakefield, Yorkshire/Census
1911/James Frederick Andrews/Barman/25/Shepherds Bush, London/Census
1911/William George Meal/Barman/19/Piccadilly, London/Census

1914/Henekey & C/Wine Merchants/../../Post Office Directory

* Provided by Richard Fielder