Bricklayers Arms, 3 Lollard Street, Kennington Road SE11
Lambeth pub history index
Bricklayers Arms, 3 East Street became 3 Lollard Street on the 14th February 1893. The hardware Plate Co Ltd by 1934. ** Long demolished.
A listing of historical London public houses, Taverns, Inns, Beer Houses and Hotels in the Lambeth parish, Surrey, London. This includes Kennington, Brixton, Lambeth, Norwood, Peckham & Waterloo Road.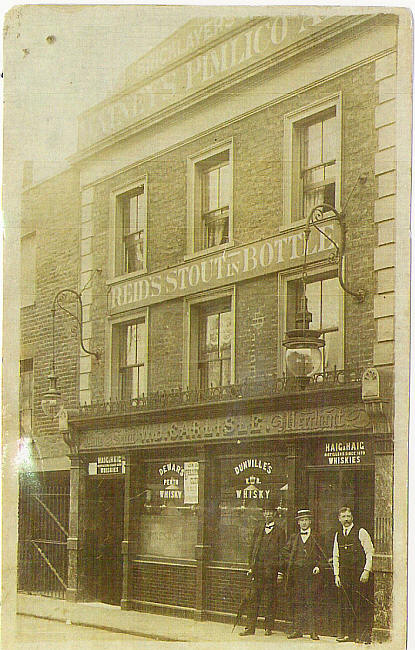 Bricklayers Arms, 3 Lollard Street, Kennington Road - licensee W J Carlisle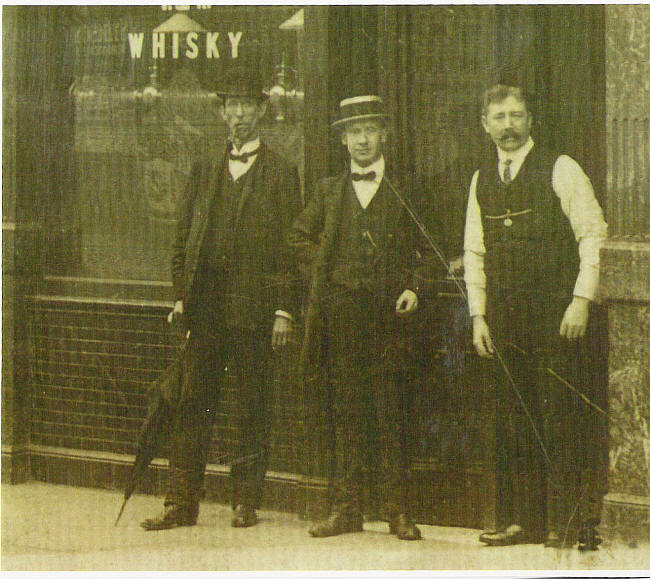 Inset of above photograph - the man on the left is my great grandad (my mother's mother's, father), and his name is Frederick Samuel Palser (born around 1859/60, the man on the right is possibly Mr Carlisle himself.
Kindly provided by and copyright of Robert Marlow
Residents at this address.
1805/Henry Goodes, Bricklayers Arms, East street, Lambeth/../../Holdens Directory

1822/Mr Foulsham, Bricklayers Arms, East street, Lambeth/../../Licensed Victuallers Association

1825/Chester Foulsham/Bricklayers Arms, East street/../../Victuallers Recognizance

1825/Mr Foulsham/../../../Licensed Victuallers Association

1833-34/Frederick William Stevens, Bricklayers Arms, East street, Lambeth/../../Pigots Directory

April 1864/Frederick Parr/Outgoing Licensee/../../Era Newspaper

April 1864/William Colmer/Incoming Licensee/../../Era Newspaper

1869/William Godier/../../../Post Office Directory

1874/W J G Godier/../../../Licensed Victualler & Hoteliers Directory

1881/Thomas Lansdowne/Manager Of Public House/39/St Sepulchre, Middlesex/Census
1881/Sarah G Tinner/Manageress Of Public House/26/Lambeth, Surrey/Census
1881/William Darnell/Barman/19/Kentishtown, Middlesex/Census
1881/Elizabeth A Smith/General Servant/15/Bermonsey, Surrey/Census

1882/Miss Mary Ann Gissing/../../../Post Office Directory

1884/George J Gissing/../../../Post Office Directory

1891/Denzil Alf Thomson/../../../Post Office Directory

Bricklayers Arms, 3 Lollard Street :

1895/William John Carlisle/../../../Post Office Directory

1899/William John Carlisle/../../../Post Office Directory

1901/William J Carlisle/Living on own means/64/Devon/Census
1901/Elizth Carlisle/Wife, Housekeeper/62/Lambeth, London/Census
1901/William John Carlisle/Son, Licensed Victualler/38/Nottong Hill, London/Census
1901/Nellie Carlisle/Daughter in Law, Housekeeper/35/High Wycombe, Buckuinghamshire/Census
1901/Violet Carlisle/Daughter/13/Woolwich, London/Census
1901/Nellie Carlisle/Daughter/12/Woolwich, London/Census
1901/Ivy Carlisle/Daughter/7/Lambeth, London/Census
1901/Elsie Carlisle/Daughter/3/Lambeth, London/Census
1901/Hector Carlisle/Son/8 months/Lambeth, London/Census
1901/Thirza Coe/Domestic Servant/15/Lambeth, London/Census

1910/William John Carlisle/../../../Post Office Directory

1911/William J Carlisle/Licensed Victualler/48/Kensington/Census
1911/Nellie Carlisle/Wife, Assistant/44/Southall near Windsor/Census
1911/Nellie Carlisle/Daughter, Assistant/21/North Woolwich/Census
1911/William E Carlisle/Son, Engineer/20/Bishopsgate/Census
1911/Ivy Carlisle/Daughter, Assistant/17/Kennington/Census
1911/Elsie Carlisle/Daughter/13/Kennington/Census
1911/Olive Carlisle/Daughter/9/Kennington/Census
1911/Winnie Carlisle/Daughter/5/Kennington/Census
1911/Louisa Hayton/Cook, widow/73/Devon/Census

1921/William J Carlisle/../../../Hughes Directory



** Provided By Bill Rigby