Search London wiki and Pub wiki history sites
All public house, restaurants, bars etc closed for the forseeable future on 20th March 2020, but this is a history site. But how about the landlords give their tenants a break, no business, then please charge them no rent.
Feathers Tavern, 75 Commercial Road, Lambeth SE1
Lambeth pub history index
The southern approach to Waterloo Bridge was carried on a series of brick arches with a gradual descent to the York Road and Stamford Street level. The result was that the houses on the bridge approach had a very extensive cellarage, and the Feathers Tavern on the east side was really two public houses one above the other, the lower one being in Commercial Road ** The 1862 license transfer refers to the Feathers, Waterloo bridge. The address is 177 Upper Ground by 1944, following street renaming. It is also commonly given as 1 Waterloo Road, as well as Wellington Terrace, 205 Waterloo Road in 1856, and as 25 Wellington Terrace, Waterloo Road in 1841 and earlier (prior to street renumbering). In the 1825 Victuallers Recognizances and in Sun Fire Office insurance records, prior to the construction of Waterloo Road and bridge, it is at Cupers Bridge, Narrow Wall. *
A listing of historical London public houses, Taverns, Inns, Beer Houses and Hotels in the Lambeth parish, Surrey, London. This includes Kennington, Brixton, Lambeth, Norwood, Peckham & Waterloo Road.The Lambeth parish, Surrey, London Public House Trade Directory uses information from census, Trade Directories and History to add licensees, bar staff, Lodgers and Visitors.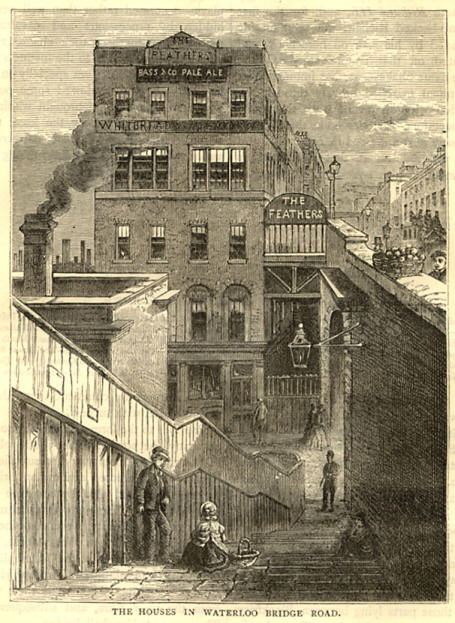 Feathers, Waterloo Bridge Road in the 1880s
Kindly provided by Colleen
Residents at this address.
1807/John Winter/victualler/../../Sun Fire Office records held at the London Metropolitan Archives *

1811/William Druce/victualler/../../Sun Fire Office records held at the London Metropolitan Archives *

1813/William Druce/victualler/../../Sun Fire Office records held at the London Metropolitan Archives *

1818/William Druce/victualler/../../Sun Fire Office records held at the London Metropolitan Archives *

1819/William Druce/victualler/../../Sun Fire Office records held at the London Metropolitan Archives *

1822/Mr Druce, Feathers, Waterloo bridge/../../Licensed Victuallers Association

1823/Mr Druce, Feathers, Waterloo bridge/../../Licensed Victuallers Association

1825/William Druce, Feathers, Cupers Bridge/../../Victuallers Recognizance

1825/Mr. William Druce, Feathers, Waterloo Bridge, Lambeth/../../Licensed Victuallers Association

1832/William Druce, Feathers, Wellington terrace, Waterloo road/../../Robsons Directory

1836/William Druce, Feathers, Wellington terrace, Waterloo road/../../Pigot's Directory

1839/William Druce/../../../Pigot's Directory *

1841/William Druce/../../../Post Office Directory *

1843/William Druce sen/../../../Kellys Directory

1856/Thomas Robert Elt/../../../Post Office Directory *

1862/Thomas Robert Elt/../../../Post Office Directory

April 1862/Thomas Robert Elt/Outgoing Licensee/../../Era

April 1862/Henry Hobbs/Incoming Licensee/../../Era

1869/Henry Hobbs/Feathers, 1 Waterloo Road/../../Post Office Directory

1871/David Jones/Licensed Victualler/31/Daullioni Carmarthen/Census ***
1871/Sarah A Jones/Wife/30/Newington Surrey/Census
1871/Alice Jones/Dau/6/Newington Surrey/Census
1871/Elizabeth M Jones/Dau/4/Camberwell Surrey/Census
1871/William G Jones/Son/3/Camberwell Surrey/Census
1871/Alice Jaques/Barmaid/20/Land Newberry Spienhaus Germany?/Census
1871/Charlotte Glassop/Barmaid/25/Shoreditch Middlesex/Census
1871/Mary Daily/Gen Domestic Servant/23/Lambeth Surrey/Census
1871/James Everson/Servant/20/St Luke Middlesex/Census
1871/Julia J Drumond/Gen Domestic Servant/18/Bermondsey Surrey/Census
1871/John Bishop/Servant/19/Southwark Surrey/Census
1871/Alfred J Davis/Visitor Drapers Asst/28/Cardiganshire/Census

1881/Thomas Lawrence Finch/Publican/35/Putney, Surrey/Census
1881/Jane Palin Finch/Mother, Housekeeper/62/Ipswich, Suffolk/Census
1881/Sarah Susan Palin Finch/Sister, Barmaid/26/Putney, Surrey/Census
1881/Mary Ann Palin Finch/Sister, Barmaid/22/Poplar, Middlesex/Census
1881/William George Palin Finch/Brother, Linen Draper Assistant/20/Wandsworth, Surrey/Census
1881/Susan Jane Ambrose/Niece/14/Windsor, Berkshire/Census
1881/William Benjamin Loomes/Barman/27/Upper Clapton, Middlesex/Census
1881/Edward Regan/Barman/23/St Giles, Middlesex/Census
1881/Edwin George Dawes/Barman/20/Bermondsey, Middlesex/Census

1882/Thomas Lawrence Finch/../../../Post Office Directory

1884/John Nelson/../../../Post Office Directory

1891/Robert Chas Wilson/../../../Post Office Directory

1895/Robert Chas Wilson/../../../Post Office Directory

1899/Jesse Divall/../../../Post Office Directory

1906/Jesse Divall, Feathers, 1 Waterloo road SE & 75 Commercial road, Lambeth SE/../../Post Office Directory

1910/Jesse Divall/../../../Post Office Directory

1915/Jesse Divall/../../../Post Office Directory *

1921/Jesse Divall/../../../Post Office Directory

1927/Jesse Divall, Feathers, 1 Waterloo road SE & 75 Commercial road, Lambeth SE/../../Post Office Directory

1938/Jesse Divall/../../../Post Office Directory

1940/Jesse Divall, Feathers, 1 Waterloo road SE & 75 Commercial road, Lambeth SE/../../Post Office Directory

1944/Coman's Catering Co. Ltd/../../../Post Office Directory *



* Provided By Ewan

** Provided by British History Online

*** Provided By Bev Howlett