Search London wiki and Pub wiki history sites
All public house, restaurants, bars etc closed for the forseeable future from 20th March 2020, but this is a pub history site.
Gipsy Hill Hotel, 79 Gipsy Hill, Norwood SE19
Lambeth pub history index
A listing of historical London public houses, Taverns, Inns, Beer Houses and Hotels in the Lambeth parish, Surrey, London. This includes Kennington, Brixton, Lambeth, Norwood, Peckham & Waterloo Road.The Lambeth parish, Surrey, London Public House Trade Directory uses information from census, Trade Directories and History to add licensees, bar staff, Lodgers and Visitors.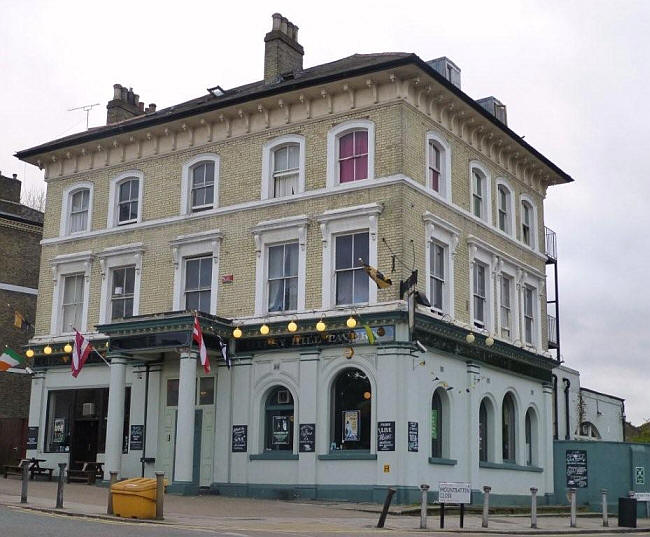 Gipsy Hill Tavern, 79 Gipsy Hill, SE19 - in May 2013
Kindly provided by Stephen Harris
Residents at this address.
1881/Michael C Bryan/Licensed Victualler/47/London, Middlesex/Census
1881/Anne C Bryan/Wife/32/Cambridge,/Census
1881/Henry Rhodes/Hotel Manager/31/Lambeth/Census
1881/Florence Bedford///London, Middlesex/Census
1881/Alice Martin/General Servant/14/Hastings/Census
1881/Walter Hooker/Billiard Marker/22/Hamble, Hampshire/Census
1881/Stephen Hughes/Barman/23/Margate/Census
1881/Mary Atkin/Niece/8/London, Middlesex/Census

1891/William Arthur Ellis/../../../../Post Office Directory

1891/William Ellis/Father, Licensed Victualler, Widow/59/Nottingham/Census
1891/William Arthur Ellis/Licensed Victualler/39/Nottingham/Census
1891/Alice J Ellis/Wife/31/Jersey/Census
1891/Alice M M Ellis/Daughter/13/Clapham, London/Census
1891/Mabel L Ellis/Daughter/11/Brixton, London/Census
1891/Florence Ellis/Daughter/9/Camberwell, London/Census
1891/William F Ellis/Son/2/Camberwell, London/Census
1891/ERmily Parrot/General Servant/18/London/Census
1891/Eliza Jenner/General Servant/20/London/Census

1896/Fredk Wm Jewell/../../../../Post Office Directory

1904/Percival Robert Bush/../../../../Post Office Directory

1905/Percival Robert Bush/../../../../Post Office Directory

1911/Edward Alfred Williams/../../../../Post Office Directory

1914/Edward Alfred Williams/../../../../Post Office London Suburbs Directory **

1919/Edward Alfred Williams/../../../../Post Office Directory

1921/Edward Alfred Williams/../../../../Post Office Directory

1934/William D P Turner/../../../../Kellys Directory

1938/Maurice Cornell/../../../../Post Office Directory

1944/Maurice Cornell/../../../../Post Office Directory

In the 1950�s some relatives of mine, Mr & Mrs Reg & Cissie Woods were running this pub. I don't know their length or exact period of tenancy but they were certainly still there in the mid 1960�s and may have ran it during the war years the address book I have certainly dates from before then. Every Easter we would go up to visit ,much to my delight as Cissie as well as running the pub also bred and showed Pekingese dogs. ***



** Provided By Stephen Harris

*** Provided By Gillian Price

Provided By Kevan