Hope, 49 Norwood High Street, West Norwood SE27
Lambeth pub history index
A listing of historical London public houses, Taverns, Inns, Beer Houses and Hotels in the Lambeth parish, Surrey, London. This includes Kennington, Brixton, Lambeth, Norwood, Peckham & Waterloo Road.The Lambeth parish, Surrey, London Public House Trade Directory uses information from census, Trade Directories and History to add licensees, bar staff, Lodgers and Visitors.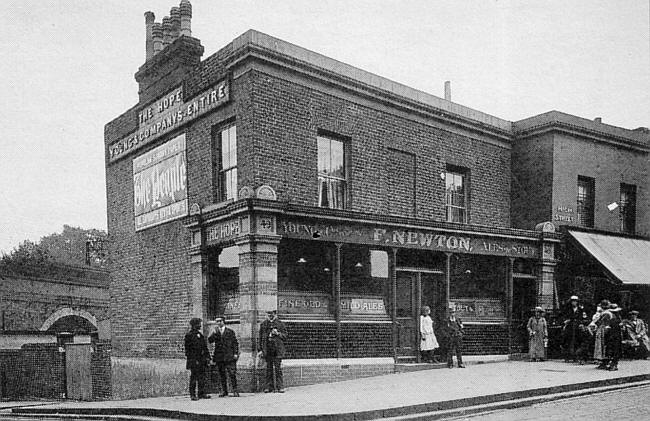 Hope, 49 Norwood High Street, West Norwood SE27 - Landlord Frank Newton in 1920
Kindly provided by Vincent O'Loughlin
Residents at this address.
James Keniston is a Beer Retailer in the 1881 census at Rose Cottage, Chapel road, Norwood

1891/James Keniston/Beer & Wine Retailer/../../../Post Office Directory

1891/James Keniston/Beer Seller, Widow/43/Beaminster, Dorset/Census
1891/Lavinia Stammers/Niece, Barmaid/26/Ireland/Census

1901/James Keniston/Beer & Wine Merchant/53/Beaminster, Dorset/Census
1901/Emily E Keniston/Wife/55/Beaminster, Dorset/Census
1901/John Strong/Brother in law, Barman/54/Beaminster, Dorset/Census

1905/James Keniston/Beer Retailer/../../../Post Office Directory

1911/James Keniston/Beer Seller/63/Beaminster, Dorset/Census
1911/Emily E Keniston/Wife/65/Beaminster, Dorset/Census

1919/Frank Newton/../../../../Post Office Directory

1934/Ernest Arthur Smith/../../../../Post Office Directory

1938/Ernest Arthur Smith/../../../../Post Office Directory

1944/Ernest Arthur Smith/../../../../Post Office Directory