Search London wiki and Pub wiki history sites
All public house, restaurants, bars etc closed for the forseeable future on 20th March 2020, but this is a history site. But how about the landlords give their tenants a break, no business, then please charge them no rent.
Mansion House Stores, 46 & 48 Kennington Park Road, Lambeth, SE11
Lambeth pub history index
It is currently closed for refurbishment. **
A listing of historical London public houses, Taverns, Inns, Beer Houses and Hotels in the Lambeth parish, Surrey, London. This includes Kennington, Brixton, Lambeth, Norwood, Peckham & Waterloo Road.The Lambeth parish, Surrey, London Public House Trade Directory uses information from census, Trade Directories and History to add licensees, bar staff, Lodgers and Visitors.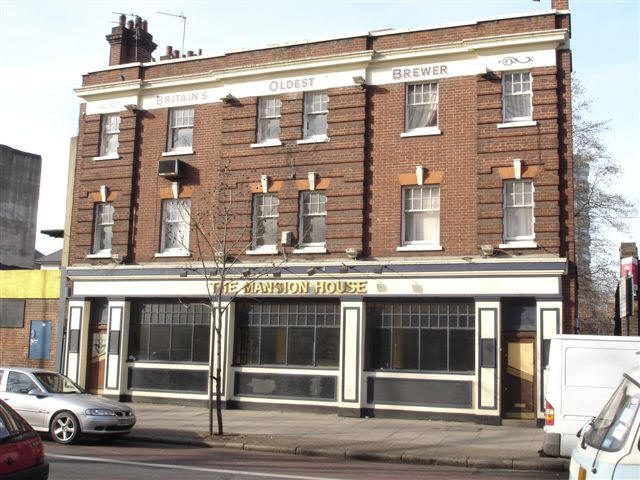 Mansion House, 46 Kennington Park Road - in February 2007
Kindly provided by Stephen Harris
Residents at this address.
1825/Thomas Butt/../../../Victuallers Recognizance

1A Penton Place [These two records relate to each other as they are both together in the census]
1861/Charles Bishop/Licensed Victualler/31/Basford, Nottinghamshire/Census
1861/Elizth Olyett/Barmaid/28/St Georges East, Middlesex/Census
1861/Fanny Olyett/Barmaid/24/St Georges East, Middlesex/Census
1861/Jane Thomas/Barmaid/20/St Martins, Middlesex/Census
1861/Agnes Dingle/Barmaid/21/Truro, Cornwall/Census
1861/George Boddy/Errand Boy/15/Mortlake, Surrey/Census

Mansion House tavern :
1861/William J Wale/Cellerman/22/Paddington, Middlesex/Census
1861/Mary A Gear/Housekeeper/34/Middlesex/Census
1861/Emma Wastell/Barmaid/20/London, Middlesex/Census
1861/Margaret Caton/Cook/28/Christchurch, Surrey/Census
1861/Emily Crouch/Housemaid/20/Camberwell, Surrey/Census
1861/Ernest Hallensteen/Billiard Marker/17/Hanover, Germany/Census

July 1867/M Peters/Outgoing Licensee/../../South London Press

July 1867/A Clark/Incoming Licensee/../../South London Press

1869/M Peters/../../../Post Office Directory

1881/Alfred Stroud/Licensed Victualler/36/Monmouth, Hereford/Census
1881/Elizabeth Stroud/Wife/35/Monmouth, Hereford/Census
1881/Alfred J Stroud/Son/13/Streatham, Surrey/Census
1881/Elizabeth Stroud/Daughter/10/Lambeth, Surrey/Census
1881/Harry Stroud/Son/2/Lambeth, Surrey/Census
1881/Robert J Stroud/Son/5 months/Lambeth, Surrey/Census
1881/Charlotte Tibbetts/Barmaid/22/Lambeth, Surrey/Census
1881/Alice Furby/Cook/25/Tring, Hertford/Census
1881/Jane Naomi/Nurse/15/London, Middlesex/Census

1882/Alfred Stroud/../../../Post Office Directory

1882/G H Laurence/../../../Post Office Directory

1884/G H Laurence/../../../Post Office Directory

1891/Robert Kiddle Arnold/../../../Post Office Directory

1895/Geo Goddard/../../../Post Office Directory

1899/Thomas Pickett/../../../Post Office Directory

1938/Geo Baker/../../../Post Office Directory

1944/Wm Jos Murray/../../../Post Office Directory



** Provided By Stephen Harris