New Crown & Cushion, 133 Westminster Bridge Road, Lambeth SE1
Lambeth pub history index
The address is at 55 Mount street in 1856 and earlier; the Old Crown & Cushion was at 63 Mount street
A listing of historical London public houses, Taverns, Inns, Beer Houses and Hotels in the Lambeth parish, Surrey, London. This includes Kennington, Brixton, Lambeth, Norwood, Peckham & Waterloo Road.The Lambeth parish, Surrey, London Public House Trade Directory uses information from census, Trade Directories and History to add licensees, bar staff, Lodgers and Visitors.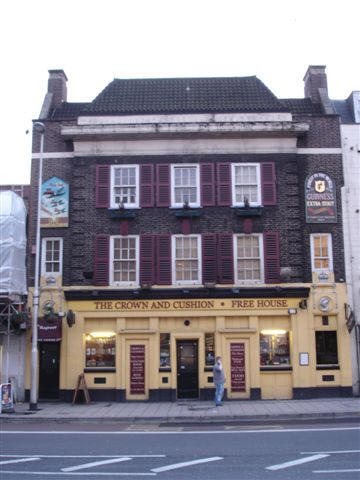 New Crown & Cushion, 133 Westminster Bridge Road- in December 2006
Kindly provided by Stephen Harris
Residents at this address.
1788/Mr Pooley/victualler, Crown and Cushion/../../Sun Fire Office records held at the London Metropolitan Archives *

1788/Edward Cooper/victualler/../../Sun Fire Office records held at the London Metropolitan Archives *

1789/Matthew Anyon/victualler/../../Sun Fire Office records held at the London Metropolitan Archives *

1799/John Knapp/victualler/../../Sun Fire Office records held at the London Metropolitan Archives *

1825/Daniel Hayward, New Crown & Cushion, Maze Road/../../../Victuallers Recognizance *

1827/Haywood/../../../Licensed Victuallers Association

1837/Abel Smith/victualler, Crown and Cushion/../../Sun Fire Office records held at the London Metropolitan Archives *

1839/Abel Smith/../../../Pigots Directory

1841/Abel Smith/../../../Post Office Directory

1843/Abel Smith/../../../Kellys Directory

1848/John Hart/../../../Post Office Directory

1851/John Hart/../../../Kellys Directory

1856/John Hart/../../../Post Office Directory

1869/Lewis Hart/../../../Post Office Directory

February 1872/Richard Belham Hart/Outgoing Licensee/../../Era

February 1872/Isaac Isaacs/Incoming Licensee/../../Era

1880/Thomas Plumb/../../../Post Office Directory **

1881/William Moore/Licenced Victualler/65/Barnes, Surrey/Census
1881/Eliza Moore/Wife/56/Malton, York/Census
1881/William J Moore/Son, Assistant Victualler/34/London, Middlesex/Census
1881/Julian Moore/Son, Assistant Victualler/21/London, Middlesex/Census
1881/Emily Moore/Daughter/19/London, Middlesex/Census
1881/Fredk Moore/Son, Commercial Clerk/19/London, Middlesex/Census
1881/Richard Moore/Son/13/London, Middlesex/Census
1881/Annie Tucker/Visitor, Milliner/27/London, Middlesex/Census

1882/William Moore/../../../Post Office Directory

1884/William Moore/../../../Post Office Directory

1891/Albert Brooks/../../../Post Office Directory

1895/Edward James Nye/../../../Post Office Directory

1899/Frank John Sullivan/../../../Post Office Directory

1915/Frederick Dyckhoff/../../../Post Office Directory

1934/Mrs Caroline Ann Clements/../../../Post Office Directory *

1938/Chas T Sharp/../../../Post Office Directory

1944/Benj Osborne/../../../Post Office Directory



* Provided By Ewan

** Provided By Stephen Harris