Pub history and pub wiki
Plough & Harrow, 140 Newington Butts SE11
Lambeth pub history index
The early address is at Orange Row, Kennington Road. This changes between 1861 and 1869 and is the same site with altered address only. Now in use as a wine bar (2014). * The Plough and Harrow, Kennington lane in 1825 and in the 1862 and 1865 license transfers.
A listing of historical London public houses, Taverns, Inns, Beer Houses and Hotels in the Lambeth parish, Surrey, London. This includes Kennington, Brixton, Lambeth, Norwood, Peckham & Waterloo Road.The Lambeth parish, Surrey, London Public House Trade Directory uses information from census, Trade Directories and History to add licensees, bar staff, Lodgers and Visitors.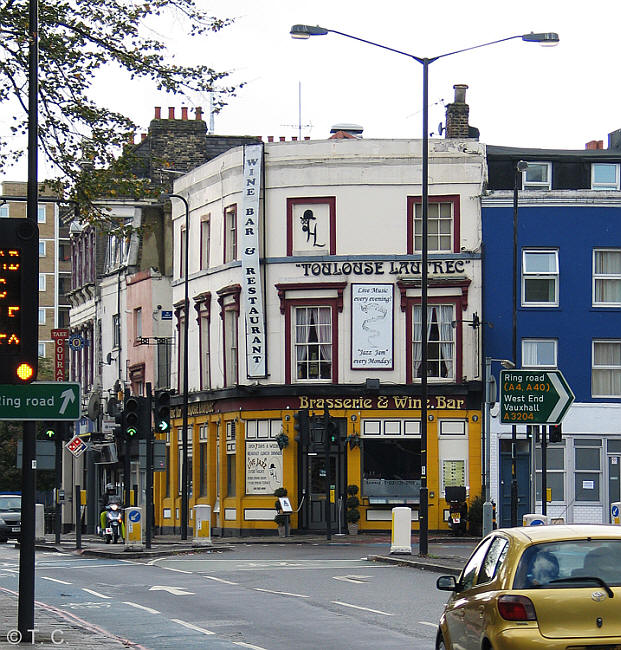 Plough & Harrow, 140 Newington Butts, SE11 - in October 2014
Kindly provided by Tris
The following entries are in this format:
Year/Publican or other Resident/Relationship to Head and or Occupation/Age/Where Born/Source.
1825/Thomas Knott, Plough & Harrow, Kennington lane/../../Victuallers Recognizances ****

1833-34/Moses Kendall, Plough & Harrow, Orange row, Kennington Road/../../Pigot's Directory ****

1848/Chas Collyer/../../../Post Office Directory ****
[and also at Coopers Arms, 19 Budge Row, Cannon Street in 1948]

1856/Charles Collyer/../../../Post Office Directory ****

1861/Charles Collyer/Wine & Spirit Dealer, Widow/49/Stondon, Essex/Census ****
1861/Charles Humby/Potman/25/Lambeth, Surrey/Census
1861/Henry Hunt/Bar Lad/17/Kingsland, Middlesex/Census
1861/Ann Stone/General Servant/27/St Georges, Surrey/Census

February 1862/administrator of Charles Collyer/Outgoing Licensee/../../Era ****

February 1862/Joseph Grant/Incoming Licensee/../../Era ****

October 1865/Richard Miles/Outgoing Licensee/../../Era ****

October 1865/Edward George Prior/Incoming Licensee/../../Era ****

[140 Newington Butts]
1869/Edward George Prior/../../../Post Office Directory ****

1871/Edward G Prior/Licensed Victualler/38/Hadlow, Essex/Census ****
1871/Jane M Prior/Wife/34/London, Middlesex/Census
1871/Mary A Prior/Daughter/6/London, Middlesex/Census
1871/Henry H Prior/Son/5/London, Middlesex/Census
1871/William D Prior/Son/2/London, Middlesex/Census
1871/Alfred J Prior/Son/1/London, Middlesex/Census
1871/Mary E Goddy/Barmaid/23/London, Middlesex/Census
1871/Thomas Sponsel/Barman/17/London, Middlesex/Census
1871/Arthur Rossgadd/Barman/17/Guildford, Surrey/Census
1871/Ann Davis/General Servant/20/Deptford, Kent/Census
1871/Eliza Milner/Nurse/22/London, Middlesex/Census
1871/Ellen Sandwick/Nursemaid/16/London, Middlesex/Census

1884/Henry Guest/../../../Post Office Directory ****

1899/Henry Guest/../../../Post Office Directory ****

1910/Henry Guest/../../../Post Office Directory ****

1921/Henry Guest/../../../Hughes Directory ****

1944/Cavy & Co Ltd/../../../Post Office Directory ****

1971/../Plough & Harrow/../../Post Office Directory ****



* Provided By Tris

** Provided By Bill Rigby

**** Provided By Kevan
Search for a pub, an address or person
And Last updated on: Wednesday, 03-Jul-2019 01:10:16 BST