Search London wiki and Pub wiki history sites
All public house, restaurants, bars etc closed for the forseeable future from 20th March 2020, but this is a history site.
Roebuck, 293 Kennington Road, Lambeth, London SE11
Lambeth pub history index
The address in 1856 before road renumbering is at 79 Lower Kennington Lane. Also listed as at 164 Lower Kennington Lane in directories (presumably the same address)
A listing of historical London public houses, Taverns, Inns, Beer Houses and Hotels in the Lambeth parish, Surrey, London. This includes Kennington, Brixton, Lambeth, Norwood, Peckham & Waterloo Road.The Lambeth parish, Surrey, London Public House Trade Directory uses information from census, Trade Directories and History to add licensees, bar staff, Lodgers and Visitors.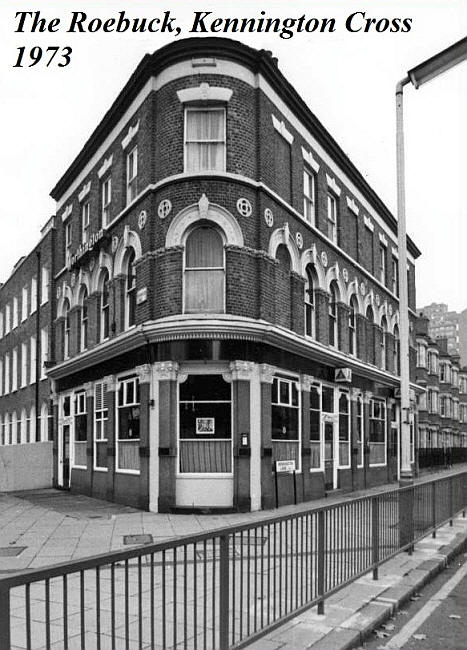 The Roebuck, Kennington Cross - in 1973
Kindly provided by Paul Prior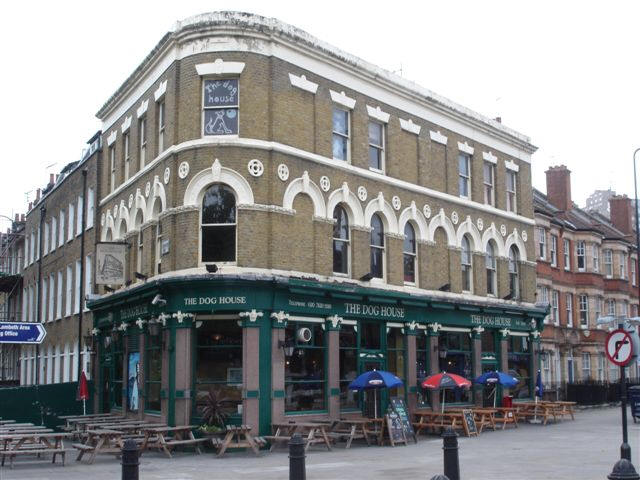 Roebuck, 293 Kennington Road, SE11 - in July 2007
Kindly provided by Stephen Harris
Residents at this address.
1856/Samuel Mills/Wine & Spirit Merchant/../../Post Office Directory

1861/Samuel Millis/Wine Spirit Merchant, widow/43/Clerkenwell, Middlesex/Census
1861/W S Millis/Son/10/Surrey/Census
1861/J F Millis/Son/9/St Clements Danes, Middlesex/Census
1861/Mary Barden/Housekeeper/34/Paris, France/Census
1861/Amm Webb/Cook/56/Cambridgeshire/Census
1861/George Messenger/Barman/25/Soho, Middlesex/Census
1861/William Garnish/Visitor/21/Wiltshire/Census
1861/John Dunston/Visitor/16/Clerkenwell, Middlesex/Census

April 1862/William Ratcliff/Outgoing Licensee/../../Era

April 1862/John Westwood Flack/Incoming Licensee/../../Era

November 1862/John Westwood Flack/Outgoing Licensee/../../Era

November 1862/John Ellis/Incoming Licensee/../../Era

June 1868/Margaret James Plaw/Outgoing Licensee/../../South London Chronicle

June 1868/Dorly Scott Bayfield/Incoming Licensee/../../South London Chronicle

1869/Doliy Scott Bayfield/../../../Post Office Directory

1871/Doliy Scott Bayfield/Publican employing 2 barmaids, 12 potman & 1 nursemaid /32/Great Yarmouth, Norfolk/Census
1871/Emma M Bayfield/Wife/30/Great Yarmouth, Norfolk/Census
1871/Louisa Bayfield/Aunt/56/Cley next the sea, Norfolk/Census
1871/William H Bayfield/Son/7/Putney, Surrey/Census
1871/Emma L Bayfield/Daughter/5/Blackfriars, Surrey/Census
1871/Lucy B Bayfield/Daughter/3/Blackfriars, Surrey/Census
1871/John Bayfield/Son/1/Lambeth, Surrey/Census
1871/Arthur T Bayfield/Son/5 months/Lambeth, Surrey/Census
1871/Martha Chamberlain/Barmaid/18/Great Yarmouth, Norfolk/Census
1871/Mary A Philbeam/Barmaid/19/Croydon, Surrey/Census
1871/William Story/Potman/19/Southwark, Surrey/Census
1871/Emily Condron/Nursemaid/13/Lambeth, Surrey/Census

1876/Doliy Scott Bayfield/../../../Post Office Directory ***

1881/Henry Smith/Licensed Victualler/43/Southwark, London/Census
1881/Amelia J Smith/Wife/40/Ash, Surrey/Census
1881/Henry Marshall/Manager/30/Stepney, Middlesex/Census
1881/Walter Langridge/Barman/25/Walworth, London/Census
1881/George Brown/Barman/16/Essex/Census
1881/Mary Gilwood/Cook/23/Chesterfield/Census
1881/Rose May/House Maid/24/Kent/Census
1881/Amelia Smith/Daughter/19/Battersea, London/Census
1881/Susan Smith/Niece/19/Southwark, London/Census

1882/Henry Smith/../../../Post Office Directory

1884/Henry Smith/../../../Post Office Directory

1885/Frank Dore/../../../Post Office Directory ***

1891/Mrs Henry James Pascall/../../../Post Office Directory

1899/Harry Bell/../../../Post Office Directory

1910/Thos Powis Webb/../../../Post Office Directory

1915/Lewis Chas Walden/../../../Post Office Directory

1944/Mrs Ada F Abel/../../../Post Office Directory



*** Provided By Stephen Harris