Search London wiki and Pub wiki history sites
Spanish Patriot, 34 Lower Marsh, Lambeth, London
Lambeth pub history index
It has recently been re-named Lounge 34 (2007) ** The SPANISH PATRIOT, (Lambeth Lower Marsh and White Conduit Street) dates from the excitement of our proposed intervention in the Spanish Succession question - see deadpubs.
A listing of historical London public houses, Taverns, Inns, Beer Houses and Hotels in the Lambeth parish, Surrey, London. This includes Kennington, Brixton, Lambeth, Norwood, Peckham & Waterloo Road.The Lambeth parish, Surrey, London Public House Trade Directory uses information from census, Trade Directories and History to add licensees, bar staff, Lodgers and Visitors.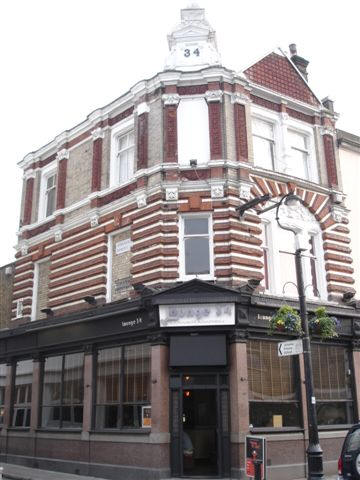 Spanish Patriot, 34 Lower Marsh, SE1 - in April 2007
Kindly provided by Stephen Harris
Residents at this address.
1811/Richard Davis, Spanish Patriot, New Cut, Blackfriars road/../../Pigots Directory

1825/Richard Davis, Spanish Patriot, Lambeth marsh/../../Victuallers Recognizance

1825/Mr Davis, Spanish Patriots, Lambeth Marsh/../../Licensed Victuallers Association

1827/Davis, Spanish Patriot, New Cut, Lambeth/../../Licensed Victuallers Association

1829/R Davis/../../../Pigots Directory

1833/Richard Davis, Spanish Patriots, Lower Marsh, Lambeth/../../Pigots Directory

1836/Thomas Iredale Woodin/victualler/../../Sun Fire Office records held at the London Metropolitan Archives *

1839/Thomas Iredale Woodin/../../../Pigots Directory

1841/T J Woodin/../../../Post Office Directory

1843/Andrew Alexander/Spanish Patriot, 34 Lower Marsh /../../Post Office Directory

1848/John Bath/../../../Post Office Directory

1851/John Bathe/../../../Kellys Directory

November 1851/William Bathe/ Outgoing Licensee /../../The Era

November 1851/George Godfrey/ Incoming Licensee /../../The Era

June 1855/George Godfrey/Outgoing Licensee/../../Era Newspaper

June 1855/William Edward Vickress/Incoming Licensee/../../Era Newspaper

1856/W Vickress/../../../Post Office Directory

July 1867/W Turnham/Outgoing Licensee/../../South London Press

July 1867/G Wood/Incoming Licensee/../../South London Press

1869/George Wood/../../../Post Office Directory

April 1872/George Wood/Outgoing Licensee/../../Era Newspaper

April 1872/Wm Archer/Incoming Licensee/../../Era Newspaper

1881/Robert I Courtenay/Licenced Victualler/46/Dublin, Ireland/Census
1881/Mary Ann Courtenay/Wife/49/Melford, Suffolk/Census
1881/Oliver W Bear/Wifes Son/23/Melford, Suffolk/Census
1881/Samuel Bear/Wifes Son/21/Melford, Suffolk/Census
1881/Henry Bear/Wifes Son/16/Melford, Suffolk/Census
1881/Thomas Lee/Potman/21/Lambeth, Surrey/Census
1881/Lydia Twichett/Domestic Servant/21/Halstead, Essex/Census

1882/Robert Isaac Courtenay/../../../Post Office Directory

1884/Robert J Courtenay/../../../Post Office Directory

1891/Charles Anderson/../../../Post Office Directory

1895/Charles Anderson/../../../Post Office Directory

1899/Alfred Ernest Fowler Gilbert/../../../Post Office Directory

1910/Joseph Salter/../../../Post Office Directory

1915/Mrs Enid Gillings/../../../Post Office Directory

1921/Thomas G Symonds/../../../Hughes Directory

1927/Thomas George Symonds/../../../Post Office Directory

1934/Thomas George Symonds/../../../Kellys Directory

1938/Ernest Alfred Chantry/../../../Post Office Directory

1944/Ernest Alfred Chantry/../../../Post Office Directory



* Provided By Ewan

** Provided By Stephen Harris