Spanish Patriot, 34 Lower Marsh, Lambeth SE1
Lambeth pub history index
It has recently been re-named Lounge 34 (2007) ** The SPANISH PATRIOT, (Lambeth Lower Marsh and White Conduit Street) dates from the excitement of our proposed intervention in the Spanish Succession question - see deadpubs.
The peabeehistory blog is also adding extraordinary detail to this page of history. *+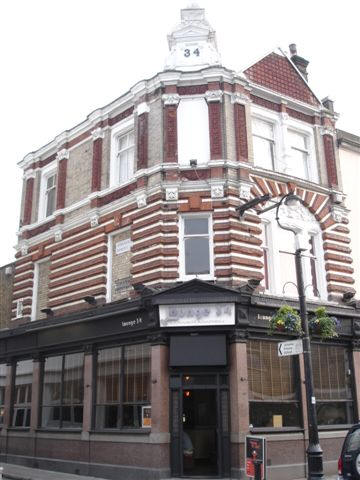 Spanish Patriot, 34 Lower Marsh, SE1 - in April 2007
Kindly provided by Stephen Harris
Residents at this address.
1811/Richard Davis, Spanish Patriot, New Cut, Blackfriars road/../../Holdens Directory

1825/Richard Davis, Spanish Patriot, Lambeth marsh/../../Victuallers Recognizance

On August 8th, 1824, Richard Davis, Widow, of Lambeth parish, marries Nancy Atkins, widow at St Peter Cornhill *+

On August 21st, 1825, Charles Davis is baptised to Richard and Nancy Davis, he is a Victualler in Lambeth Marsh *+

1825/Mr Davis, Spanish Patriots, Lambeth Marsh/../../Licensed Victuallers Association

On March 22nd,1827, Emma Davis is baptised to Richard and Nancy Davis, he is a Licensed Victualler in New Cut *+

1827/Davis, Spanish Patriot, New Cut, Lambeth/../../Licensed Victuallers Association

On June 29th,1831, Julia Davis is baptised to Richard and Nancy Davis, he is a Licensed Victualler in New Cut *+

1829/Richard Davis/../../../Pigots Directory

1830/Richard Davis, Spanish Patriot, Lower Lambeth Marsh/../../Pigots Directory

1833/Richard Davis, Spanish Patriots, Lower Marsh, Lambeth/../../Robsons Directory

[In the 1841 census, Nancy Davis, along with daughters Emma and Julia are living in Clapham. Nancy is aged 40. The previous year , in 1840, Richard died aged 60. She married a Thomas Prout in 1844, he had previously purchased Richard Davis will. ] *+

Thomas Iredale Woodin was born in Hemel Hempstead, Hertfordshire, the son of Samuel Woodin and his wife Catherine (nee Iredale). On 25 January 1820, he married Fanny Cook at Ampthill, Bedfordshire, where Fanny had been born in 1801. *+

[On September 30th 1833, both Frances Woodin and Georgiana Woodin are baptised to Thomas Iredale Woodin, victualler and Fanny Woodin, of Webber street - Coburg Arms ]*+

1836/Thomas Iredale Woodin/victualler/../../Sun Fire Office records held at the London Metropolitan Archives *

1836/Thomas Iredale Woodin, Spanish Patriot, 34 Lambeth Lower Marsh/../../Pigots Directory

1839/Thomas Iredale Woodin/../../../Pigots Directory

1841/T J Woodin/../../../Post Office Directory

1841/Thos Woodin 40 Publican *+
1841/Fanny Woodin 30
1841/Ann Woodin 20
1841/William Woodin 18
1841/Georginada Woodin 14
1841/Francis Woodin 12
1841/Mary Markwell 20 Female Servant
1841/Chas Mallat 20 Male Servant
1841/Maria Somer 20 Female Servant

1842/T J Woodin/../../../Robsons Directory
Morning Advertiser 25 October 1841 :
Long Lease of premises including Spanish Patriot wine and spirits Establishment New Cut Lambeth with stabling &c, also Baker's Shop adjoining and Five tenements in the rear producing an improved rent of about £60 per annum for 64 years. – By Fenton and Faithful, at Garraway's, on Tuesday Nov. 16 at Twelve, by direction of the Assignees of Mr Thomas Iredale Woodin, a bankrupt, and with the concurrence of the Mortgagees. *+

Morning Advertiser 27 April 1842 :
On Sunday, 17th instant, in the 49th year of age. Mr Thomas Iredale Woodin, late of the Spanish Patriot, New Cut, Lambeth; a life subscriber to the School and a donor to the Asylum, leaving a heavy family to deplore his loss. *+

Thomas's widow Fanny married Joseph Jay in Kennington on 20 July 1844. On the 15th January 1849, the license for the Mitre in Mitre Terrace, Hackney, was transferred from Samuel Robert Bishop to Joseph Jay. *+

1843/Andrew Alexander/Spanish Patriot, 34 Lower Marsh /../../Post Office Directory

In 1843, a John Bathe is the licensee for the White Swan, at 20 Little St Andrew Street, Seven Dials. And by 1844, according to directories, John Bath is the licensee here, whilst John Bathe is the licensee of the Green Dragon, Fleet street (until 1847 only).

1844/John Bath/../../../Post Office Directory

1846/John Bath/../../../Post Office Directory

1848/John Bath/../../../Post Office Directory

On the 3rd April 1849, John Bathe was married to Eliza Andrews from Dartford, Kent, at St John the Evangelist, Lambeth. They had one son, John Warman Bathe, who lived for just 2 months and was buried in Dartford on 2 May 1851. *+

1849/John Bathe/../../../Post Office Directory

1851/John Bathe/../../../Kellys Directory

1851/John Bathe /32 /Victualler /Purton, Wiltshire/Census *+
1851/Eliza Bathe /24 /Dartford, Kent/Census
1851/John Bathe /1 month/Lambeth, Surrey/Census
1851/Joshua Golding /22 /Barman/ Shoreditch, Middlesex/Census
1851/Elizabeth Bathe /16 /Sister /Wootton Bassett, Wiltshire/Census
1851/Sarah Safe /22 /General Servant /Lambeth, Surrey/Census
1851/Thomas Hammond /18 /Potman / Westminster, Middlesex/Census

John Bathe died on 10 September 1851 and his body was taken to Purton for burial. *+
A month before his death, he had written his will in which he left the sum of £50 to his 16-year-old sister Elizabeth, who was living in the Lambeth pub, and the rest of his estate to his widow, Eliza, with his brother William appointed executor. *+

Eliza remarried a year later, on 7 December 1852; to another licensed victualler, Francis John Bond, of the Kings Arms, King Street, in Camden Town – but she too died young, at the beginning of 1855, aged just 31.
John's brother William, who was the licensee of Royal Oak, Circus Street transferred the license of the Spanish Patriot, to George Godfrey on 12 November 1851. *+

November 1851/William Bathe/ Outgoing Licensee /../../The Era

November 1851/George Godfrey/ Incoming Licensee /../../The Era

June 1855/George Godfrey/Outgoing Licensee/../../Era Newspaper

June 1855/William Edward Vickress/Incoming Licensee/../../Era Newspaper

1856/W Vickress/../../../Post Office Directory

1862/William Turnham/../../../Post Office Directory

July 1867/W Turnham/Outgoing Licensee/../../South London Press

July 1867/G Wood/Incoming Licensee/../../South London Press

1869/George Wood/../../../Post Office Directory

April 1872/George Wood/Outgoing Licensee/../../Era Newspaper

April 1872/Wm Archer/Incoming Licensee/../../Era Newspaper

1881/Robert I Courtenay/Licenced Victualler/46/Dublin, Ireland/Census
1881/Mary Ann Courtenay/Wife/49/Melford, Suffolk/Census
1881/Oliver W Bear/Wifes Son/23/Melford, Suffolk/Census
1881/Samuel Bear/Wifes Son/21/Melford, Suffolk/Census
1881/Henry Bear/Wifes Son/16/Melford, Suffolk/Census
1881/Thomas Lee/Potman/21/Lambeth, Surrey/Census
1881/Lydia Twichett/Domestic Servant/21/Halstead, Essex/Census

1882/Robert Isaac Courtenay/../../../Post Office Directory

1884/Robert J Courtenay/../../../Post Office Directory

1891/Charles Anderson/../../../Post Office Directory

1895/Charles Anderson/../../../Post Office Directory

1899/Alfred Ernest Fowler Gilbert/../../../Post Office Directory

1910/Joseph Salter/../../../Post Office Directory

1915/Mrs Enid Gillings/../../../Post Office Directory

1921/Thomas G Symonds/../../../Hughes Directory

1927/Thomas George Symonds/../../../Post Office Directory

1934/Thomas George Symonds/../../../Kellys Directory

1938/Ernest Alfred Chantry/../../../Post Office Directory

1944/Ernest Alfred Chantry/../../../Post Office Directory



* Provided By Ewan

*+ Provided By Peter Bathe

** Provided By Stephen Harris