Search London wiki and Pub wiki history sites
All public house, restaurants, bars etc closed for the forseeable future from 20th March 2020, but this is a pub history site.
Tulse Hill Hotel, 150 Norwood Road, Herne Hill SE24
Lambeth pub history index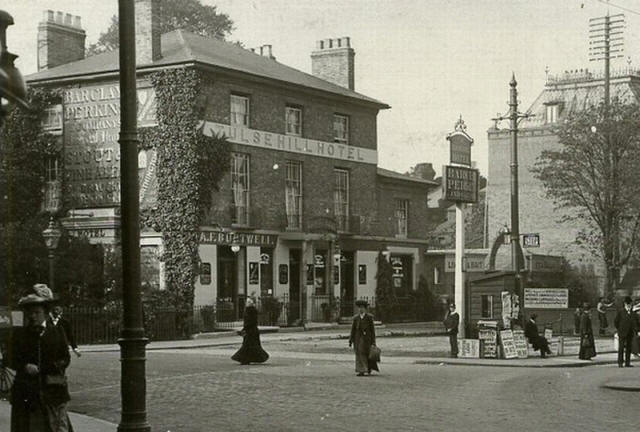 Tulse Hill Hotel, Norwood Road, Herne Hill
Kindly provided by Peter Fry
at 98 Norwood Road before 1934
A listing of historical London public houses, Taverns, Inns, Beer Houses and Hotels in the Lambeth parish, Surrey, London. This includes Kennington, Brixton, Lambeth, Norwood, Peckham & Waterloo Road.
The following entries are in this format:
Residents at this address.
1851/William Crow/Licensed Victualler/59/Newport, Essex/Census
1851/Catharine Crow/Wife/58/Coggs, Oxfordshire/Census
1851/Elizabeth Crow/Daughter/23/Finningham, Surrey/Census
1851/Fanny Crow/Daughter/17/Finningham, Surrey/Census
1851/John Crow/Son, Clerk/16/Finningham, Surrey/Census
1851/George Best/Servant/19/Branton, Surrey/Census
1851/Ellen Henley/House Servant/24/Banbey Bay, Ireland/Census

1878/John William Ratcliffe/../../../../Post Office Directory

1881/John W Rattcliff/Victualler (Inn)/61/Kent/Census
1881/Eliza Rattcliff/Wife/50/Knightsbridge/Census
1881/Frederick W Harvey/Nephew, Barman/24/Chelsea/Census
1881/Mary A Priest/Barmaid/23/Camberwell/Census
1881/Frances Young/General Domestic/23/Tottenham/Census

1891/William Lincoln/../../../../Post Office Directory

1896/Geo Eastland/../../../../Post Office Directory

1901/William E Cobley/Licensed Victualler/31/High Barnet, Hertfordshire/Census
1901/Alice A Cobley/Wife/29/Poplar, Middlesex/Census
1901/Bertha H Cobley/Daughter/4/Lambeth, Surrey/Census
1901/Victoria M Cobley/Daughter/2 months/Lambeth, Surrey/Census
1901/Ada A Pearcey/Barmaid/26/Colyton, Devon/Census
1901/Laura James/Barmaid/23/Carumthew, South Wales/Census
1901/Jane Hollingbury/Barmaid/28/Bethnal Green, Middlesex/Census

1905/Edwin Joseph Hamnett/../../../../Post Office Directory

1911/Aug Fredk Burtwell/../../../../Post Office Directory

1921/Augustus Frederick Burtwell/../../../../Post Office Directory

1934/George Aug Burtwell/../../../../Kellys Directory

1938/George Aug Burtwell/../../../../Post Office Directory

1944/George Aug Burtwell/../../../../Post Office Directory